I can't believe it has already been 1001 days since making my 101 in 1001 list! It's been a lot of fun not only checking things off but seeing how things have changed in the last 2+ years. I love having a list to go off of that is goals for various facets of life, but also to keep track of how my life is going. I updated my final list below, and I would love to know if you finished off your list as well! I am clearly been awful with blogging and don't have much time to read others blogs lately, so let me know in the comments if you recently blogged about your list because I would love to check it out!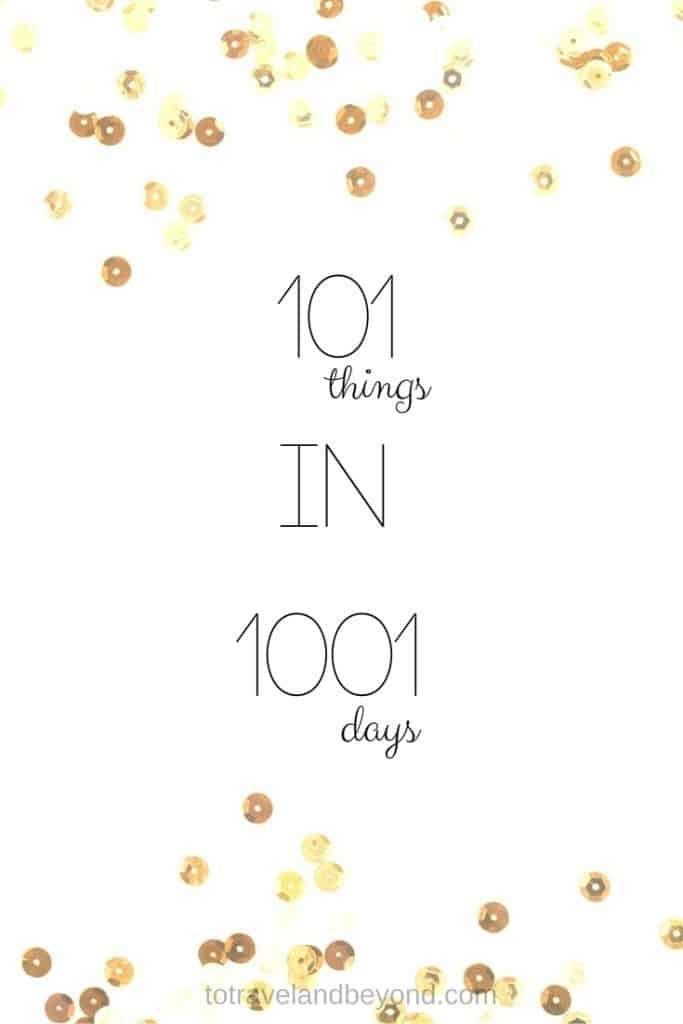 Start: November 16th, 2015                     Finish: August 13th, 2018
LIFE
Read 30 books (30/30) Done! Early 2018
Start and maintain a daily devotional for a month DONE! 4/2017
Create a budget and stick to it DONE! 4/2017
Save at least $30,000 *We're pretty close to this! 

Hang wedding photos above the fireplace

 DONE! 7/2016

Buy a new SUV

DONE! 12/28/2015 we bought an HR-V

Host a Friendsgiving We hosted a Christmas-friendsgiving in 2016
Buy a house *We have talked about this a lot lately, but it's working out really well for us living where we do since it's in the same neighborhood as my family. We will likely stay in this neighborhood, but the right house hasn't come up yet. 

Get rid of 30 things in my closet (30/30)

I sent a huge bag to Goodwill in March, 2016

Have an album made with wedding photos

Finish the bar downstairs in our house

Start and finish a Project Life scrapbook

Start our own tradition We have started a lot of traditions in our first year of marriage! 
Take a trip for our 1st anniversary DONE! Mexico 6/2016
Take a trip for our 2nd anniversary DONE! Alexandria, VA 6/2017
Take a trip for our 3rd anniversary *Our anniversary was 3 weeks after having Olivia so we didn't get to take a trip this year- but we're 100% okay with that! 
Read 3 devotionals (daily or otherwise) DONE!
Finish our bedroom Done! 
Read the entire Bible *I am halfway through right now! 

Make a quilt

Only buy essentials for one month

Get a new/better DSLR and learn how to use it

Learning to use it in March 2016

Continue to grow our little family with a human sibling for SharkBait (this might be at the very end though 😉 ) DONE DONE DONE!

Build a fire in our fire place by myself (yes, I know it is easy, but I am nervous!)

DONE in January 2016

Save $10 for every task completed from this list $640 transferred!
TRAVEL & ADVENTURE
Visit 10 new places (10/10) DONE Atlanta, Boone, Seattle, St. Louis, Vermont, Maine, New Hampshire, Nashville and Louisville all by 7/16. We have far exceeded this goal.
Go on a girls trip DONE! SC in 8/2016
Have a wine tasting at 5 wineries (5/5) DONE! The blogger wine trip helped to seal this deal, and this is another we have far exceeded
Go to Charleston, SC DONE! I visited Meg in 9/16
Take a brewery tour Anhauser Busch brewery tour in April 2016
Go to Nashville, TN DONE! I went for Karen's bach party in July 2016
Go skydiving
Go to Japan DONE Sept. 2017
Stay at a Bed & Breakfast 11/28/15 in Cape May
Swim with sharks (again)
Take a trip with another couple (or two or three!) to a new place New Orleans for my 25th birthday with Gina & Josh
Drive around Iceland
Take a train ride
Go hiking somewhere new DONE! Hiking in Vermont/New Hampshire
Go to Disney World DONE! We went to Disney World in November 2016
Successfully drop one ski while water skiing
Go camping
Go for a bike ride in 3 cities (3/3) New Orleans, Louisville
Take another cruise DONE! Bahamas cruise in December/January
Go zip-lining DONE! In Mexico for our anniversary trip
Visit 2 countries (that I haven't already been visited) DONE! Mexico and the Bahamas
Go snowmobiling
Take a spontaneous weekend trip
Visit 5 new restaurants (5/5) 
Ride in a hot air balloon
Use AirBnB 3 times New Orleans, Charleston, Philly DONE!
HEALTH & FITNESS
Exercise at least 3 times a week for 3 months
Find a fitness class I enjoy
Do yoga 5 times a week for a month
Drink at least 8 glasses of water, every day, for a month DONE 2/2017
Run 3 times a week for a month
Run a 5k
Find a makeup care routine that works for me DONE 2/2018
Reach my goal weight and maintain for 3 months
Go through my makeup and invest in good products DONE! 7/2017
Have a spa day Done!
Go paddle-boarding 5 times in one month DONE!
Start a daily skincare routineDONE 2/2018
Go 1 month without fast food DONE!
CULINARY
Make 3 crockpot recipes  DONE!
Make 5 healthy freezer meals

Pick a random page in a cookbook and make whatever you get

Cook a meal for someone else

DONE! 

Successfully make french macarons DONE! February 2018

Help make Thanksgiving dinner

 11/26/2015

Make 3 recipes found on Pinterest I made these meatballs on 12/9/15, Honey Siracha Chicken, Mock Olive Garden soup DONE

Make peach cobbler

Make up 3 cocktails (that actually taste good!) (2/3) Old Bay Marg & Vanilla Blackberry Moscow Mule
Eat Vegan for a day DONE!
Grow something that I can eat/use while cooking DONE! 7/2017

FOR OTHERS
Send at least 15 handwritten notes in the mail (15/15) DONE! I send thank-you notes to vendors that work with us on styled shoots. 
Pay for someone else's coffee/meal 5 times (5/5) DONE! I  pay for the person behind me often when I am at ChickFilA & whenever there is a police officer behind me in any drive-thru

Leave a 100% tip

Take Emily (my sister) on 2 trips (1/2) Atlanta, GA

Volunteer at least 5 times (2/5) 

Donate to 3 different charities (3/3) 

Throw a surprise party for someone DONE! Dave's parents 30th anniversary party 

Give 3 handmade presents (0/3)

Make family dinner one week (all 15 of us have dinner together every Wednesday) 

11/18/15 I made this recipe for everyone
Help someone else achieve one of their 101 goals

BLOG
Meet 3 bloggers in person (besides my Baltimore loves!) DONE! (3/3) I met Meg & Jaquleyn in Charleston, and then went to happy hour with some other Baltimore bloggers in November, 2016
Create an e-course (dreaming big here y'all!)
Record 3 vlogs (3/3) DONE! I have recorded a few more than 3 at this point 😉 

Finish 2 courses to further my blog (0/2)

Take part in a mentorship program, as a mentor
BUSINESS
Plan and coordinate 6 styled shoots (6/6) Completed in December 2016

Coordinate 15 more weddings (15/15) 

Finish 2 courses to further my career (1/2)

Start a blog for Enchanting Events April 2016!
Attend a wedding industry conference DONE! AKP Retreat
Exhibit at a Bridal Show May 1st, 2016!
Read 3 business based and encouraging books (3/3) DONE! The Best Yes & Grace Not Perfection & The Magnolia Story

Finish my office (this is Blog + Biz)

Instagram Story consistently

 Take a calligraphy class *I am signed up for one in 2 months!
64 out of 101 doesn't seem too bad to me!