Yesterday, Meg shared the 12 Days of Christmas tag, and I am excited to be joining today. It worked out perfectly since I am totally behind this week and hadn't even started a post for today. Also, because I am all about everything Christmas right now!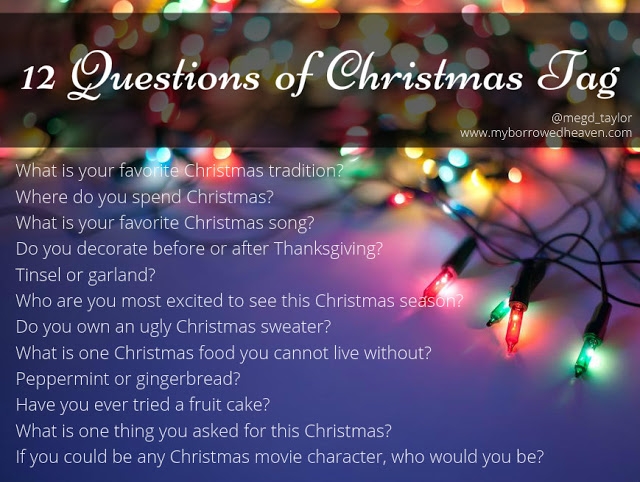 What is your favorite Christmas tradition? For the last several years, I have went to my grandparents house with my mom a few days before Christmas.  My grandmother has a tray of cookies out, and makes peppermint hot toddy's for us while we are all wrapping presents. A few years ago we had to have my grandfather drive us to the store in the middle of wrapping because my mom forgot to buy a few gifts.
Where do you spend Christmas? We originally planned on spending our first married Christmas visiting Dave's family in Buffalo, but he decided he wanted to stay in our own house together. Just hearing him say that was so sweet. So this year we will be staying home, and having christmas dinner at my parents house, where we have for as long as I can remember.
What is your favorite Christmas song? Christmas Wrapping by The Waitresses!
Do you decorate before or after Thanksgiving? Typically, we wait until after Thanksgiving, but since we have been going away that weekend, we decorate the week before.
Tinsel or Garland? Garland!
Who are you most excited to see this Christmas season? I am excited to see Dave's family before Christmas. We haven't seen some of them in a year.
Do you own an ugly Christmas sweater? YES! I own a few, and a pretty snazzy Christmas vest.
What is one Christmas food you can't live without? Mashed potatoes!
Peppermint or gingerbread? Gingerbread.
Have you ever tried a fruit cake? I don't think I have, they always look kind of weird.
What is one thing you asked for this Christmas? Hunter boots! I posted the rest of my wish list a few weeks ago.
If you could be any Christmas movie character, who would you be? Candace Cameron Bure from any of the Christmas movies she is in. Does that count? I just love her!