Here I am writing my first post as a 26 year old! I celebrated my birthday (which was Saturday) by winery hopping in Virginia with some friends. We had so much fun enjoying the amazing weather we have been experiencing and it was the perfect day to explore. We went to four wineries and I will be sharing about our weekend in a later post. For now, here is a quick video to document our fun time.
One of my favorite things about blogging is getting to know other bloggers by reading facts they share. It's getting harder to think of things I haven't shared with you all before, but I am going to attempt to think of 26 more facts about myself. I would love to know if we have anything in common.
I have had 4 cars. A Jeep Grand Cherokee (which was my favorite until it almost killed me- long story), a Cobalt named Molly, a Cruze and now my HRV is named Meredith.
I had a dog for just over a year. His name was Sampson, he was a Mastiff, and one time he ripped the steps off the back of our house and started dragging them down the road. Unfortunately he wasn't sure what to do around babies (he jumped into cribs, and got really really excited) and my brother was just about to be born. We gave him to a family with another Mastiff and a giant farm in PA. I think he liked that life more.
I'm 5'8. Blogging is a weird thing and I always wonder how tall people are since we only ever see photos.
I watch reality tv way.too.much. RHOBH, RHOV, RHONY, Vanderpump Rules, etc etc. Did anybody else watch Timber Creek Lodge?
My first concert was Hanson and the last concert I attended was A Day To Remember, All Time Low and Blink 182.
I LOVE roller coasters but didn't ride my first one until I was 16. I was terrified and ended up riding it 20 times in a row (literally).
If I had to pick a favorite cuisine I would have to say Thai, I absolutely love thai food. Mexican is a very close second.
I wanted to be a Marine Biologist for a really long time. And then I took a biology class and decided I didn't want to have to deal with classes about anything other than specifically marine related biology…so I decided to become a wedding planner 😉
I love chapstick and have them everywhere within reach. I have a few on my desk, in other places on the office, in my purse, several places in my car, and tons around the house.
My favorite show when I was little was The Big Comfy Couch. One year for my birthday my grandmother recorded 6 hours of this show on VHS and gave it to me as a present. It was my favorite gift that year.
I learned to water ski when I was 11. My grandfather wanted me to learn since I was about 5, but I was always too scared to try. I have been raised on the water and I am so thankful for the memories I have involving going out on the boat or jumping off the pier….and even getting engaged on that same pier.
I don't love The Notebook. Call me crazy but it just isn't one of my favorites. The Last Song though, YES. I miss Miley being the version of herself right after Hannah Montana.
From November until March we have a birthday just about every other week in our family.
I had no idea what Jack Rodgers were until two or three years ago. I started to notice them and asked a few of my friends if they had heard of them and they thought I was crazy because they owned multiple pairs.
I hate onions, tomatos (unless they are fried and green), mushrooms, peppers and cucumbers. Amongst other things but those are what I have to ask to be removed from my meals most often.
Sarah Dessen is my favorite author and I normally fly through her books. I am incredibly excited about Once and For All coming out this summer! I'm especially excited that it hits home with being about someone in the wedding industry.
I am allergic to hazelnuts and I only found this out because I LOVED them when I was little. One day I sat at my grandmothers table and cracked likely 50 of them until I had a big pile to eat while I watched TV. I ended up with hives and they discovered that I shouldn't eat them anymore.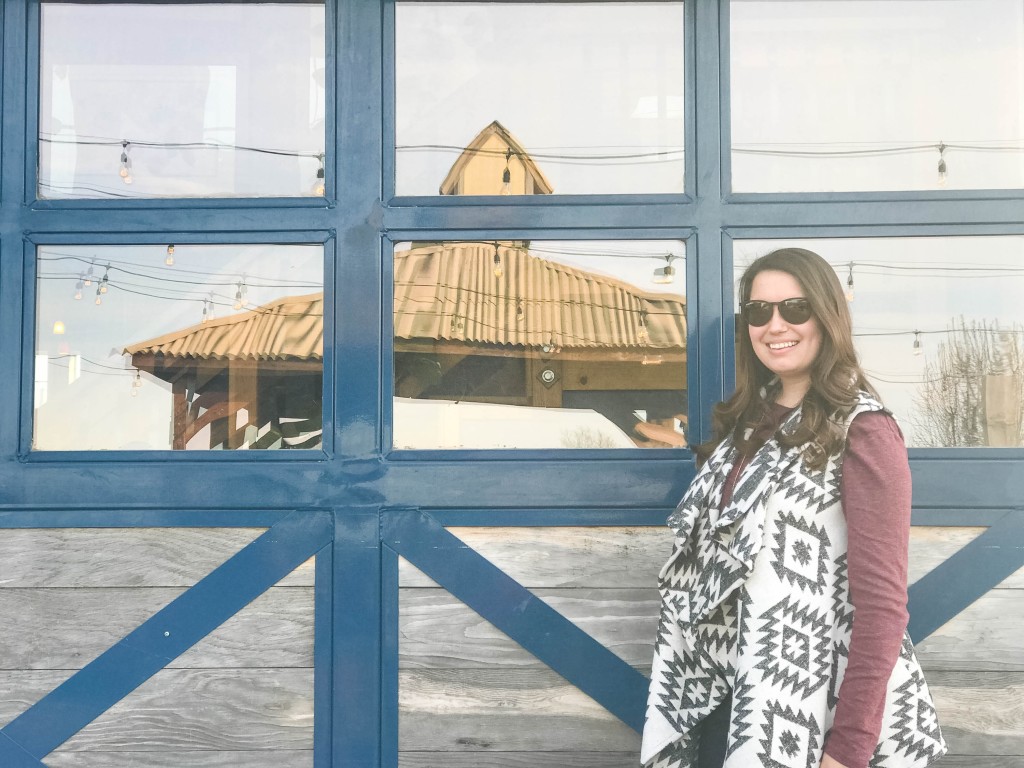 We live in the house that my grandfather built for his mom, my great-grandmother. My grandfather also built my parent's house, my aunt's house, my other aunt's house and at least 10 other houses in our neighborhood. I love driving past his creations every day.
When people ask if I liked being homeschooled I mention the field trips, aka vacations, we were constantly taking. My mom wanted everything to be a field trip so we went to the beach to learn about marine life, Williamsburg to learn about colonial times, tubing in Gettysburg to learn about history, etc. I also was finished the school year by December *insert praise hand emoji*
My mom was absolutely shocked when she found out I drank beer let alone I liked it. She was never into beer, she hates the taste of 99% of them to this day, but she really couldn't believe her daughter enjoyed drinking beer. Now I LOVE beer, I would take a beer over a glass of wine almost anyway, but never over a Moscow Mule 😉
We take shots when it snows. My grandmother started a tradition of doing a cherry bomb at the first sign of a snowflake, and that snowflake has 24 hours until another one can land causing us to have to do another cherry bomb. She has about 100 cherries soaking in 151 in her fridge. Each of us gets a shot glass half filled with liquid and a cherry, chewing those things is tough stuff! I love these family traditions. Whenever any of us see a flake, we head straight to my grandparent's house!
We are turning our house into a smart house. We have an Alexa enabled/bluetooth lock on our door, lights in every room controlled by Alexa, the bedroom fan and some other things. All we have to say is "Alexa turn on _____" and on it goes. Now if she could make us dinner.
I worked for IKEA for 4 years and I was really sad to leave. I had made so many friends but working with the public nonstop was crazy. I also had already been working my new job for 6 months and I knew that was something I planned to pursue…here I am almost 6 years later!
I have had my children's names picked out since I was practically a toddler. I always used the girls name when I played "house" or "restaurant" (did anybody else simply call playing pretend by the name that they were?)
I wanted to see The Backstreet Boys when I was 9 years old and my mom wouldn't let me. I had a FIT! So when they started touring 5 or so years ago, I made it a point to go and my 9-year old self would have been proud. Take that, Jeanboh :p
I love white wine and I'm not a fan of red. I used to strictly drink sweeter whites, but I have expanded my palette to all types now. Chardonnay being my favorite for with dinner and Pinot Grigio at any other time. Then of course sangria whenever 😉
There ya have it! 26 things you maybe already knew about me 😉