Well, it's been over 10 weeks since my last bump date. I'm at such a crossroads with blogging right now. Obviously pregnancy is a huge part of my life now and I want to document that, but I also feel like I want to share other things….but I don't know what those other things are. I'm a bit overwhelmed with just how many balls I have in the air for the time being, but I want to push that aside for today to share some random things I have been thinking about that won't ever see a post dedicated to just the smaller thoughts.
Pregnancy is so weird. You're expected to just let all of these changes happen to your body and know that it's normal. I'm still mind blown that we are made to gain this weight, stretch this much and breathe when a baby is crushing/leaning/pushing every part of your insides.
While I haven't been one of those people that loves being pregnant (hello 20 weeks of puking) there are some moments I can understand how other people do love this and want to have this experience again and again. I've been told that I will miss the moments of knowing she is safe inside of me, always with me and the reminders of that as well.
Maternity clothes should be more comfortable and cheaper. This is one of the most important times in your life to be comfortable, with all the changes to your body, weight, insides, etc. all I ever want to wear is sweats and a t-shirt because maternity clothes aren't more comfortable. The leggings are fine but goodness does the belly band itch sometimes, the t-shirts are fine but they tend to ride up every time I stand up.
Do your research. No matter the number of friends or relatives you have that give you similar advice, the classes you take, the registry lists on Pinterest that you read, take the time and research everything. I was shocked to find out some of the things that are marketed and pushed towards new moms are actually very unsafe. Why these products are still on the shelves I will never understand! The precious life of your baby isn't worth it just because so many other moms are using those things. Car seat safety and sleep safety are two of the hot topics I highly suggest looking into for yourself before you make a decision.
I am so thankful to be able to do this. From the day I found out I was pregnant, through every rough time of sickness, during every kick to the rib, I am trying to remind myself to feel thankful. I get to be pregnant. I remind myself of that everyday. This isn't something every woman has the chance to do, and that makes me feel sad and thankful at the same time. Pregnancy is a blessing, babies are a blessing and this experience as a whole is a blessing! Every mom has a different story, whether is pregnancy, adoption, surrogacy, etc. I'm happy and thankful to have one of those stories.
33 Week Bumpdate!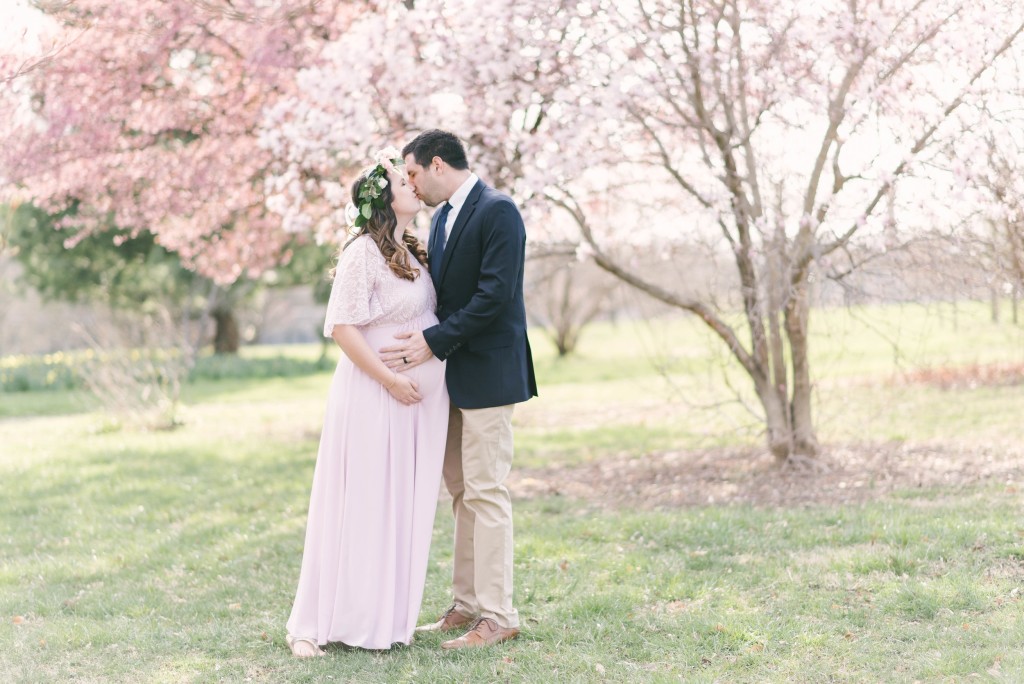 photo by Anne Casey Photography
How far along: 33 weeks
Due Date: May 25th
Baby is the size of: celery
Gender: girl!
Name: Olivia Ronnie
Symptoms: leg cramps, heartburn, sleepless nights, constantly peeing, cramping, so much swelling. I live in Uggs right now because they are practically the only shoes that fit. Maybe Maryland will get its act together and I can wear sandals soon.
Movement: Olivia is constantly moving around, especially at night. She also gets the hiccups fairly often.
Cravings/Aversions: I'm not sure if it's considered a craving but my friend mentioned greek food the other day and I decided to get that for lunch because it sounded good, besides that I am so surprised at my lack of cravings. 
Missing anything: Blue Moon! I can't wait for an ice cold Blue Moon with an orange. 
Sleep: I wake up few random times throughout the night, sometimes it's easy to go back to sleep and other times it takes a bit. 
Mood: Moody, I'm sorry to those around me. I have been bickering with my sister pretty often which is weird because we have bickered maybe 4 times in the last several years.
Maternity Clothes: Yep! Thankfully I am still able to wear pre-pregnancy cardigans though because most of my maternity shirts are short sleeve. I can't wait to be in dresses. Leggings are fine but jeans are so uncomfortable.
Doctors appointment? Every other week for right now.
Nursery: Maybe 50% done? I just ordered curtains but everything else will have to wait until after the shower. As much as I want to buy all the things, Dave is making me wait. I can't wait to shop for what we still need!
Best moment this week: My doctor telling me that I'm doing a great job and everything looks and sounds great! I worry about a lot of little things so it was really nice to hear that! Also, our maternity photos with Anne Casey Photography (and Mandi from Chesapeake Charm Photography stopped by as well!) 
Looking forward to: Everything! There are so many things happening soon, our shower is this weekend, finishing the nursery, our last birthing classes, I can't wait!
Husband is: Amazing. He falls asleep with his hand on my belly, asks how we are doing, and is constantly going above and beyond to make sure we have anything we need.