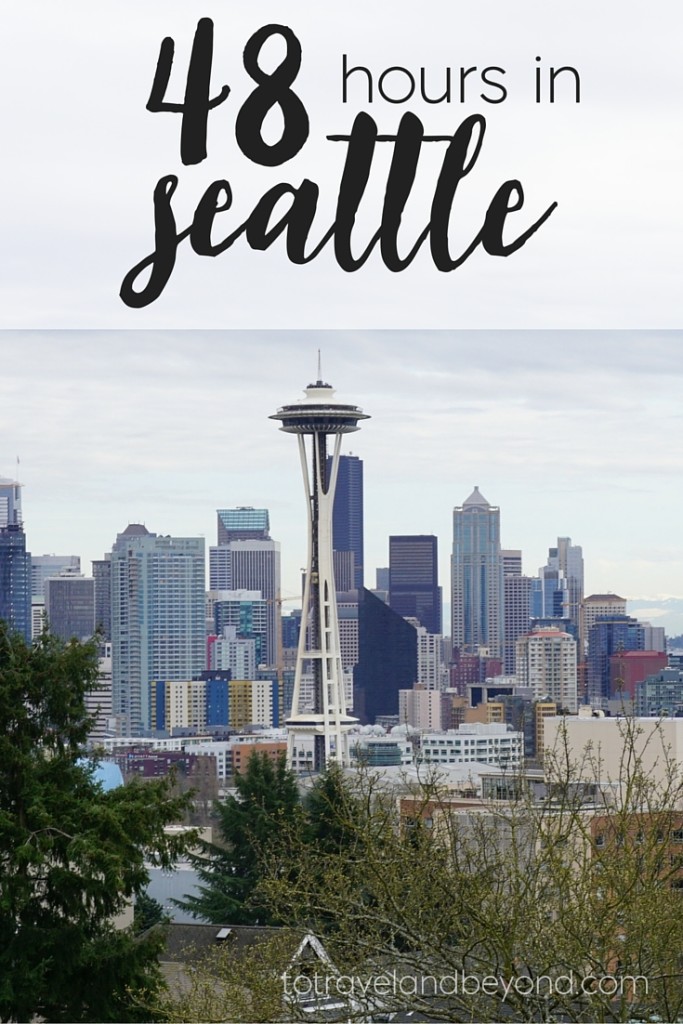 While a weekend is not the ideal amount of time to spend in an amazing city like Seattle, sometimes you have to take what you can get. This year I am working on mastering the art of seeing it all in just a few days time, so I am fairly confident in the itinerary of what you must see while you are visiting Seattle with only 48 hours to spare. If you have more time, I suggest checking out this post of 15 things to do in Seattle and this post about where you should eat in Seattle. 
This is more of a defined list of must see's with not very much extra wiggle room on timing. With so much to do and see in this beautiful city, a mere 48 hours may not seem like a lot, but there is actually a lot you can see fit into a weekend!
9 am- Start with breakfast at Biscuit Bitch*. This place was right next to our hotel in Belltown and even though we planed on finding somewhere else for the next day, we decided to have something new on the menu here instead. The food is inexpensive and you get the perfect sized portions. This is the perfect way to get energy for your day!
10 am- Make your way to Pike Place Market. We were able to see the market a few times during our trip, and I found it to be the most tourist-free before the afternoon. We wandered the area, explored the few floors, sampled some delicious food (the handmade pastas were AMAZING), and laughed at the guys throwing fish in the air.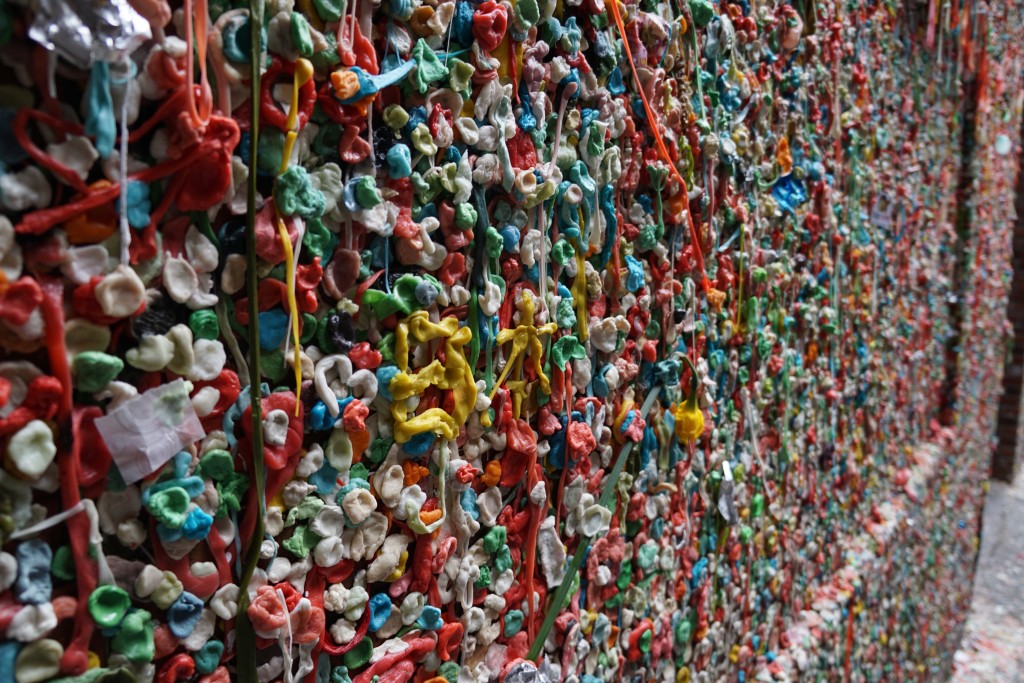 11:15 am- After you fill yourself up on samples, grab some gum and hit up the gum wall. This wall is only a 1 minute walk down a flight of stairs from Pike Place Market and one of the most well known photo locations in the city. Don't be ashamed, everyone else does it too.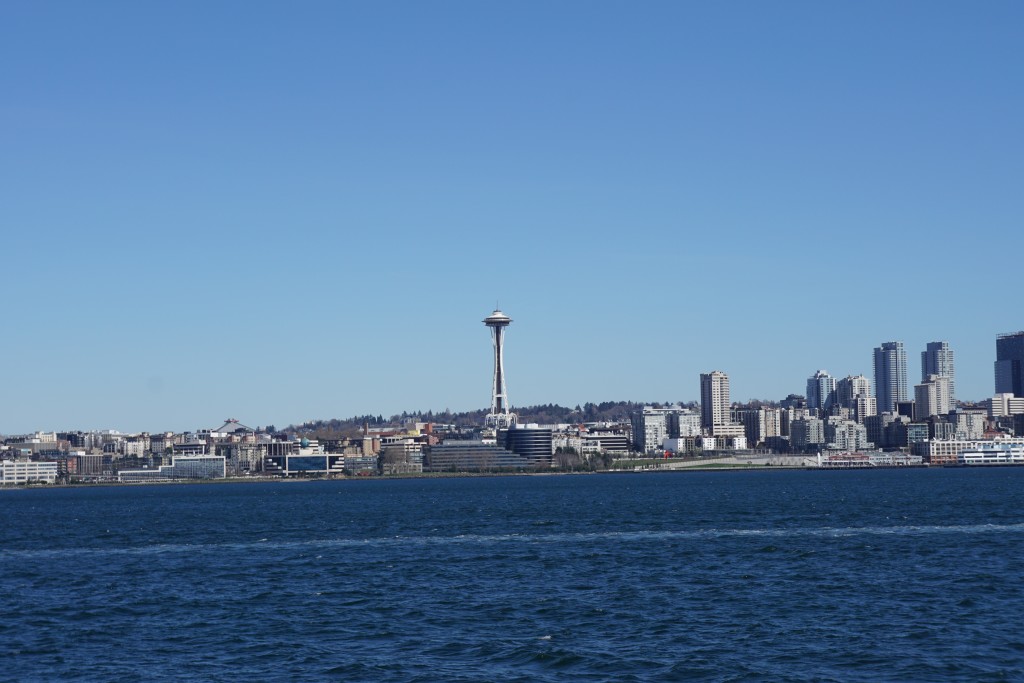 11:30am- Check the schedule, but this should be perfect timing to make it to a Argosy Harbor Cruise. The dock is 2 piers over from the aquarium, and you can't miss the signs. You can chose the length of your cruise based on what you want to see, but I recommend the 90-minute skyline tour. You will learn some great facts about Seattle, the buildings, and the marine life that is around.
1:00 pm- Once your cruise is finished, you are likely ready for some lunch. Pike Place Chowder will have a line, but it is worth the wait. I recommend ordering the sample with a bread bowl on the side. You can choose a few chowder flavors and then dip your bread into the bowl. We ordered one medium sized chowder and one sampler to share, it was just right.
2:30 pm- Make a pit stop at the original Starbucks, which some say isn't really the original- but it is good enough. If you don't want to wait in line, it's still a nice photo op because this is the only Starbucks in the world that still features the vintage mermaid.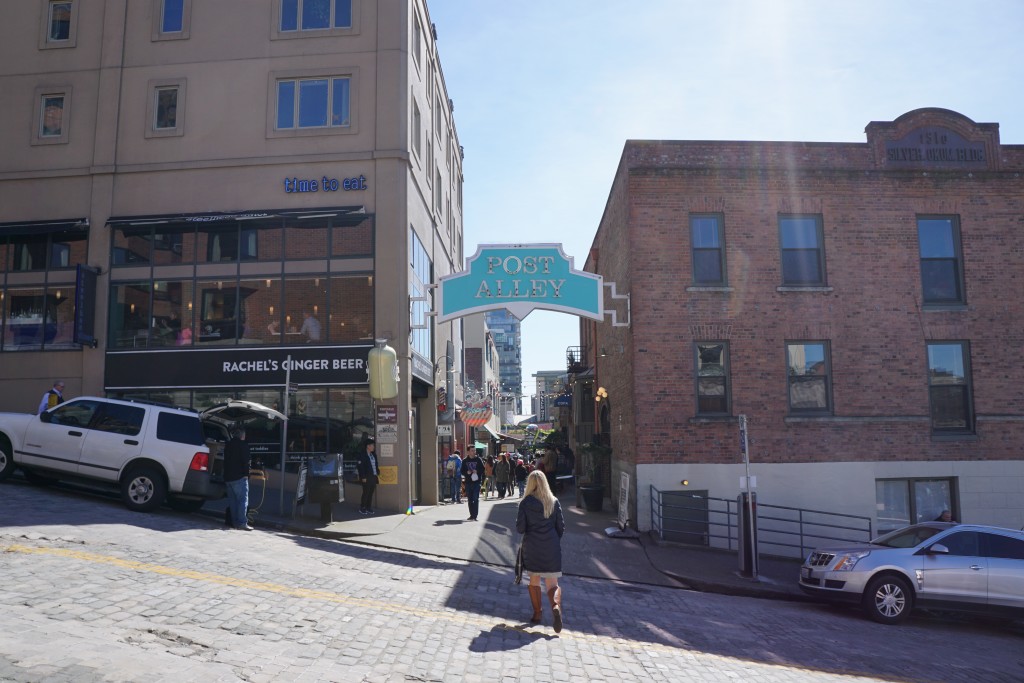 2:45 pm- This is a good time to just wander around Post Alley. There are cute shops along the market, and also great places to grab a drink. If you are looking for somewhere delicious to people watch and have a unique beverage, try Rachel's Ginger Beer.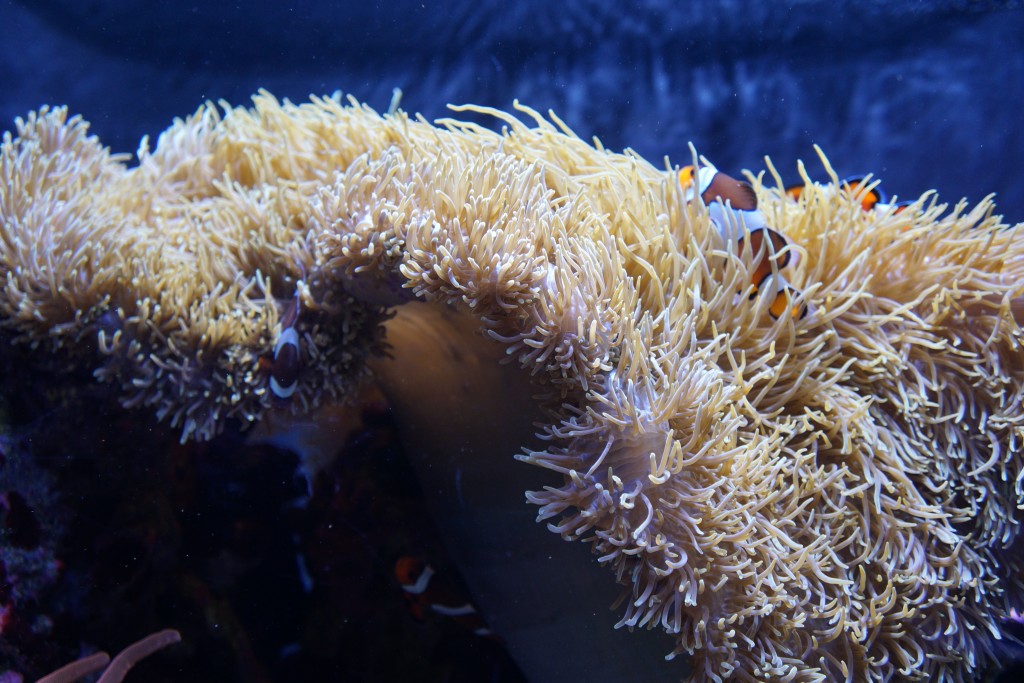 4:30 pm- The Seattle aquarium is open until 6pm and is the home to some very fun creatures. The best part for me was the wave pool and the touch area, there were so many different types of fish and other creatures that we don't have in East Cost aquariums.
6:30 pm- The Seattle Great Wheel is next to the aquarium and is definitely worth a visit. Depending on the time of year, it may be sunset by the point, which will give you an amazing view of the city. If it isn't sunset, you will still see the beautiful city, sports arenas and the harbor in all of its glory.
8:00 pm- Dinner time at The Pink Door. Make sure you have reservations, especially if you would like to see the show. There are burlesque shows on various nights of the weekend, and the food is amazing. Be prepared to spend a pretty penny, but if being a foodie is your thing, this is the place to go.
The end of day one is completed, now rest up because tomorrow is going to be busy!
8 am- Start with breakfast, again I would opt for Biscuit Bitc* because it's inexpensive and delicious, if you are in the mood for something differnt, find a Top Pot location and grab a donut.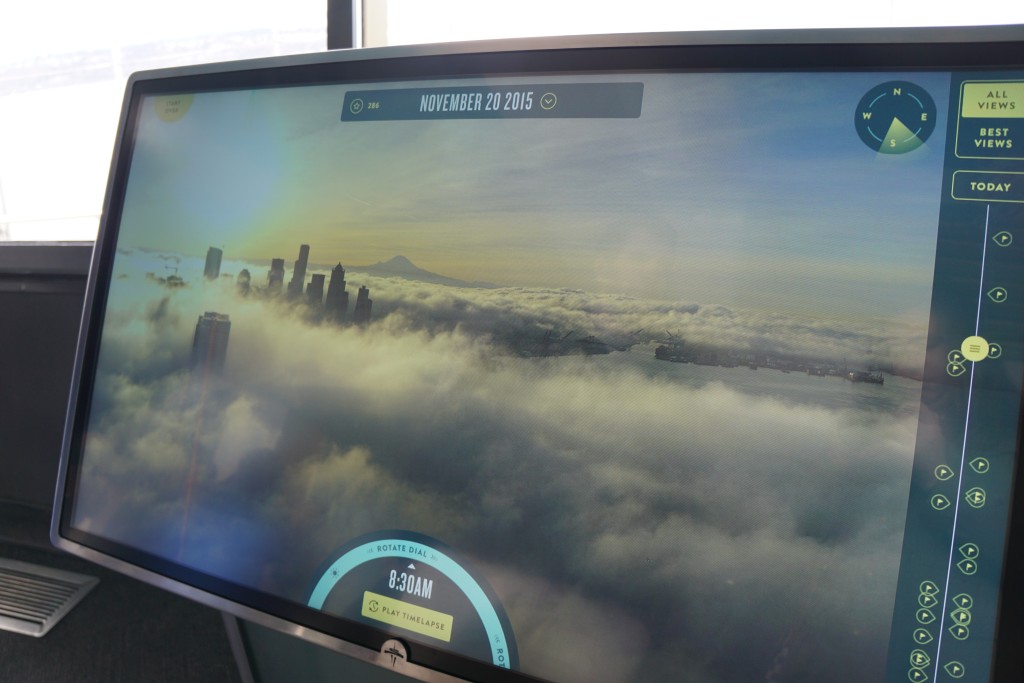 9 am- Head to the Space Needle, and make sure you get the ticket that allows you back in again within 24 hours. The views from the observation deck are amazing, and you will need some time to read the facts about this amazing skyscraper. The staff were very informative as well and were always available to answer questions. Take advantage of the free photos you can get while inside and outside, all you have to do is scan your ticket to download them.
11 am- The EMP Museum is right next to the Space Needle and well worth the visit. This is a very eclectic and interesting museum, focused on the arts: music, video game production, video production, etc. It is also extremely interactive.
1 pm- Grab lunch across the street from the Space Needle. There are some great options for a quick meal across the street from the complex. We found a great Greek place, but there were also options for subs, Thai, Sushi and more.
2 pm- Visit either the Chihuly Gardens or the Pacific Science Museum. Unfortunately, there won't be time for both within 48 hours, but they both have their offerings. The Science museum is very hands-on and full of interesting things, and the Garden is beautiful and captivating. Either way, you will be glad you visited.
4 pm- Spend time people watching at the International Fountain. The fountain is right next the Space Needle plaza and is the perfect place to relax a little before preparing for your next adventure. There are also plenty of places to grab a snack and drink to bring with you.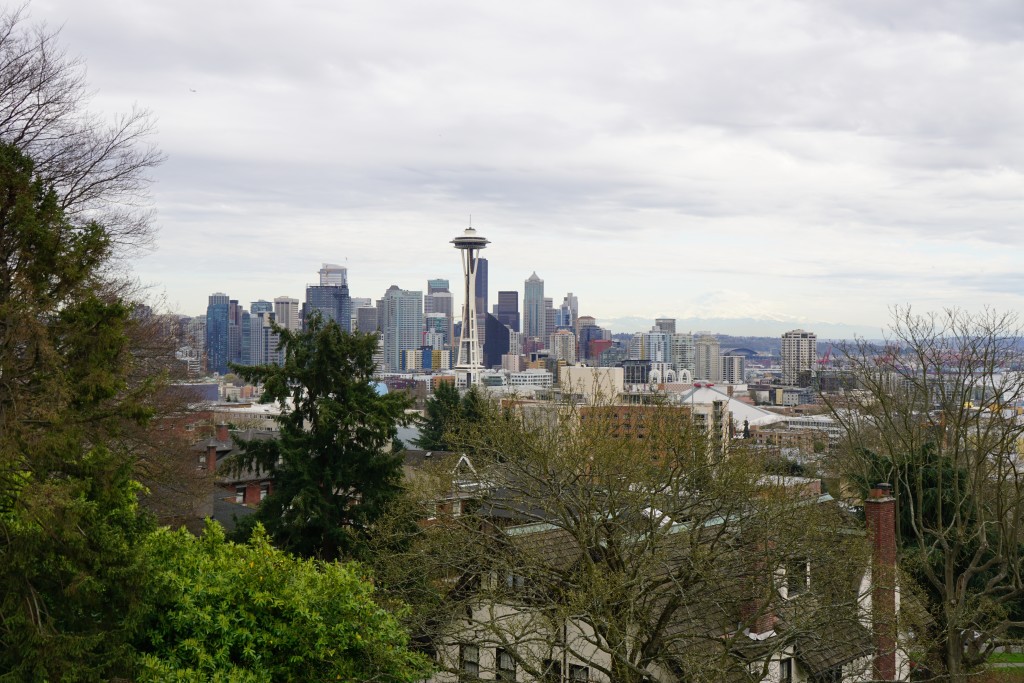 5:o0 pm- Grab a ride to Kerry Park. We made the mistake of walking to the top, and it took a very long time and then I was exhausted by the time we arrived. The view from here is amazing, so make sure you have your camera. One thing about Seattle is the view from all different areas and angles. You will want to savor all of them.
6:30 pm- Walking back to downtown wasn't very difficult, we actually walked towards the water on the left side and then wandered all the way down. There were several places to stop and eat along the way, which gave us perfect time to enjoy some food and make it back to the Space Needle.
7:30 pm- To end your time in Seattle, head back to the Space Needle observation deck, buy a beer, and find a spot to watch the sunset over the mountains. We found a table facing the city, and then I wandered to the other side to get photos of the sun setting over the mountains as well.
After these magical 48 hours in Seattle, you should have a great idea about this beautiful city. If you have extra time to do all of the museums and tours on this list, I suggest checking out this post about the Seattle City Pass
.