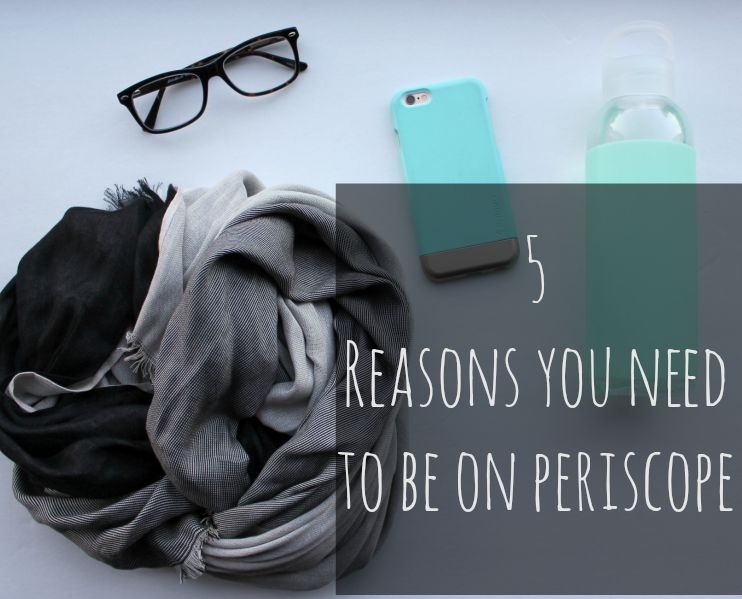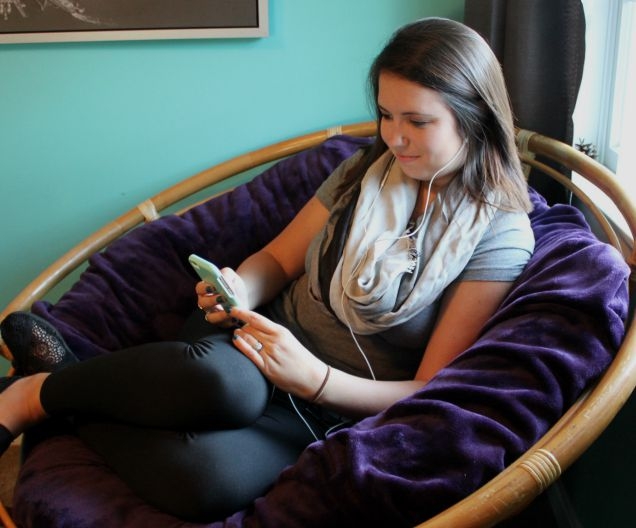 scarf | leggings | phone case
Periscope is the new social media taking the app store by storm. Have you heard of it? The makers behind Twitter have developed a new app to bring live video to the world in the click of a button. Think Youtube and Snapchat combined. Periscope is used to instantly share a video, whether it be a story, a life lesson, a midnight chat or whatever else you heart desires to share, you can share it with all of you friends and following right away.
There is no editing, no switching between scenes, and most likely not practicing. It's a very cool and different social media platform and I have to admit…I am almost obsessed. I come home from work and can't wait to catch up on all of the scopes from the day! The videos are only available for 24 hours, which makes it important to either catch the scope live, or check in soon after it ends. One of the best parts of this social media is the chat aspect. Viewers can type into the chat box for the rest of the audience and broadcaster to see. I have found this most helpful when watching an educational scope, or for when someone is looking for opinions on something.
Think about walking into your closet and having a hard time deciding what to wear, you can instantly ask your followers and they can type what they like best. There is also a "heart" currency, you can tap away on the screen to give "likes" when the broadcaster is resonating with you. Since this platform is connected to Twitter, if a broadcaster uses hashtags in their title, it is then searchable on Twitter. This is awesome for everyone taking part in the #AlisonPeriscopeChallenge! But why do you need another social media platform? I have 5 reasons to help convince you.
1- Sharing God's Word. There is a #Faithcast hashtag that is generally used for scopes like this. I follow many creatives and professionals that will dive deep into scripture, or share what is on their heart through Periscope. It's like a private Bible study! I have met several new people this way, and it is such a raw way to get to know someone.
2- Marketing & Networking. I have found this to be an amazing tool for meeting new Creatives in the wedding and blog world! I followed several people from the Rising Tide Society, and whenever they share a cast of someone else's I hop on and watch their scopes as well. If the theme resonates with me, I will comment and begin a dialogue with the broadcaster. Another benefit of this is "behind the scenes" kind of things. Katelyn James had a photography workshop last week, and she was scoping from the mountain while the attendees were photographing an amazing sunset. It's like you are really meeting in person! Get your name out there.
3- Meeting Similar People. Like I mentioned above, you are able to meet so many people within your field, or others that you share similar hobbies. Just search hashtags and find Periscopers that you will enjoy!
4- Instant Actionable Data. If you are launching a new product and want live feedback from your viewers, you can get on Periscope and share what you are working on. You are able to get feedback right away, make changes in front of peoples eyes, and figure out what will work best!
5- Learning Tool. I am amazing by the amount of knowledge people will give out for free on this tool. I have learned about pricing for my business, the best places to shop, when I should be posting on Instagram, and so much more from people scoping. Many people will run a Q & A through their blog or website and then answer questions live on Periscope.
Are these 5 reasons good enough for you? I LOVE this tool for my business, and I can't wait to learn and grow more. It really is such a different social media platform, I think everyone should give it a try! I will soon have a post all about who you should be following on Periscope!
If you sign-up, follow me at @enchntingevents (my business handle!).