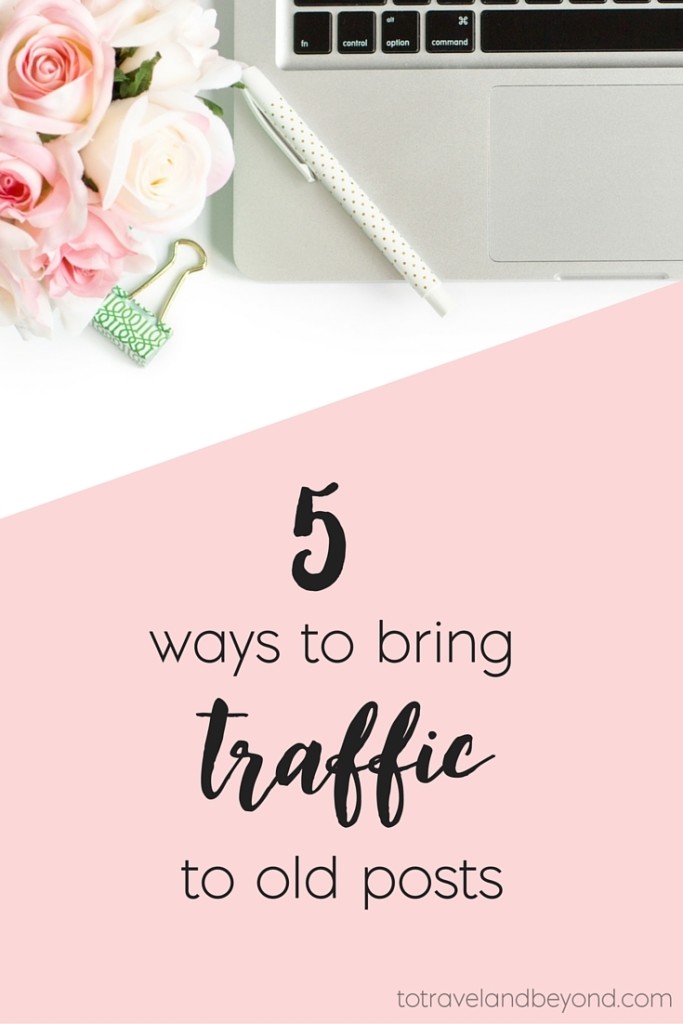 We all put our heart and soul into blog posts, get some traffic the day or week we publish it, and hope we get lucky and it gets repined, we make new friends, it gets shared, and commented on. But what happens when we put these posts out there and then they just get added to the 100's of pages in our archives? Bringing back traffic to old blog posts is important in your blog life, and it's even better when you are able to do it organically over time. While it does take some effort, there are several ways to revive those posts, and get them in front of even more people.
Highlighting and sharing old posts is not only important for your traffic, but also for your new friends and followers. I love when I am preparing for a vacation and I see a blog friend share something "from their archives" and it's all about a trip they took before I "met" them. This helps me from searching through all of their posts to see if they have talked about it before, and it helps them get traffic at the same time. While there are some obvious ways to bring traffic to old blog posts, I have 5 specific ways that I like to pay attention to.
Refresh Your Images
One of my favorite, while easily the most time consuming, ways to refresh old posts is to change out the photos. Specifically refreshing the pinable images, and repining using these images. It's also a good idea to go over the rest of the photos used within a post and make sure they look nice together and are the best quality you are able to use.
Switch Up Your Keywords
Keywords are your main source of SEO. You want to have these keywords in your meta description, as alt tags and names of photos, several times throughout your post itself, in the title, the URL, and anywhere else you see fit. Sometimes all an old post needs is a new set of keywords to make it spread like wildfire. You can use Google keyword planner to help you find the best ones.
Curate Your Related Posts
Having a summary of similar posts at the bottom of each post will help decrease your bounce rate because people will want to click around after they finish reading a great post. There are a few ways you can do this, my favorite is with a plug-in. This direction is more specific to WordPress since I am only familiar with WP and the plug-ins for this system. After you have your post completed and scheduled, "view post" in WordPress, and scroll down to the bottom of the post to edit and select the posts you want highlighted. I always try to find posts that not only have a similar topic, but the photos also look good next to each other (5 points for carrying your brand throughout everything!!)
Link Back To Your Work
Always try to reference previous posts throughout your new posts. It's really good for SEO when you link back to another post by using the keywords you selected for that specific post, but if you need to you can also include it by simply saying "read that post here" or something similar. I have also noticed some bloggers randomly including related posts in-between paragraphs, for example:
Related content: 7 Best Blogging Resources
Schedule For The Future
Scheduling content as far in advance as possible will indirectly bring traffic back to your posts. Since I use Coschedule I am able to schedule social shares for any future date within a specific post, I typically schedule them for 1 week after, 1 month after, 3 months after and 6 months after. About 2-3 times on each of those days. I also check my "top posts" on Coschedule and make sure there are always upcoming social media shares scheduled.
How do you bring traffic to old blog posts?