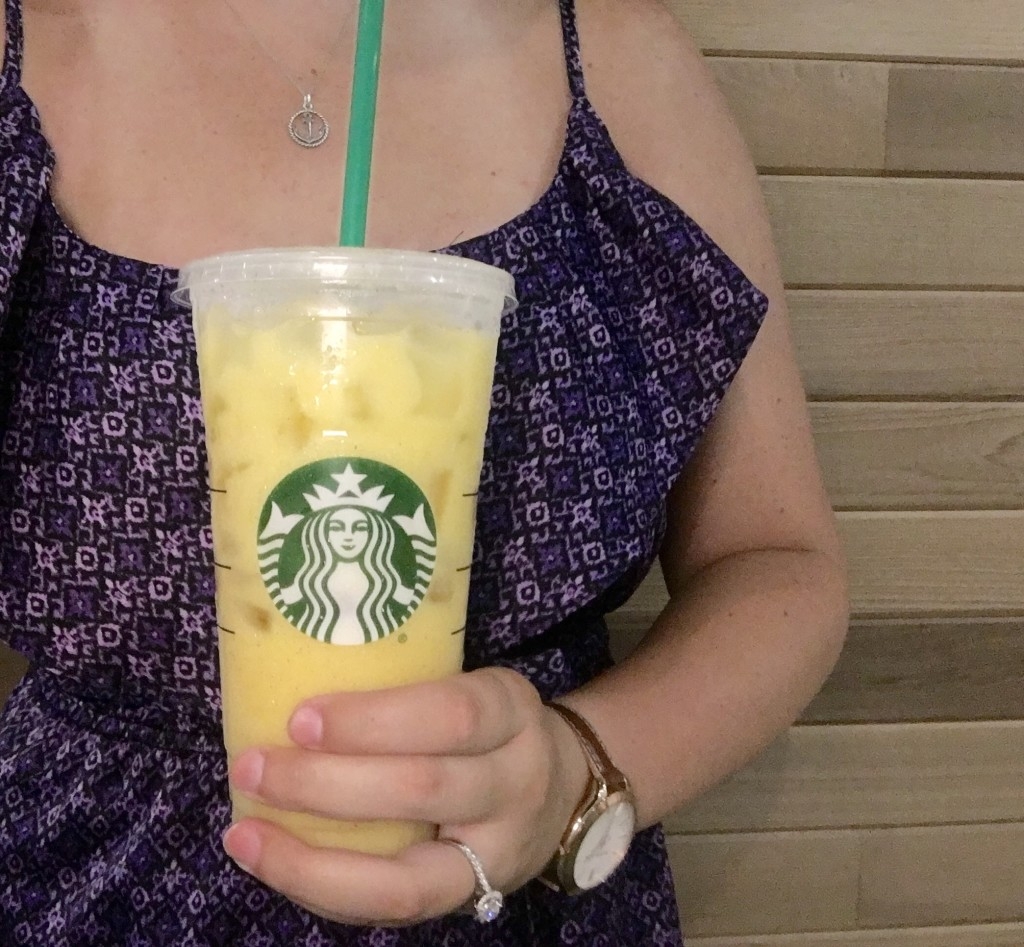 I love coffee dates, so I am back with Amber and Erin for their monthly link-up! Today, I am going with a Starbucks secret menu iced beverage instead of coffee though, because oh my has it been HOT here in Baltimore. Have you tried these yet? This was the orange one with vanilla bean powder and it was pretty good. The pink is my favorite so far.
If we were on a coffee date, I would ask if you paint your nails and what your favorite brand is. I am obsessed with essie polishes, I have at least 75, but I need a topcoat that makes the polish last longer. After about 2 days (if I am lucky) my nails look terrible and I have to do them again. Who has time to do their nails every other day? Gel manicures are amazing, but I hardly have the time (let alone money) to have them done.
If we were on a coffee date, I would ask you about the insecurities you have. Sometimes it's nice to be honest with others about what you don't like about yourself. I would then pray that you find a way to love this part of you and know that you can cherish it. Beauty is from within, and we often are so hard on ourselves. I am noticing this more about myself and trying to change it.
If we were on a coffee date, I would tell you about the weekend I had and how wonderful it made me feel. I want to do a recap on this weekend, but I honestly just wasn't ready to admit that it was over. We spent so much time with friends from near and far and it made my heart so full. I love seeing a group of people together that normally wouldn't be in the same location. It reminded me of our wedding festivities.
If we were having coffee, I would ask what you are doing to follow your passions. We all have dreams about something, but are we all working towards achieving those dreams? I would guess that most people aren't. I can't blame anyone because it can take a lot of work, time and money, but I am here to tell you just how worth it, it is! In fact, we have been entered to win a photo on the BACK COVER of a magazine. A real live magazine that we can hold in our hands. All we need to win is YOUR "likes" on Facebook. It would mean so much to me and my mom to win this, and all of the other vendors involved as well. So if you would like, check out this link and like the Facebook photo. THANK YOU in advance <3
If we were on a coffee date, I would ask if you heard about the crazy rules that businesses can't talk about that certain things that are happening right now for about three weeks. If you don't know what I am talking about, check out this article. I am so bummed because I had so much to share, and many people to cheer for!
If we were on a coffee date, I would ask what you normally eat for breakfast. I am lacking in healthy, quick breakfast ideas, and I love learning what others choose to eat. It's such an important meal but it is often skipped. I am been banking of lots of fruit lately, but switching it up will help me to not get tired of it.
If we were on a coffee date, I would confess that I have over-indulged in the off-the-shoulder trend. I have 4 dresses now and I love them all. It's such a cute trend and I hope it stays around for a while, at least so I can wear my new dresses. I am looking for a chambray off-the-shoulder shirt now, and can't seem to find one anywhere. Target had them in stock for a second, but it was before I thought I could pull it off.
If we were on a coffee date, I would ask how you budget. This is something I am terrible at doing, but really need to start. We have some big things on the horizon and I need lessons. So PLEASE share how you do it! If it's big on saving, less shopping and building for the future with a spouse, I am even more interested!
So let's have coffee, shall we?