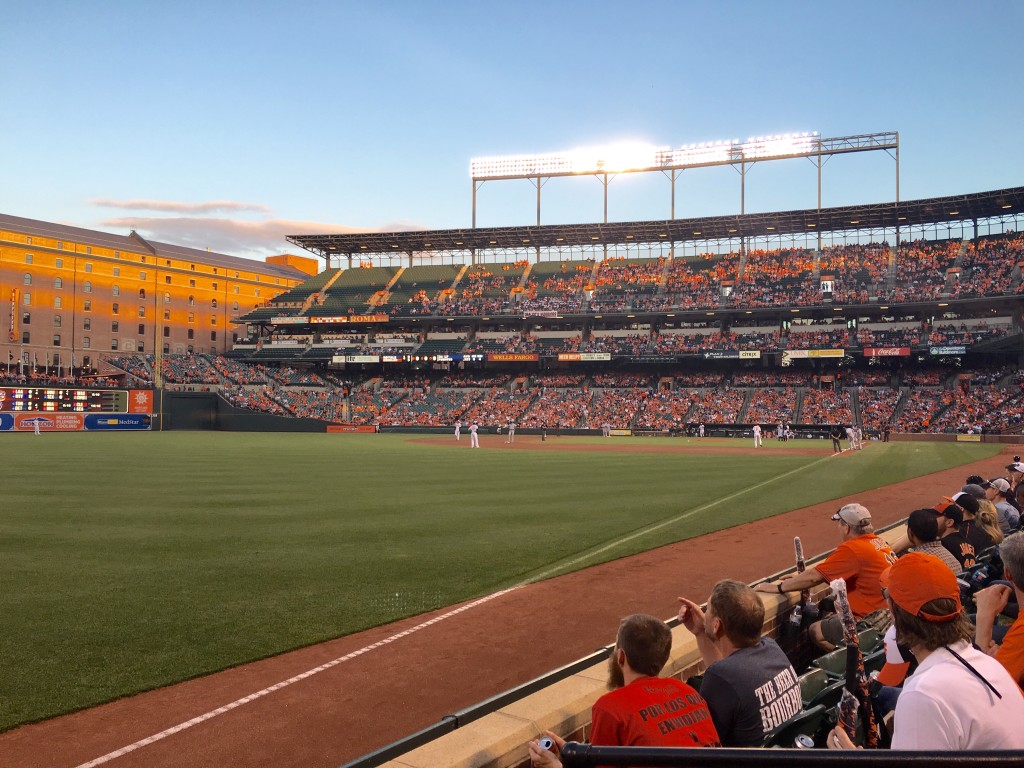 You might be wondering what #OPACY means, in fact I am 99% sure that most of you have no clue what it stands for. That is totally fine because I live in Baltimore myself and had no clue what it meant until the very end of last baseball season. #OPACY means Orioles Park At Camden Yards, aka the best baseball stadium in America, in my opinion. This isn't the point of this post though.
I have mostly dialed back my posts about a single event, and I'm technically not blogging on Thursdays unless it is super awesome and I feel like it needs a post of it's own, so here I am with a super awesome post about one amazing night. Spending an evening in Birdland is a must, typically at least 5 times in a season. When you have a group of friends as big as ours (4 blogger babes + 4 blogger babe guys) you are guaranteed to have a few diehard O's fans. Because of this, we quickly planned a blate for Camden Yards.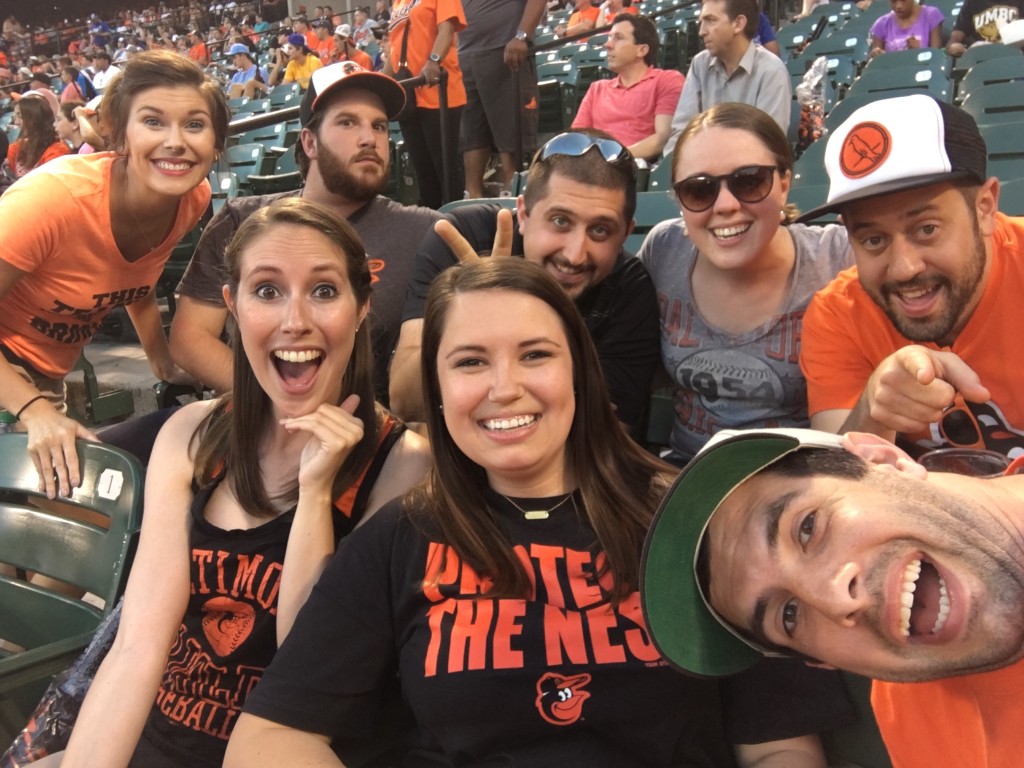 Every time we all have a chance to hang out is a fun time, but this specific night, at this specific game with these specific people was the recipe for the BEST GAME EVER. It all started with the giveaway for the night- Baltimore Orioles Golf Umbrellas. Giveaway nights are the best, and happen fairly often. We entered the stadium, grabbed our umbrellas and found our seats. We were row 3 and 4 right next to the foul ball marker in left field, little did pay attention to this until later.
As all blates begin, the gals chatted about what has been happening in our lives, how our latest posts are turning out, what we are struggling with, etc. The guys chat about cars, or sports, or comic books, whatever guys typically chat about. At some point the guys _try_ to join in on the blog topic conversation and then they quickly go back to whatever they find more interesting. This time they wanted to understand what the "And Beyond" meant in my blog name, they liked their reasoning more than mine, and I'm going to leave that off of this here blog.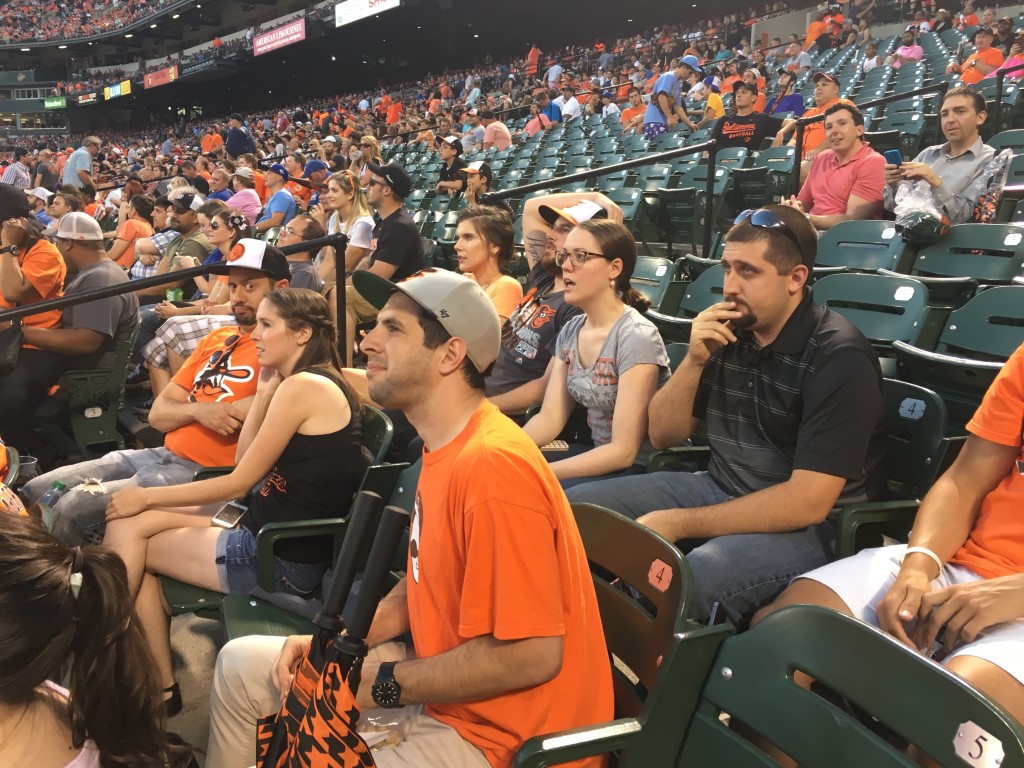 Annie and Brandon explained why we didn't like the Royals, I explained why I love the Ravens, Mike got our crazy interactions on GoPro and Megan and I danced out hearts out, only to not win fan of the game. I also got a great photo (above) of everyone intently watching the jumbotron to see which crab had the ball under it's belly. Best group ever.
We all jumped around to various seats throughout the night to chat to each other, and then would rearrange for the gals to talk again. During one of our conversations, we heard lots of commotion, looked to the field and noticed that the benches were clearing, players were all over the pitchers mound, players that had been warming up were rushing the field, and the crowd started cheering "Manny! Manny! Manny!". OMG a fight at a baseball game? With the players?! This meant Annie was FREAKING out.
We quickly started searching Twitter, Google, etc to see the fight and what exactly happened. The crowds near TVs would all shout at the same time, and basically we all felt unified as one against that silly pitcher that thought it was okay to slam a 99mph ball into our very own Manny Machado. We were in this together and it was already a great game. One after another the home runs started happening (take that Royals!).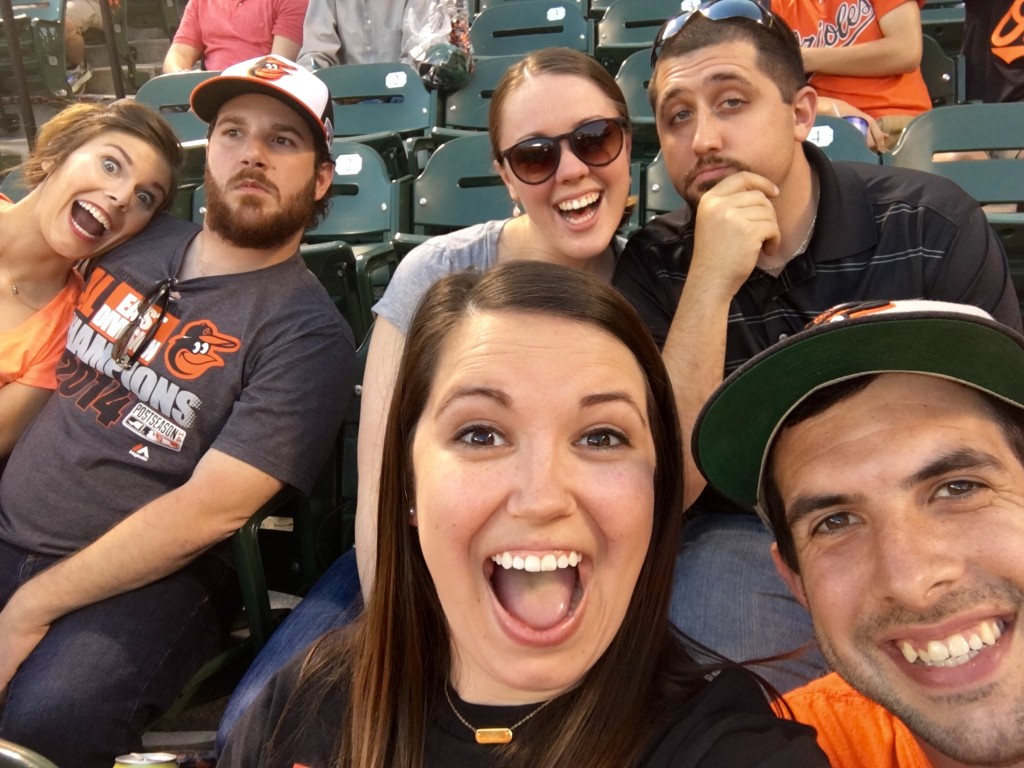 A few bat swings later, we all glance up into the air RIGHT ABOVE our faces. There was a 99mph Flaherty Foul coming right at us. As I panicked, I looked to see what Megan was doing, so I could follow. In my eyes, she was gone. I panicked some more. There is only so much you can do when you are surrounded by people and a foul ball is seconds away. I got down as low as I could, waited until it was gone and then hyperventilated some more. It took about 3 minutes for me to realize that everyone had been staring at Dave's hand, little did I know what happened.
Dave thought he could catch the ball with his bare hands. The ball smashed into his hand, went right through and bounced behind us for the next group of fans to grab. His hand was bruised and trembling, but thankfully is now okay. I can't believe it took so long for me to realize it!
The O's ended this amazing game with a 9-1 victory over the guys in blue as they hung their heads after losing not only the game, but the fight as well. We all screamed and cheered for the victory, and we were one happy group of Baltimoreans.
I can't express how much fun this game was. The win was the icing to the cake because these people make everything so much fun. We laughed for the entire 3 hours about the silliest things, and I can't wait for round 2 at Camden Yards and the rest of our blates this summer!
The only thing that could have made this night any better was heading back to the Raddison Baltimore Inner Harbor for a good nights sleep.