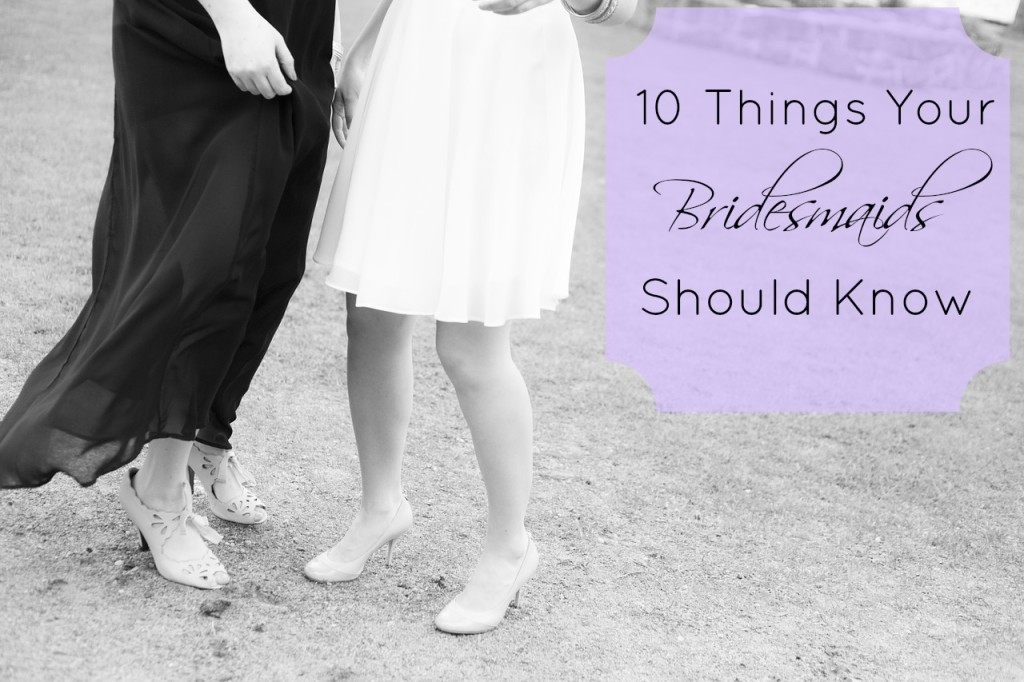 I am currently a Bridesmaid and a Bride which has given me so much insight into the world of both sides of the planning process. One of my best friends is getting married less than a month before me, and while it is incredibly exciting, there is more stress than there normally would be for somebody taking on either role. Planning our weddings at the same time has also been so much fun, and we are able to relate on so many levels. It's nice to be able to run to someone to vent and have them completely understand.
A few weeks ago Cassie from Sage posted about how to be a great bridesmaids and since I am living this experience currently, I thought it would be best to blog about some do's and don'ts for before the big day. Not all of these are necessarily happening in either of our situations, but it is things I have thought about or recognized.
Offer advice at the correct time and place. This is best during very early stages of the planning process. A nice time would be once the bride has chosen her colors and is beginning to think of other details. Sending centerpiece ideas, venue possibilities, or even photos of wedding dresses is a nice way to go about offering advice. The bride will appreciate you taking the time to want to help.
Remember it isn't all about you. While the Bride will (hopefully) want you to enjoy the process, she has a lot on her mind already. If you are asked to wear a certain style dress, try not to complain about it or ask about a different one. Once things are decided, they are decided, never try to change them.
Ask where you are needed. The bride may have already asked one of the other gals to start helping with favors, and you won't want to find this out after you have already bought 200 of them. At some point there will be something for everyone to do, just make sure the bride knows you are ready and willing to help.
Put on a happy face. The bride won't expect all of her bridesmaids to become best friends, but make sure you are not starting drama throughout the process. The bride choose this group of gals to stand by her side on her big day and she may not have thought about the different personalities of each 'maid. Make sure to keep things lighthearted and fun.
Be present. If you find out about an event a few months in advance, don't want until the last minute to say you won't be able to attend. The bride will be counting on you for these things, and she will want you there.
Be respectful. If the bride has asked you to do something, try and do it right away. One of the biggest stresses is having to remind someone to do something you have asked of them. This can be anything from ordering your dress, or finding out someones address. It will also help you to take care of it in case you could forget.
Think about your expenses. Being a bridesmaid isn't cheap, but you should think about that before you say yes when you are asked. You will have to pay for a dress, possibly beauty related things, and also contribute to the shower and bachelorette party.  These things can get expensive, so a good way to handle everything is to start saving as soon as you find out your duties. If you aren't able to do all of these things, don't be afraid to explain that to the bride as soon as possible.
Supply the good times. There will be days when the bride will not want to focus on the wedding and she will need to take some time to step back and relax. Bring over a bottle of wine and watch Gossip Girl for a few hours to forget about all of the planning tasks.
Take Pictures. This one is just as important as the rest of them. Make sure the entire process is documented. A great gift for the bride on her wedding day would be a photo album or scrapbook of all of the events leading up to her big day.
Ask others first. If the big day is coming up quickly and you aren't sure of a simple detail, ask one of the other bridesmaids if they know the answer to your question. If she isn't sure go ahead and ask the bride (or planner if there is one). The bride will have a lot on her mind the few weeks leading up to the big day so try not to stress her out, hopefully she will understand that some questions will need to be asked. But avoid the question "can ______ come to the wedding?" this is one of the biggest no-no's in the wedding game. I'll clear that up ahead of time- ff they weren't invited, no the can not come.
Do you have anything to add to this list?
---
Don't forget to link up with Meg and I, we would love to have you! We can't wait to read your bridal tales, wedding stories and of course look at the pictures from your big day!
<div align="center"><a href="http://totravelandbeyond.com/" title="ToTravelandBeyond"><img src="https://lh5.googleusercontent.com/DuTUDWIem5UvRgTQOtJG5fpd1bgDDdkNlu3CnKG4iN4=s207-p-no" alt="ToTravelandBeyond" style="border:none;" /></a></div>