I know I said I would be sharing more besides baby stuff, which I will, but I wanted to get this first bump date out before our gender reveal this weekend!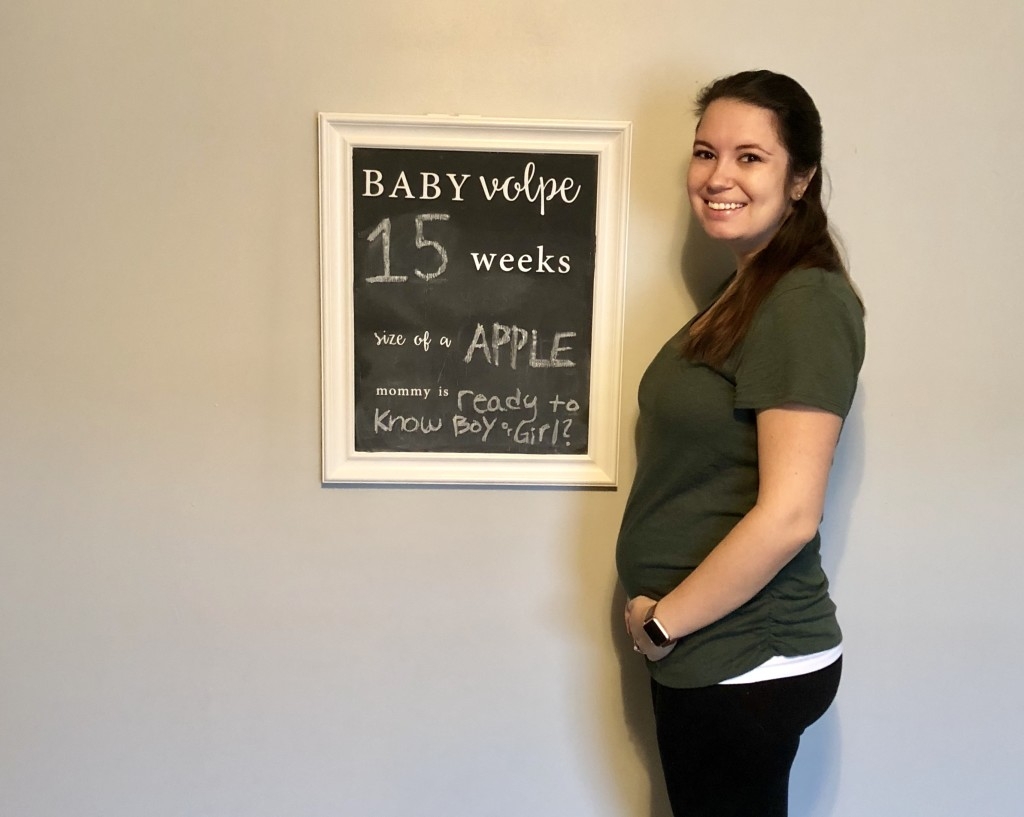 I've been journaling and keeping track of bump dates myself, and will share some every now and then on here. For now, here is my first one at 15 weeks!
How far along: 15 weeks!
Due Date: May 25th
Baby is the size of: Apple
Gender: We will officially know on Saturday, but my sister will find out on Wednesday at our sonogram. I have a feeling it is a boy, it's just something about the instinct. We will see if it's right!
Name: We have three picked out- 1 for a boy and 2 for a girl with 2 girl middle name options as well.
Symptoms: Sickness is still lingering, though it's finally slowed from several times a day to only in the evening. I'm really tired, all of the time!
Movement: Not yet, hopefully soon!
Cravings/Aversions: I haven't really craved anything but I am staying far away from Asian food, which is crazy because it's one of my favorites.
Missing anything: I haven't missed much until this past weekend. I was in a wedding and really wanted some champagne, especially to calm my nerves before giving my MOH speech!
Sleep: Pretty good, I go to sleep early!
Mood: Pretty normal
Maternity Clothes: I live in leggings because my jeans don't fit but maternity jeans are still a little big.
Doctors appointment? I go every 4 weeks, and we have a sonogram at a private location on Wednesday for the gender. My next appt is in 3 weeks.
Nursery: Can't wait to get started once we know the gender and have the floors in our house done!
Best moment this week: My belly popped! Literally overnight it was there. We were busy preparing for the wedding and then several people were pointing it out to me, I thought maybe it was the style of dress I was wearing, but nope! It's there.
Looking forward to: Our reveal this weekend!
Husband is: INCREDIBLE! I couldn't do this without Dave. He does everything around the house, never complains about doing anything for me, is always asking how I am, talks about how excited he is to be a dad and is always pointing out cute baby things. I love how excited he is!