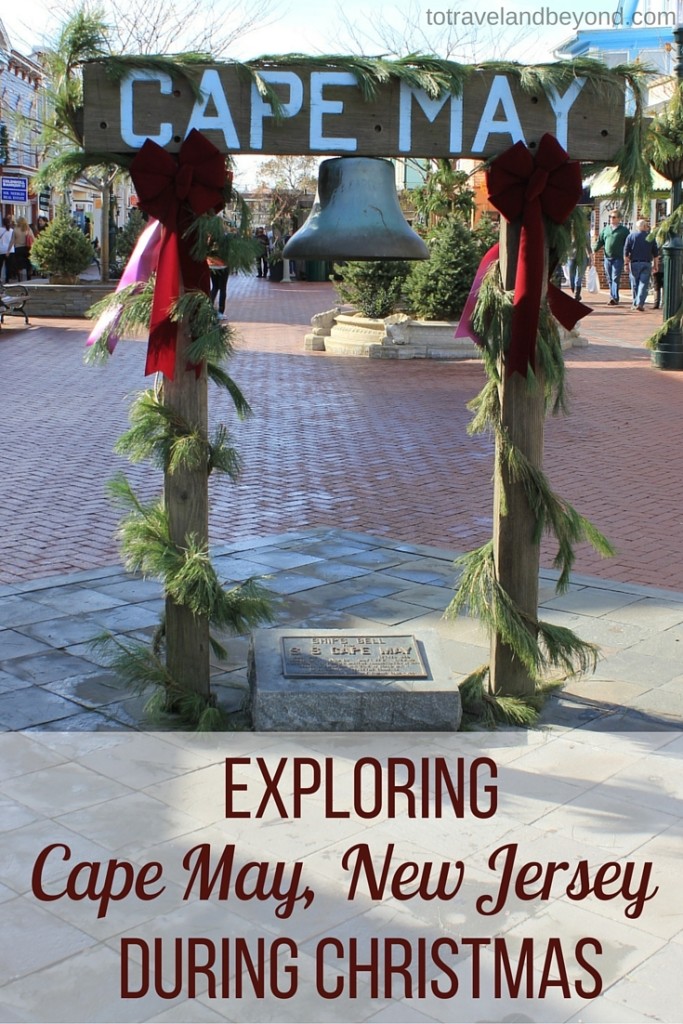 The first year we were dating, we decided to start a Christmas vacation tradition. The weekend after Thanksgiving, we wanted to go somewhere and enjoy the long weekend. We have been to New York, Boston, and Rhode Island leading up to this year. With Dave's surgery, we were't sure where we were going to go this year, if anywhere at all. Thankfully, one of our bridesmaids gifted us with a weekend in Cape May for our wedding, and we knew that would be the perfect getaway. We are only 2 and a half hours from Cape May, but it isn't a trip we often take. Dave had never been and I haven't been since I was 10 years old.
We booked the trip for the Saturday after Thanksgiving, and planned on coming home late Sunday night. It worked out that the Ravens had a Monday night game, so we could spend all the time we wanted in Cape May on Sunday. When we arrived, I was SO excited to be in a small town with a love for Christmas. I was also really thankful to have 70 degree weather just a few days before December! We parked our car, and wandered the town until our room was ready. (be prepared for photo overload)
For those that have never been, Cape May is a beautiful victorian town in New Jersey.  It is right on the ocean, so the beach is right there, and it's full of charm. There is one strip of shops a few streets back from the beach, adorable B&B's, and great restaurants. There are countless victorian and colorful houses, and so many places to just walk around and enjoy the environment.
There is an area called Congress Hall which was beautifully decorated for Christmas, even with "Santa's Village", a fire right on the pool and a train that went around the property. There are shops inside of the hall, and bars set up to serve some beverages while you wander around. We decided to grab some drinks and head to the adorandak chairs that lined the property, and take in the ocean views.
(such an adorable chalkboard sign….and that is the message haha)

We were soon getting ready to eat, so we headed to the strip of shops, and decided on Delaney's Irish Pub, and it was amazing. I absolutely love corned beef and cabbage (I give thanks to my Irish heritage for this), and it was delicious, almost as good as my grandmothers. It was nice enough to eat outside on the patio, and we decided our plan for the rest of the day. Our room wasn't ready after we were finished, so we walked up and down the main strip of shops, and may have taken part in #SmallBusinessSaturday a little too much.
Oh my gosh, this hotel was stunning. Everything about it was absolutely beautiful and totally Christmas. I want to share more about this amazing place, but that will have to be another post, because there are so many photos!
After I got over the love for our adorable room, we went back out to walk around and watch everything light up. Many of the larger B&B's and hotels are all owned by the same company, so we were gifted hot chocolate from one of the sister restaurants. We went to get our hot chocolate and just enjoyed some time together people watching. It didn't take long after dark for the bars to come alive once it got dark. We had some spiked ciders and delicious warm toddy's, and talked for a while. After a while we decided we should get dinner.
Another of the sister restaurants of our hotel is a farm-to-table restaurant called The Blue Pig. Thankfully the wait wasn't very long, and we were able to be seated quickly. Dave had a seafood platter and I had a big bowl of pasta. The noodles were homemade and the sauce was excellent. I would absolutely eat there again!
After dinner we were totally exhausted, and decided we needed some sleep after waking up at 5am. The next day we wandered some more, took some photos, went for a walk on the beach (by myself, Dave's crutches wouldn't have made it) and then headed to the Cape May-Lewes Ferry. One of the awesome things about Cape May, is the chance to take this ferry to Delaware. I grew up going to the beaches in Delaware, so it was nice to take an hour ferry ride over to a very familiar place to end the weekend. We drove around a bit to look at even more Christmas decor, and sadly continued home to end our great weekend.
If you have never been to Cape May, I highly recommend it! While it is amazing in the Summer because you can have some beach time, Christmas is magical!