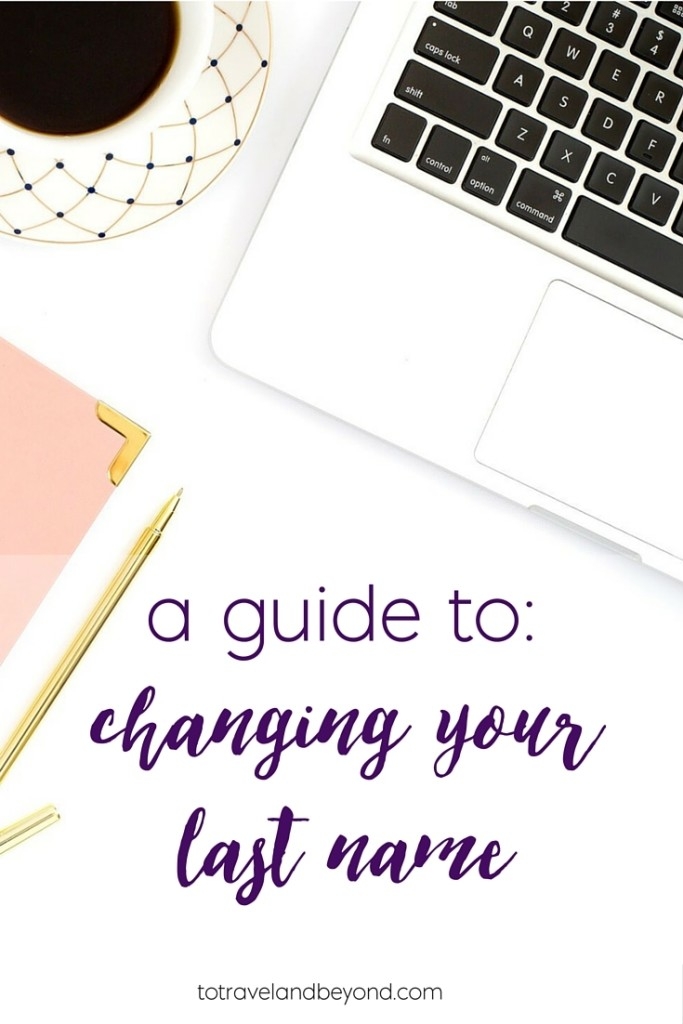 Since I just finished the process the long process that is changing your last name. I wanted to share my experience with others who may soon be taking part in this daunting task of changing your last name. Because that is exactly what it is, daunting. I knew if I didn't start the process right after we were back from our honeymoon, it would take me forever to do it, so I needed to get it started and then over with! You can read more about why I wanted to change my last name here.
All of my experience for these steps are relative to Maryland laws. They will be different for other states, so it is best if you check with your local branches to make sure you have all of the paperwork you will need before moving forward with the process. I have assisted several brides with this process, as well as completing it myself, so I am sure of each step for my own state. Also, don't waste your money on sites like hitchswitch or miss-to-mrs. All of those sites legally can not file the information for you, no matter which package you purchase. They will simply send you the forms, which you can easily print while going down this list. Now, lets get down to it.
There were a few things I always made sure to have with me along this process:
Marriage Certificate
2 copies of my marriage certificate
2 certified copies of my marriage certificate
birth certificate
previous Social Security card
1 utility bill showing my address
Step 1
 Get Married! This is your obvious first step. Make sure that your marriage license was purchased in the county of your wedding! If you are married elsewhere from where your license is located, it won't be valid.
Step 2
 Make sure your marriage license is submitted within 5 days of your wedding. It will then take about  a week for it to go through.
Step 3
 Make 2 copies of your marriage certificate.
Step 4
 Order or pick-up 2 certified copies of your marriage certificate from the court house where you purchased your marriage license. Some places will be fine with a uncertified copy, others will need a certified copy. You can order by mail and you will receive your certificates within a few weeks, or you can go in and buy them to receive it right away. In Baltimore extra copies were $5 each.
Step 5
 Go to Social Security first. You will need to change your name here before you are able to change it elsewhere. All you need at SS is a copy of your marriage certificate, they only need to see it, verify that your marital status was changed in the state, and then they give you back the copy. You will also need to fill out a form for a new SS card. There is a space at the top of the paper to fill in your new name, and then below it, our previous name. It takes 48 hours for the change to be in the system, and you will receive your new card in about 2 weeks. Keep your receipt with you for proof of name change at other locations. This was free
Step 6
 Go to the MVA and get a new license. You must do this within 30 days of changing your name with Social Security. You will also need a new photo, so make sure you don't roll out of bed and go (this may have been what I did-whoops!). The MVA will need a certified copy of your marriage certificate and your old license (that made me sad). Ask about changing your vehicle title while you are here, there are different ways of going about this and the MVA staff will be most helpful in explaining. A part of the process at the MVA included changing my voters registration. This cost $20
Step 7
 Go directly to your banks if you can, if not calling is fine, but I liked being able to physically go in. I was temporarily locked out of an account when I changed my name over the phone because they needed to check the validity of the change, if I would have went in, this wouldn't have occurred. Your bank will need to see a copy of your marriage certificate and your license with your changed last name. If you plan on joining back accounts with your husband, he will need to be there as well. If you have checks through your bank, ask to change that information
Step 8
 Call your credit card companies to request a new card with your name to match your license. Some only needed a phone call, but others needed a copy of my license and marriage certificate
Step 9
Call any loan companies. This could be for a car loan, mortgage, student loans, etc. Automatic payments will be denied if the name does not match the bank withdrawal
Step 10
 Call your insurance companies. There are a whole list of insurances you will need to call:
Health Insurance- mine asked me to send them a certified copy of my marriage certificate and a copy of my license
Dental/Vision Insurance- this is apart of my health insurance, but was listed as a separate entity. All I needed to do was call them and they changed my status and last name
Prescription Insurance- also make sure you change your name through your pharmacy. I only needed to show my id for this change
Car Insurance- all I needed for this was to call and have them change it, my license number had changed so they asked for that as well. I also needed to add my husbands name as a driver. A positive to this was my insurance went down for getting married!
Rental/Home Owners Insurance- this company only needed a phone call and my new license number. My ring is insured through my insurance, and it went down slightly for my status change
Step 11
 Change your name and status at work and through any other companies you have done work with. Also make sure to change your status for your taxes, this is often done through HR along with the name change. If you have made any changes with your bank account, double check that your employer has the correct information for direct deposit (if applicable)
Step 12
 Change your name on your passport. Since my passport had been issued over one year ago, I had to order a new one, including a new photo and the fee for a new passport. The post office will be able to help you with that if you don't want to do it online. They needed a copy of my marriage certificate and new license number
Step 13
 Change your utilities. Different companies will request different things for this. Some only wanted a copy of my license, others wanted a copy of the marriage certificate, it depends on your county and the utility service
Step 14
 Change any current travel plans. We have several trips already booked for the next few months, so I made sure to change those as soon as I could. Southwest needed a copy of my marriage certificate and license in order to make the change
Step 15
 Change your online accounts. This goes for social media, online shopping and other online profiles. For example, Amazon, AirBnB, Facebook, etc. You should be able to do these all yourself
Step 16
Change your online payment methods. PayPal will need to be updated with your new information, including name, bank account and credit cards. Also, any subscriptions such as Ipsy or Blue Apron
Step 17
 Change any rewards accounts or memberships. Sephora, the gym, Costco, etc. Southwest Rapid rewards needed a proof of my license and marriage certificate, but everywhere else only needed my license or nothing at all
Step 18
 If you have an email signature or personal email address. I had made a new email address as soon as we got engaged, just to be sure it wasn't taken by the time we were married.
After all of that, you should be done! It really is a heck of a process, and I understand if people don't want to change their name solely based on this extensive list. I am still getting used to signing my new name, I feel like I may never get it right! Hopefully this is a helpful list.
Do you have anything to add? Have you already changed your name?
---
Now it is your turn! We would love to have you link-up with your wedding tales, planning adventures and day-of memories
As always, we would love to have you linking up with us and sharing your wedding inspiration, stories and photos of your own! Just please remember to link back to either mine or Nikki's blog in order to keep the Wedding Wednesday fun going around.