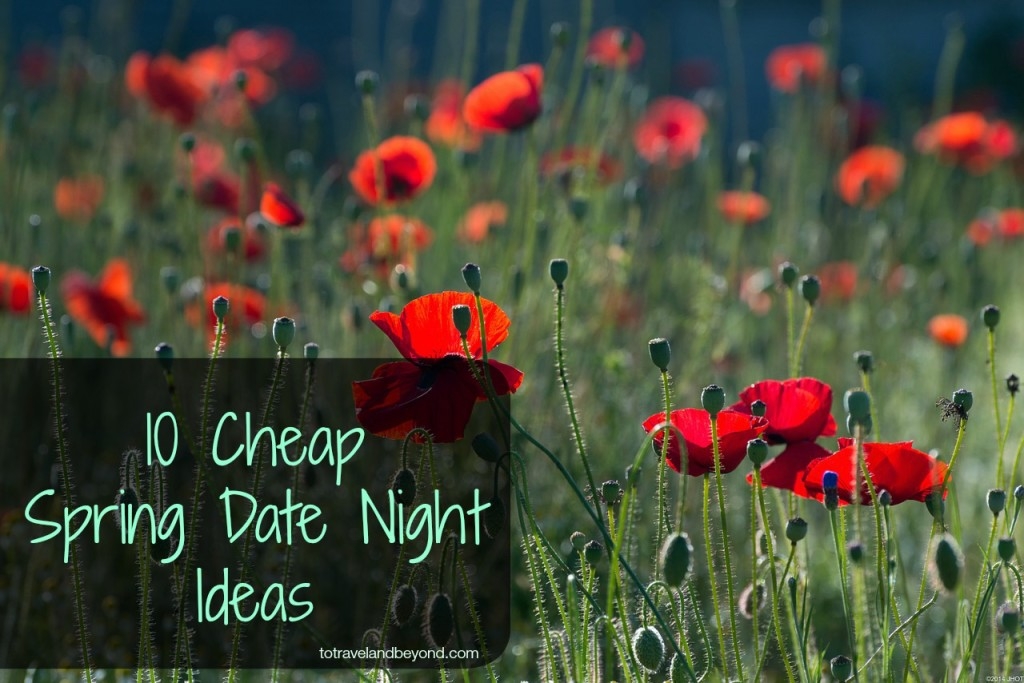 With less than 10 days until Spring, it is time to start thinking about fun ways to welcome the warmth after the icy months. These 10 cheap date night activities should keep you busy for a bit. Even if you haven't been one of the lucky ones experiences below freezing temps, these date night ideas will still be a hit. The best thing is you can do them for little to no cost.
1. Picnic in the park, by the lake, on the roof, anywhere. Just enjoy a meal outside with your sweetheart. You will feel better about everything once the sun is shining and you can have nice conversation outdoors after being stuck inside through winter.
2. Go on a day trip with the windows down, and music up. Try to explore somewhere new, even if it's just for a few hours.
3. Fly a kite. This doesn't have to be a kids activity, it is fun for everyone. They sell kites at the dollar store, pick up one or two and enjoy the afternoon.
4. Go for a bike ride, walk, or run. You might as well exercise while you are getting some quality time together.
5. Get ice cream. This is perfect after you do #4 and have earned those extra calories. Try and find a local ice cream shop, if there isn't one get some from any store and take it to a park.
6. Head to the batting cages. It can be fun to bring in a little competitiveness to your date night and say that the loser buys dinner.
7. Check your area for local events. Around the Baltimore there are free concerts, movie nights, and food truck gatherings almost nightly once the warm weather arrives. Try something you haven't done before, or take part in something you know you will enjoy.
8. Have a game night. Buy a new game, or play one you already have. You could also download one on your phone if you don't have any others.
9. Have a bonfire in your backyard, or find an event that has one. Smores are always a fun treat.
10. Go to a sporting event. Baseball games are normally cheap (avoid opening weekend though), it's also fun to do this with a group.
What is your favorite spring time date night?
---
Now for the Giveaway! I am teaming up with a few others bloggers to give you a 6 month subscription and $50 to spend on any of your favorite pieces from your box! If you aren't familiar with it, Rocksbox is a jewelry subscription service that delivers designer jewelry straight to your door as many times a month as you like! Each box has 3 pieces of jewelry. You can wear the pieces as long as you want, then when you want new pieces, just send the old ones back and a new set will be on it's way to you in no time! If you want to keep any of your pieces, you can purchase them straight from your box at a members only discount!
Brought to you by these lovely ladies!
Life Could Be a Dream // Wetherills Say I Do // Fashion and Feathers // Aubrey Zaruba
To Travel & Beyond // My Little Sunshines // Elizabeth Loves // The Suzie Lou Blog
A + Life // Becoming Adorrable // A Prioritized Marriage // Letters to Sophia
To enter, just fill out the Rafflecopter below. Please be honest, as entries will be verified. The giveaway begins at 12:00 am EST on March 11th and will run until 11:59 pm EST on March 16th. Our winner will be announced on St. Patrick's Day. This giveaway is open to U.S. residents only. May the luck of the Irish be with you! 🙂