One of our main priorities for our wedding was that everyone had fun. We wanted our guests to enjoy the time they were celebrating and not view it as just an event they needed to attend. There were a few ways we wanted this to come through throughout the day, and I feel like we did a pretty good job.
To start the day, we had the bars open before the ceremony. The first shuttle dropped people off 20 minutes before the ceremony started, which was the perfect amount of time for guests to grab a cocktail and find a seat. We had two bars, a canoe full of beer, and a signature drink station which all were accessible as soon as guests were arriving. If the bride, groom, and bridal party had started drinking, why couldn't everyone else? Now we know our friends, and we know they would handle themselves (at least until the reception started), and they did. I don't recommend this for everyone, but for us it worked.
We also wanted the day to be enjoyable during the cocktail hour, and give everyone something to do before dinner. Yard games seemed like the perfect option since our wedding was outside. We had 3 sets of corn hole, can jam, and giant Jenga. It looked liked everyone was having a great time enjoying this while we all took some photos and then the bridal party and our family joined while we took some photos together.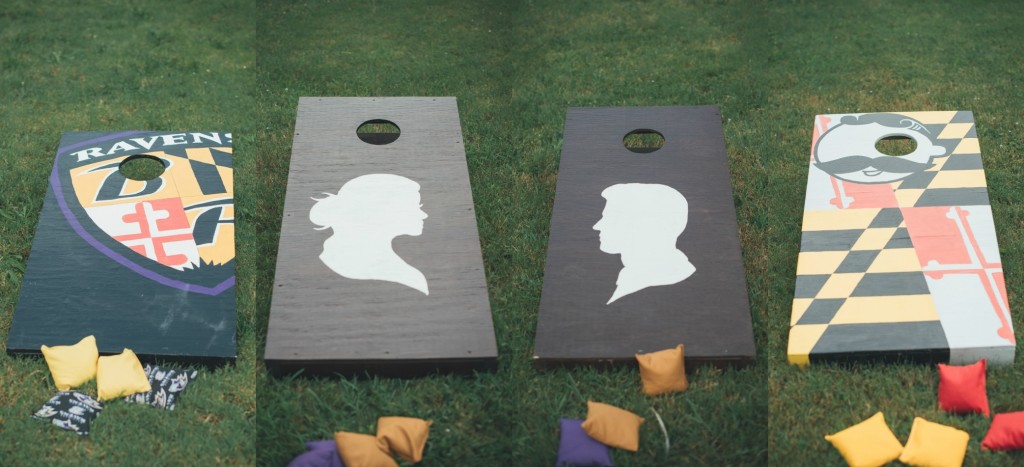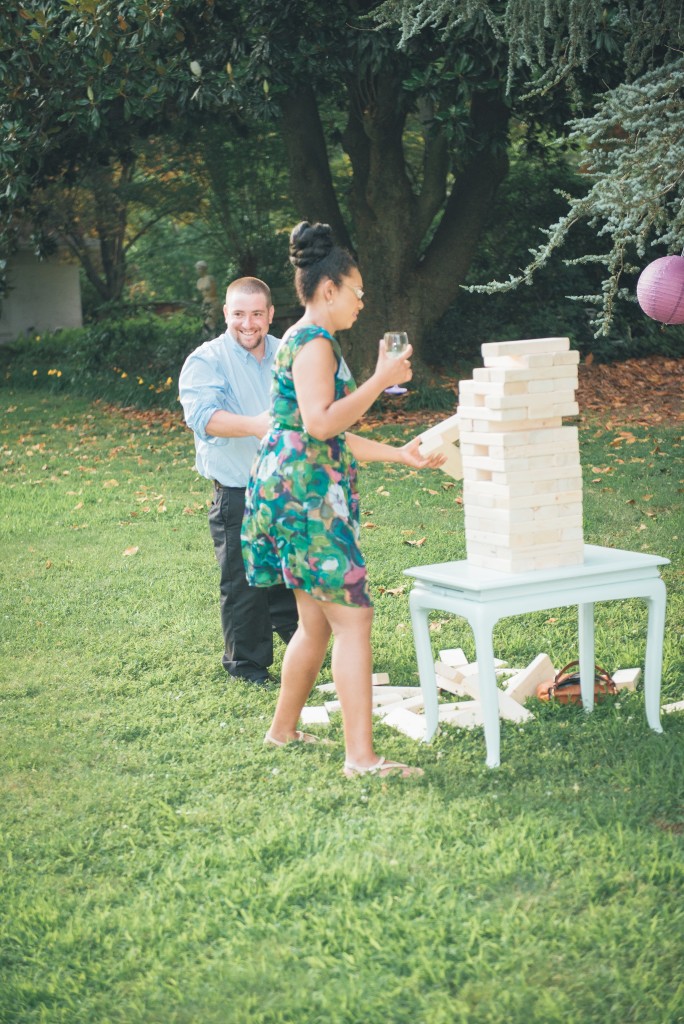 I also wanted to have several areas to sit during the cocktail hour. People were more than welcome to go into the tent and find their table ahead of time, but areas around the games seemed like a great option as well. We had sofas, chairs, barstools, etc all in different areas of the property.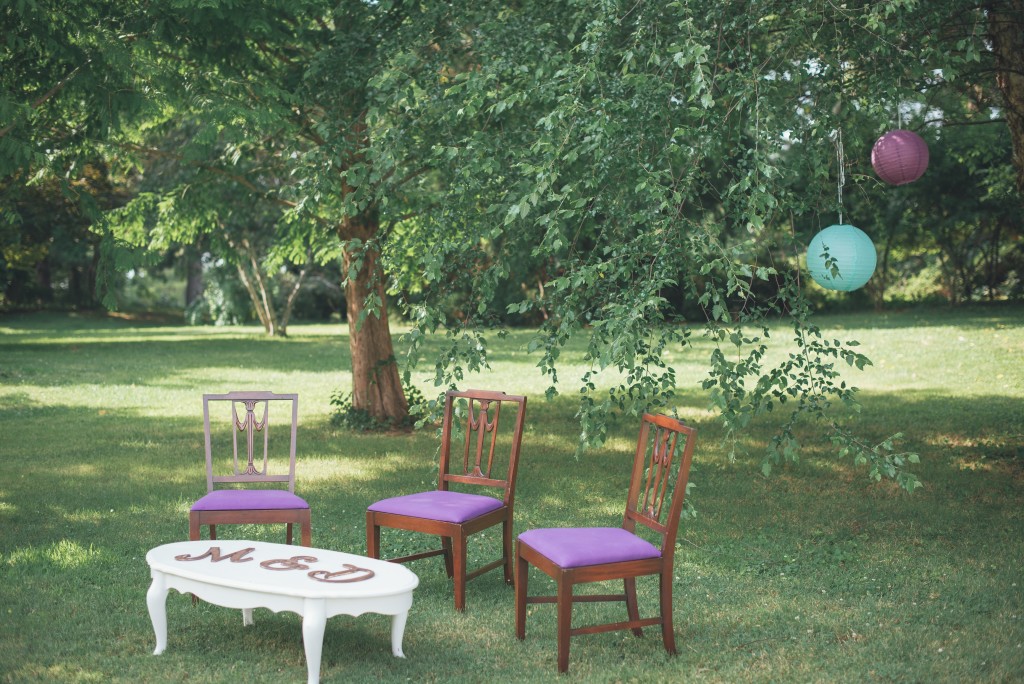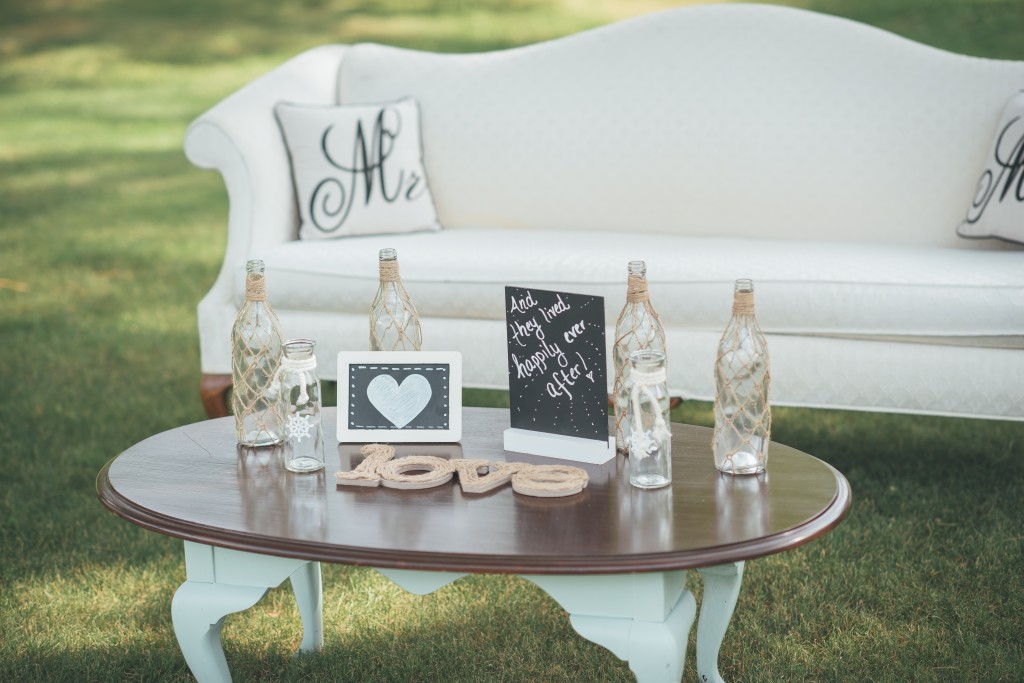 We also had the Photo Booth set-up from the cocktail hour until an hour before the reception ended. This eventually had to be moved inside when the Tornado warning started and the sky opened up, but it still worked out perfectly! Despite my hours upon hours spent making the Photo Booth backdrop (I will never make another tissue paper tassel again!), it was ruined when the rain started and had to be thrown away. The photos when it was up sure did look cute though.

Now I have something super exciting for all of the Wedding Wednesday gals that are still in the planning process AND for the gals that are already married. Brides and Bubbly is a new website specifically FOR brides and brides-to-be, created by one of my dear friends in the Wedding industry. They are looking for proposal and wedding submissions. If you want a chance to have your wedding featured on a new blog, head to the
Brides and Bubbly website
and click "submissions". For those of you still planning, be sure to sign-up for the resource guide, I hear it's amazing!
---
Now it's your turn to link-up and share your wedding tales.
Nikki
and I love reading all about your big day, someone else's wedding adventures, or anything else wedding related. We just can't wait to read all about it!
We even have a new button! If you would like to link-up next week with the new button, grab the code below and join us.