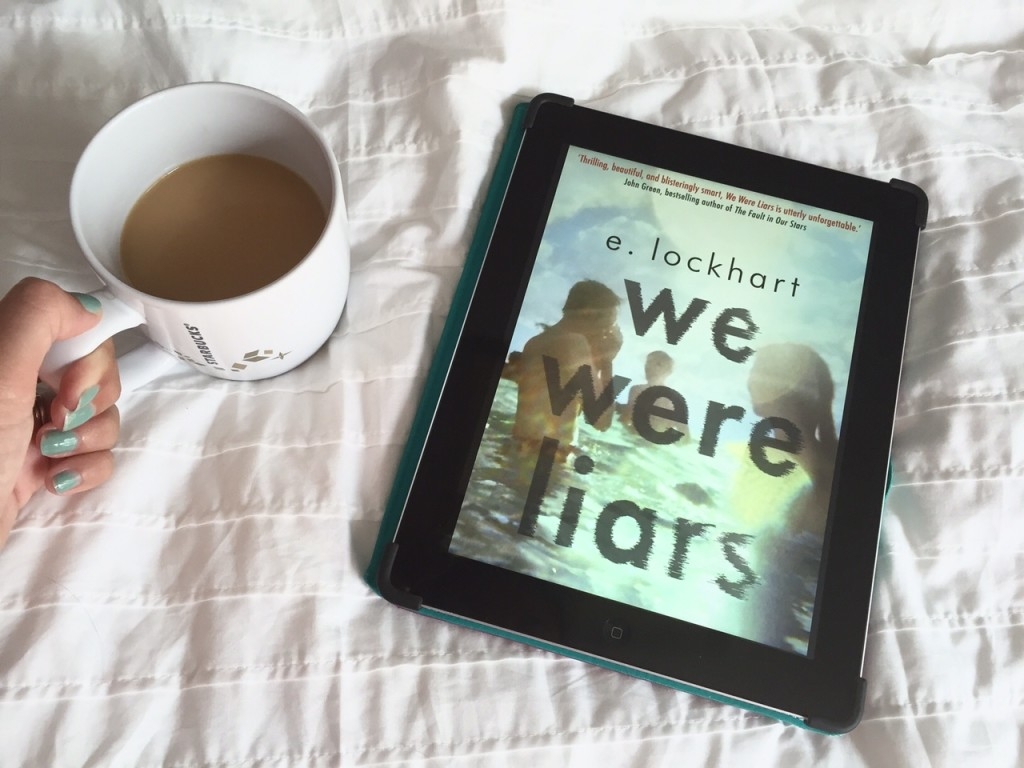 It's my first time taking part in #CollaboReads, and I can't wait to continue joining in the fun every month. I go through phases of reading, and this summer I have been all about it (check back next week for more reviews). This months theme is "a book set in the summertime". I originally planned on reading  The Last Summer because I heard it is a great book, and I also loved The Sisterhood books. As I was waiting for the book to arrive, I downloaded We Were Liars to have in the meantime. As I started reading, I realized it was all set in the summer, so it could work as my book for this month, if I enjoyed it enough to do a full recap. Well, here I am doing the review, so I guess you know what that means.
This book was all kinds of things for me. I had heard it had a big mystery, but I couldn't figure out what exactly the big deal was. At first, it just seemed like a child had an accident and her family was trying to help her continue on with her life, even though she was having memory problems. I think I was missing the signs because I was associating this story with 50 First Dates, boy was I wrong. This book has tragedy, love, drama, suspense and heartache. If you asked me halfway through what I thought, I may have said that I felt like stopping because I wasn't as intrigued as I expected. If you ask me now if I enjoyed it, my answer is whole-heartedly- yes!
The Goodreads description:
"A beautiful and distinguished family.
A private island.
A brilliant, damaged girl; a passionate, political boy.
A group of four friends—the Liars—whose friendship turns destructive.
A revolution. An accident. A secret.
Lies upon lies.
True love.
The truth."
Now for my R.E.A.D.S. review:
Riveting.
The way this book was laid out is genius, the back stories all tangled together to be revealed in the end. It reminded me of Pretty Little Liars now that we "know" who A is. I want to go back and read this book again now that I know about the accident. I was incredibly shocked to find out what everyone has been hiding from Cadence (the main character), and how she could have removed herself so much from such a tragic event.
Elements.
This book was a little difficult to relate to myself, but I found myself able to pretend to be in the characters shoes as they went through the story. The richness of families, bitterness among siblings and rebellion of the children was just not something I could grasp. The plot and twists along the way were perfectly done, even though it was hard for me to stay interested at first, the second half of the book made it worth it.
Associate. 
Like I mentioned above, at first I was reminded of 50 First Dates, but that is only because of the memory loss. In the end I kept thinking about Pretty Little Liars (am I obsessed? maybe) because you didn't expect the ending. I would love to know about other books similar to this one.
Design.
I wouldn't say that the cover necessarily matched the story, I expected it to be more related to summer adventures for teenagers, rather than a mystery and tale of broken friendships and families.
Stars.
4 out of 5 stars
Have you read this book? What did you think?
Want to join in on the fun next month for #CollabReads with Amber and Rachel? The theme is
Back to School