When we decided to stay in our home and remodel, I wanted to stay close to the entire process. I have loved designing weddings for over 5 years, I'm obsessed with DIY home instagrammers and interior design, and I wanted everything to be as personal as possible. We don't plan on this being our "forever home", in-fact, I don't really believe in a forever home, but I wanted it to fit us well.
Even though I knew I could get everything completely wrong by the time we talked to the professionals, I took designing into my own hands to get things started. I didn't exactly have a process but I do feel like the way I went about things worked out well for us.
Above all, I prayed about making these decisions and moving forward with a renovation. I wanted to know in my heart that this was the right decision for our family, finances and overall life plan. I'm a true believer in the power of prayer and He helped me to have peace in these choices as I moved forward.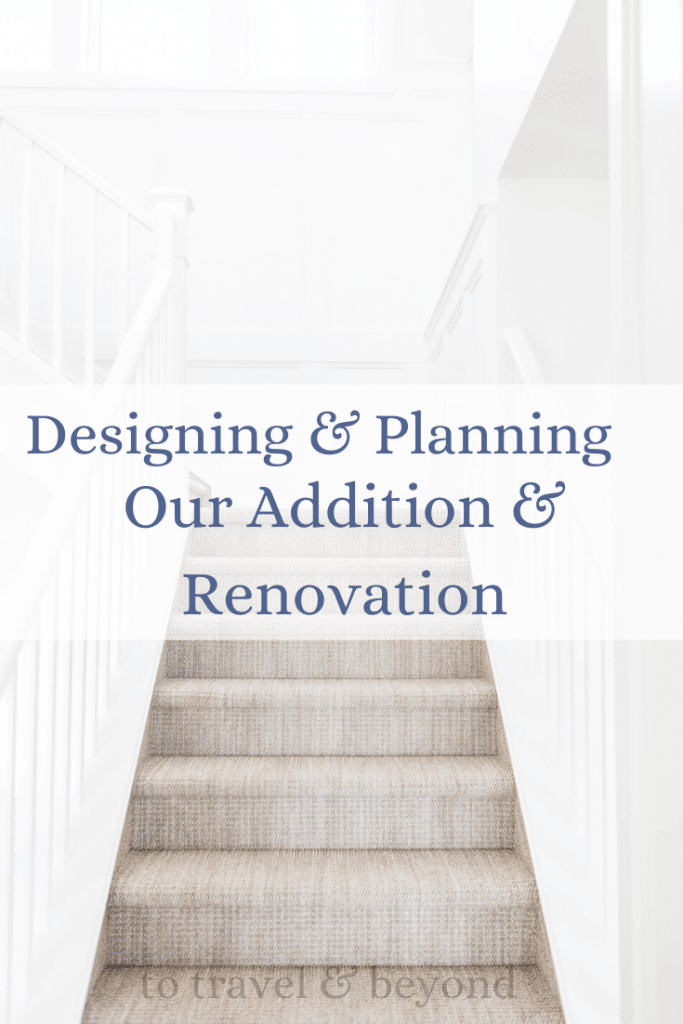 Define your style. There are endless styles of houses- from the look and feel to the actual layout. I started off with figuring out the look and feel I wanted, some options for this are: Industrial, Mid-Century, Bohemian, Farmhouse, Urban, Modern, etc. For the layout, if you already have a home you can't do much to change it unless you do a big renovation and addition process, so then you will just determine the style you already have and go from there. Some of these styles are: Cape Cod, Colonial, Victorian, Rancher, Split-Foyer.
Pinterest. Does everyone have a "dream home" Pinterest board? I do but ended up starting from scratch when it came to this renovation. Our dream home will hopefully come later in life, this is just our "power nap" dream for right now.
I have a very detailed and secret Pinterest board for every single aspect of our home, and I will eventually make it public but for the time being it's my sounding board. Starting with a single board and separated sections for everything was great. I went pinning crazy and then refined along the way.
Layout ideas. We are remodeling our current home and getting an addition, so while we had a lot to think about, we had a limited footprint for changes. I started with the dreams I had for our current space, and then thought through what to do with the addition since it's a fresh slate but the same size. I used Canva to design out the plans for both areas (obviously not to scale) and then we talked through logistics before our next step.
Meet with an architect. Once we had a good idea of what we wanted, we met with an architect to tell us where we were crazy and where our plans would work out. We were so happy to find out that only a very limited number of things had to be changed (like the height of the ceiling in our new master) and we could move forward with the plans.
The architect created everything to scale, let us know what specializations we would need (like bigger joists in order to avoid needed floor to ceiling beams) and explained the process of making these changes in real life. He had plans ready for us within two weeks, we tweaked a bit and then finalized the plans.
Design board. Having the official plans in hand, I was ready to create our design board. While I could visualize most of the changes already, being able to see the plans really helped pull things together. I went through my Pinterest boards and started pulling pieces together for each area.
My design "board" is very detailed, I may do an entire post outlining how I created this because it's nearly 30 pages at this point. I have a section for our overall ascetic, color scheme, each room, what we will personally need to do to make it happen, what we will need to buy, and more. With each room having it's own design board and list, it's easier to manage.
Meet with the professionals. Once everything was pretty solid with an outline and the architect gave us his final seal of approval, it was time to meet with the pros for each area. We started with the Kitchen. I met with a kitchen designer, went over the designs I created as well as the architects final plans and talked through what we wanted to see. It was really help to pass it over to her and get feedback on what we were aiming for.
The same thing happened with our framer, electrician, and flooring. Don't be afraid to delegate some of the tasks to the folks who do this everyday- it will help so much in the end!
Mock-up designs. After meeting with the pros, I had a few mock-ups to go through and compare. I fully mapped out the house, with each mockup and checked for cohesiveness, areas where we could add drama or accents, etc. I did this using Canva and Photoshop. Photoshop was especially awesome to look at different siding colors for the front of our house- overall it helped us decide what to do!
Designing a home you love, or even just a space you love, takes a lot of work and money. I wanted to make sure it would be a space we loved for years to come and I think each of these steps helped us recognize what we wanted and how to make that happen.
I plan on doing a full Q&A post soon, so let me know in the comments or on Instagram if you have questions!