I am taking life a bit slower recently and trying to enjoy the free things in life while we wait for the next step in our renovation process to begin (more on that later) so my main means of entertainment have been reading books, listening to podcasts and watching TV. I'm actually really enjoying the downtime and thought these would be helpful suggestions while we all wait out the end of winter inside our cozy homes.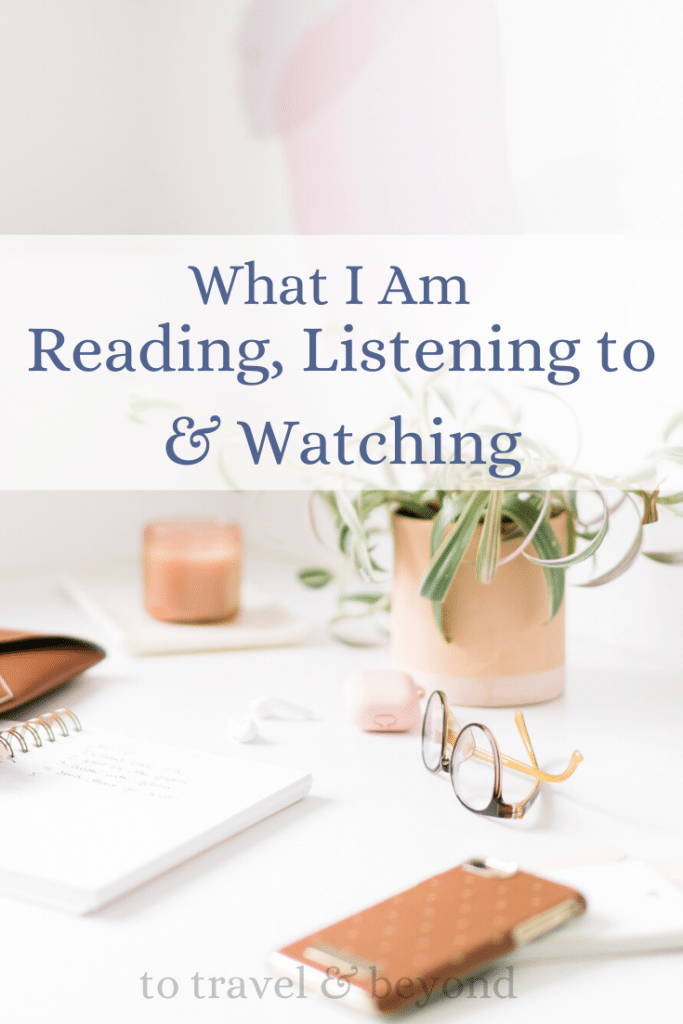 What I Am Reading
Elin Hilderbrand gets her own category because I have read so.many.books. authors by her in the last few months. She is an amazing writer and her books are perfect for quick, easy reads.
The Winter Series. I just started this series and I'm currently on book #2: Winter Stroll. Winter Street was great with a variety of drama, "real life" problems and interesting dilemmas among the family members, young and old, and it held my attention with every story line. 4 stars so far
The Paradise Series. I flew through these books and can't believe I have to wait until October for the next one! The twists and turns were perfectly planned, the characters were beautifully developed and the endings are genius. 4.5 stars for all three!
Summer of '69. To be honest, this was my least favorite so far. It took me a while to get into the story, but it did get better. 2.5 stars
The Wife Between Us by Greer Hendricks and Sarah Pekkanen. Another book I flew through because it was so good. While there were a few details I figured out before hand, the ending was a huge surprise. 4 stars
Anonymous Girl by Greer Hendricks and Sarah Pekkanen. After reading TWBU I thought this book would be a total winner, but unfortunately it didn't really compare. There seemed to be a lot of time spent on details that didn't matter in the end and the end left me wanting a lot more. 2.5 stars.
The Woman in the Window by A.J. Flynn. WOW. This was incredibly surprising. I truly didn't know what to think of the characters throughout the book and had no idea what was coming next. I couldn't put the book down for the last 150 pages. 4.5 stars
What I Am Watching
Younger. I have always been a Hilary Duff fan and I heard about this show several times over the last few years, but I never really had to push to give it a try. Until a few weeks ago when Olivia was hardcore teething and she wanted a lot of naps while being snuggled (I loved it because she isn't a snuggly girl all the time anymore) so I needed something to have on even if I wasn't always giving it my full attention. Younger was PERFECT for that. I really enjoyed this show and after a few seasons Dave got really into it too. The acting isn't award winning but the character development, variety of topics, intriguing storyline and interesting dynamics are a huge winner. I'm happy to know there is another season because the ending of the last episode has me really wanting more. I will really miss being able to binge the new episodes.
Vanderpump Rules. This might be my favorite reality TV show as of right now, especially with all of the weddings taking place over the next few seasons! The drama has evolved to fighting about not having furniture in a new house and I am so happy to see my "friends" growing up.
What I am Listening To
Podcasts are my thing right now. I'm over radio stations playing the same thing over and over again and it's nice to hear some insightful conversation as I am driving.
A Beautiful Mess. I love almost everything from these sisters, Elsie and Emma. I started reading their blog years ago, I have the majority of their apps downloaded on my phone, and I have a few products they have created, next on my list is staying at one of their Airbnbs! It's no surprise that their podcast is my favorite! They have talked about things like their favorite books to business advice and it's only just getting started!
My favorite recent episodes:
What it's really like working with family
Business advice for our younger selves | How to decorate affordably
Be There In Five. I enjoy 75% of the episodes on this podcast, a few of them are a little much for me or I don't have interest in the topic, but overall it's a great listen. I just listen to what seems interesting and skip the rest. Overall, Kate makes me LOL through almost every episode and she offers great insight on a variety of pop-culture topics.
My favorite recent episodes:
Under the Influencer w/ Katelyn James
Bride Tribe | Under The Influencer w/ Kendall Glazer
Raising Good Humans. I pick and choose which episodes pertain to my life and have loved the variety of topics covered. I prefer to "over research" topics when it comes to parenting but I truly enjoy the guidance Dr. Aliza provides.
That's a wrap for what is my entertainment lately. I would love to know what you are watching, listening to and reading!