I may receive a small commission if you purchase through one of the links in this post. Olivia thanks you for contributing to her wardrobe.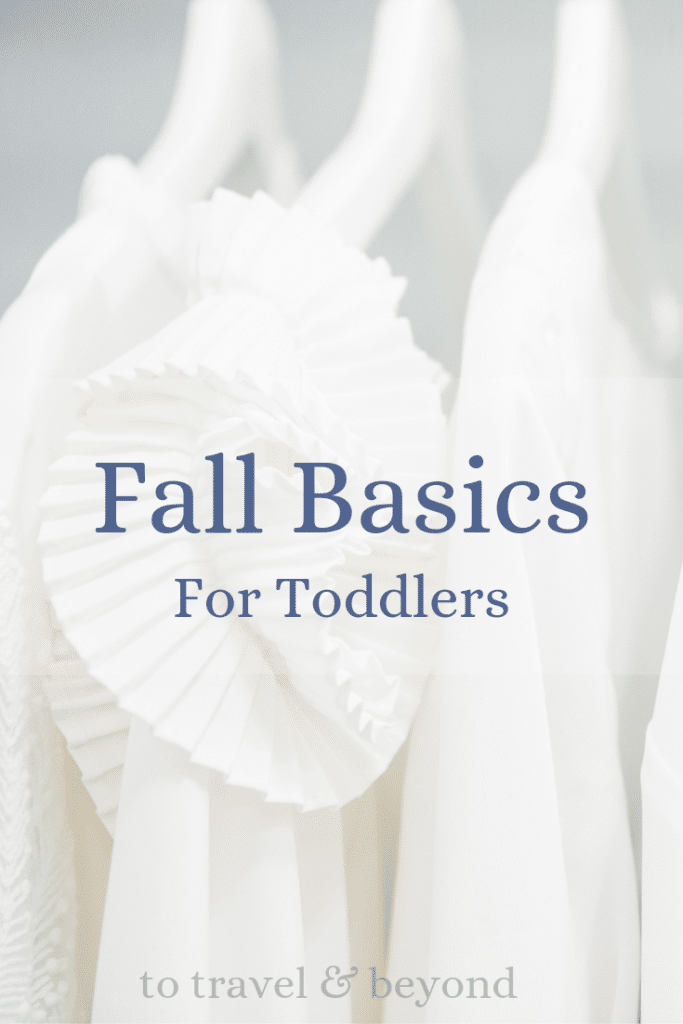 Shopping for Olivia's clothing is one of my favorite things to do, but I am realizing it can be hard to find the basics. The shirts without words all over them, knees without hearts and stars or butts without an animal. Don't get me wrong, I don't mind these outfits sometimes, but I really enjoy dressing her in solid clothing most of the time. I decided it was time for a fall basics for toddlers post where I can take a deeper dive into my favorite shops for my mini.
When shopping for Olivia, I always try to shop for the following year. As seasons change and timeless pieces go on sale, I buy them up. This year I stocked up on jean shorts, t-shirts, and dresses for next summer. Granted I am guessing her size but for the last 16 months she has been on par with the expected sizes, so I don't feel it's much of a gamble.
The main items I focus on are shirts, jeans, socks, cardigans. Then I will fill in as I shop. These are some of my favorite and affordable finds all purchased this season!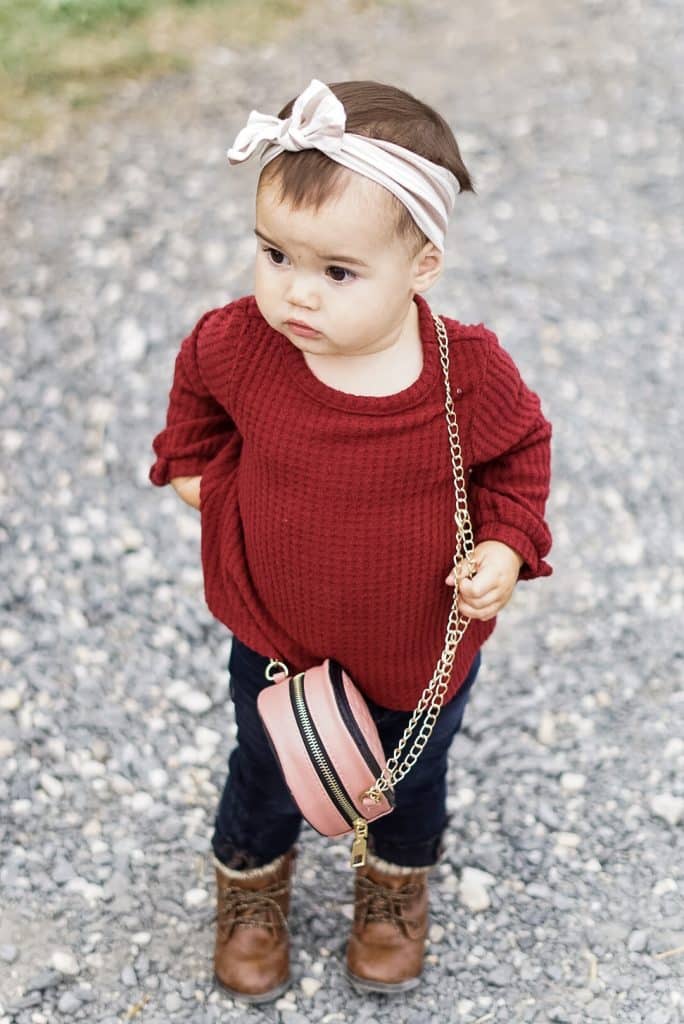 Fall Basics for Toddlers from Target
Knit Shirts. These are hands down my FAVORITE fall purchase for Olivia. We have all the colors, they are SO soft, have really cute details and they are loose enough to wear with a onesie underneath when it gets colder. We can either stay TTS or size down.
Ribbed Jeans. These are so cute with the ribbed detail, and they are inexpensive! They seem soft and stretchy and go with lots of different things. Especially a leather jacket.
Checkered Overalls. These overalls came with a shirt with a fox on it, which we wear sometimes but mainly love this set with other plain shirts as well. Currently on clearance, so get them quick!
Fall Basics for Toddlers from Old Navy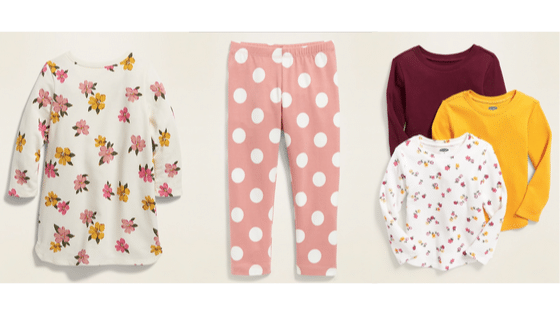 Long Sleeve Shirts. Old Navy has the best shirts in my opinion. From tanks to long sleeve, they have a variety or basic solid colors, stripes and not overly busy designs. Their florals are some of my favorites, especially because they often have mom-outfits to match. Many of their long sleeve shirts come in sets for a great price.
Leggings. Again, Old Navy has the best. The quality is great, the sizing is perfect and they are crazy cheap. The variety of colors and patterns is a win because I never feel bad about buying 10 pair at a time. Currently 30% off the already inexpensive price!
Knit Dresses. These dresses are very thick, come in a few patterns (we get the stripes for every season!) and pair perfectly with tights and moccasins.
Fall Basics for Toddlers from H&M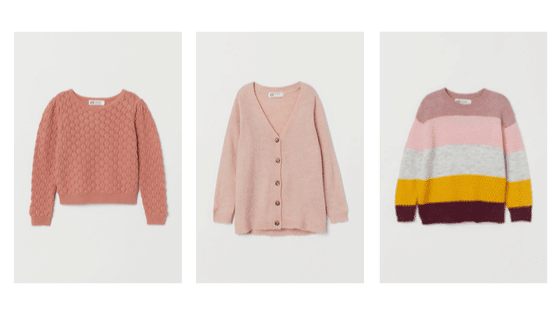 Knit Sweater. These sweaters are perfect to pair with a skirt, leggings or jeans and they come in a variety of colors perfect for fall and winter. I'm always leery of a wide neck because we wear onesies under most shirts in the winter, but these look cute with collard onesies! On sale for under $10 right now!
Corduroy Skirt. The above sweater with this skirt is the perfect match! It's the best season for skirts and knee high stockings right now as the weather is still warm during the day. This skirt would also look adorable with tights as it gets colder.
Knit Cardigan. I love having a cardigan on hand for when it gets chilly. I prefer cardigans to jackets or blazers so I tend to do the same for Olivia. These are the perfect fall basic with the minimal design and cute buttons.
Color-block Sweater. To add a little bit of fun to the basics, this color block sweater will go with so much!
Fall Basics for Toddlers from Zara.
Jeans. Zara jeans are the best fit we have found. They come in a variety of styles and washes, which is perfect to mix it up.
Corduroys. The perfect fall pants. Corduroy has always screamed fall to me, and these are no different.
Fall Basics for Toddlers from Janie & Jack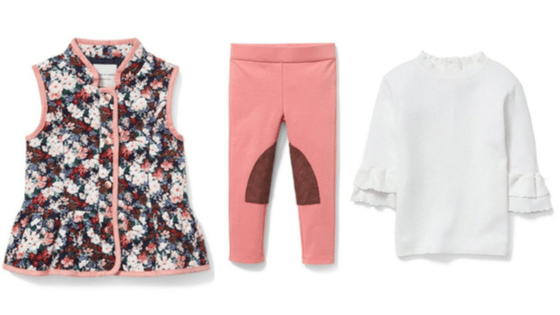 These aren't exactly "fall basics" but I wanted to throw in some ideas for fall family photos! These outfits are the perfect ensemble to represent fall. I can guarantee that these items are worth the splurge.
Quilted Dress. Just add tights and loafers!
Riding Outfit. If we weren't going formal for our family photos this year, Olivia would absolutely be in this outfit. It's so chic and perfect for family photos. Ruffle Cuff Sweater | Riding Pants
Hopefully this post was helpful in finding the perfect fall basics for your toddler! I try to stick with a similar color scheme throughout the majority of our basics, then we can mix and match in several ways throughout the season!
Let me know if you decide to dress your mini in any of these items, I would love to see them in basic fall style!