Let's talk dry shampoo. I am a huge dry shampoo fan, though it has been a struggle to find the best option. We are always told "wash your hair less" or "let your hair get dirty" but what if dirty hair means LOOKING dirty? I am not about that. Dry shampoo is my bff and I would be lying if I said it's because of #momlife…I have been on the pursuit of the best dry shampoo for years now. 
Before getting into the nitty gritty, I fully understand that it's really about hair type. What works for my hair may not be the best fit for others, etc. I'm going to outline price, color (does it look gray or does it blend?) and how long it lasts before needing a reapply, etc. all based on my hair. I generally wash my hair everyday or every other day, that second day is when dry shampoo comes into play. My hair gets greasy 18ish hours after I wash it. If I shower at night, I have until the following evening before it starts to look dirty, if I shower in the morning, I am good to go until the next morning. I have dark brown hair and it's pretty long, not sure if that matters. 
I tested 7 different options in my pursuit to find the best dry shampoo and here is what I discovered.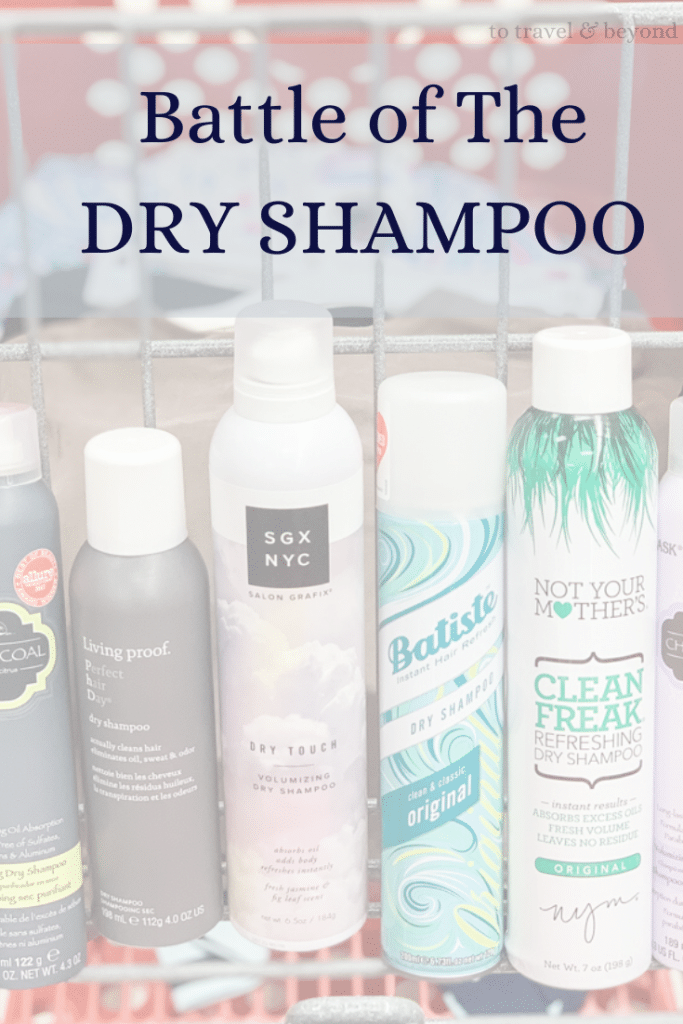 The following text contains affiliate links. My family appreciates your support of To Travel & Beyond.
The claim: Actually cleans hair, eliminates oil, sweat & odor 
This was my top contender for a long time. It works really well, leaves no residue, lasts all day before needing a refresh and really did make my hair feel actually clean. The price is where it lost me though. It's a lot to spend when there are others out there for half the price. 
The claim: Long lasting oil absorption, formula free of sulfates, parabens and aluminum 
HASK is amazing. I didn't need to reapply until at least the evening, my hair doesn't feel like it has product in it and it smells nice. 
The claim: Absorbs oil, adds body, refreshes instantly 
This one is fine. A decent price and it works well, but isn't a total winner for me because it doesn't last as long and I often felt like I needed a reapply when I get home from work. 
The claim: Refresh your hair without drying it out
I used this for at least a year but after a while I could really feel the build up and it didn't blend as well into my hair. The formula may have changed because I didn't have these problems early on. 
The claim: Instant results, absorbs excess oil, fresh volume, leaves no residue 
Another "fine" dry shampoo. It works decently and I have purchased travel sizes because those seem to be harder to find from other brands. I can feel the build up and it doesn't blend as well.
The claim: Long lasting oil absorption, formula free of sulfates, parabens and aluminum
Another winner by HASK! I can't tell the difference between this one and the Charcoal version. They both work really well, blend evenly and are a great price. 
The claim: For all hair types, Oil absorbing, Odor eliminating, Blow dry extending, Vitamin enriched
Another big winner in my book but the price is high. I use a lot of Kristen Ess products (as you may have noticed in previous posts about hair products) but I can't justify the price for this product just for the brand and packaging. 
Overall, my winner is HASK. Great price, wonderful absorption, and no need to reapply throughout the day.
Do you have a favorite from this list? Let me know!