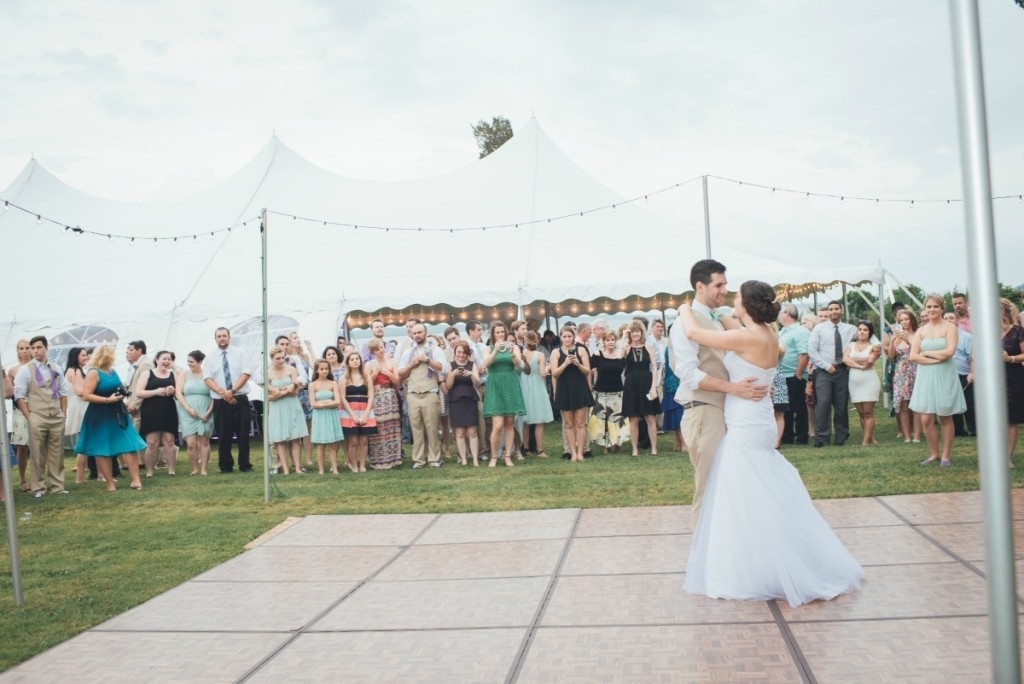 Todays post is just a bit different from my normal format. Thats because it was actually started months ago. I hope you enjoy reading about our first dance and how it came about.
I am starting this post in February 2015…I want to document every step of the way for this one especially because of how special it is to me. So bare with me as this is totally out of order for the rest of the wedding recaps. I just couldn't hold in my excitement.
February 12th- I asked Dave about 3 weeks ago if we could change our original first dance song choice, he said we could and then asked why. I had just watched the music video for Thinking Out Loud by Ed Sheeran and was completely captivated. I am normally not a Sheeran fan, but this song, that video and those moves. oh my gosh. I instantly started thinking about who would be able to help us learn all of the moves. I don't know how I didn't think of it right away, but my great friend Lauren has danced for years, and she is also a teacher! She has agreed to help us, so now only 3 people know our secret. We are currently waiting for Dave to be totally healed from surgery and then we will begin practicing. At this point we are both just memorizing the song.
March 10th- Our first practice! Lauren's Dad teaches karate in his garage, which has been transformed into a Dojo (basically a big room with padded floors and mirrors on the walls…um perfect!). Lauren is awesome and provided the counts and matches for each of the moves and lyrics. We actually did a better job that I expected and have the first 90 seconds of the song down. We left of here because Dave isn't quite 100% yet for the lifts, but he will be in two weeks! I can't wait to keep practicing and getting better.
April 28th- We had our second practice! We added many mores twists and turns, and a lift! I am feeling more confident in some of the moves, and praying we can get them all right for the wedding. It's so much fun having these practices with Dave and Lauren. I can't wait to know all of the moves and then it will be practice, practice, practice!
May 26th- Right now I am feeling like this is not going to work out. How does Ed Sheeran and his dance partner do this stuff? I'm pretty sure he may have had to get a body double for some of these moves, especially the lifts. Basically, I am frustrated and it wasn't the best practice so far. Good thing we have another one tomorrow.
May 27th- What a difference! Today's practice was 110% better than yesterdays. Our amazing teacher, Lauren changed out a few of the moves, and I feel like it is coming together really well. We now know the entire dance, but I use the term "know" loosely. I'm bummed we won't have another practice for a week because of my work travel schedule, but we will have two the second week of June. I can't wait! I really hope this works out.
So all of this and I am now sharing the incredibly disappointing news that our magical dance didn't happen. Lauren was so helpful and did an incredible job helping us learn this dance, and we actually did it! I was so surprised that Dave and I only got into a few disagreements and learned the moves. When the wedding day arrived, and we looked at the forecast, we realized that right around the time to start dancing, the huge storm would hit. I also realized as I was putting my dress on that it took a good 30 minutes to get it on correctly because of the corset, and I needed to change into a shorter dress just for the first dance.
When I talked to Dave about the timing, we decided it would just be easier to do a regular dance so I wouldn't have to be away from our wedding for 45 minutes changing out of my dress and then back into it. I also would have missed the only opportunity to dance under my dream dance floor.
If you aren't familiar with the music video to Thinking Out Loud,
watch this video.
It's seriously amazing! We ended up doing the dance for our family the next day, and it was still so much fun being able to have lessons with Dave. Maybe when we renew our vows it will happen 😉
---
Now it's your turn to link-up and share your wedding tales.
Nikki
and I love reading all about your big day, someone else's wedding adventures, or anything else wedding related. We just can't wait to read all about it!