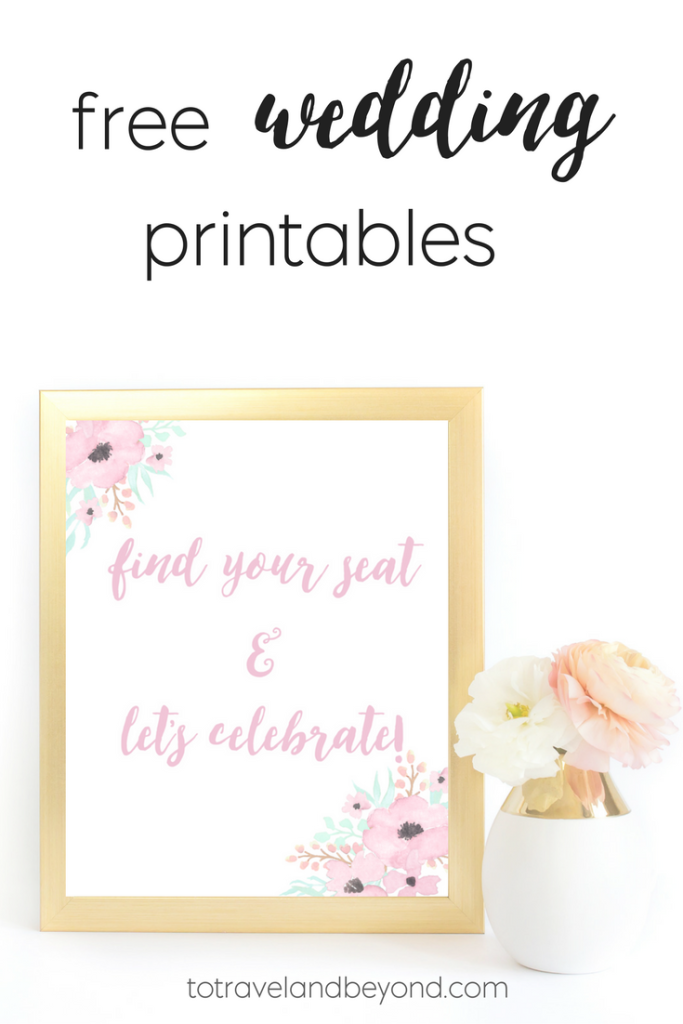 First order of business- Nikki and I are looking for a co-host to take over my portion of the Wedding Wednesday link-up! I am so sad that my time is coming to an end, but after over 2 years of posts, it's time I continue reading and start blogging about other things on Wednesdays…that will take some getting used to! We would love to find someone that is in the beginning stages of wedding planning to take over my portion of the link-up, in order for them to remain a host for a longer amount of time. Please comment below or let one of us know if you are interested!
---
Thanks to Pinterest, some weddings over the last several years start to have similar qualities. Which is totally fine, and actually smart when you start to catch on to trends. One of my favorite trends was the addition of various theme based signage throughout the wedding. Having signs around our venue location worked out well for us since we had so many different areas, and also because it brought another personal element to our day.
All of the weddings we have coordinated this year have been very different, but have had a few similarities as well. The biggest one being the presence of signage. Whether you just have one to ask people to find their escort card, or there are several all throughout each aspect, these are a great way to carry your theme throughout, while helping some guests along the way.
My favorite weddings signs:
Unplugged ceremony: I wanted to have one of these signs and then totally forgot once I made the seating sign for our ceremony. An unplugged ceremony is such a great idea because it encourages guests to put away their phones, camera and iPads, and focus on the ceremony itself. It's also a huge benefit for the professional photographer because there are less obstacles in the way.
Choose a seat, not a side: There are countless options on how to word this, and I love the idea behind it. Weddings aren't as traditional anymore where if you're there for the bride you sit on her side, or you are there for the groom, you sit on his side.
Use our hashtag: This is something else that is newer to weddings. Using a specific hashtag for an event helps to save all of those photos in a collection. I know I absolutely loved going back and looking at all the pictures tagged with our wedding hashtag, and I still will go through it today! We had 4 different signs with out wedding hashtag all around the venue, just to let everyone know what to use.
Signature drinks: I LOVE seeing what couples chose as their signature drink, and this is the perfect opportunity to have something made with both of your options.
Guest book: With guest books becoming less traditional, it's sometimes nice to have something to direct guests to start signing it. Something sweet like "leave love for the bride and groom" would be great!
Find your seat: While an escort table speaks for itself, why not use it as a chance to add a little humor or love to the day. Our escort table had a sign that said "you can find your seat here, but your place is on the dance floor", and that they could 😉
The program: If you opted not to have traditional programs to hand out to guests, it's sometimes easier to create a large sign with the flow of events for the day. Even if you are sticking to a traditional schedule, it's again, something to bring your theme and personality to life.
Directional signs: Is your venue spread out among a large area or different rooms? Arrow signs that point in each direction are a cute prop and help guests find their way. Things you may want to include- ceremony, cocktail hour, dinner, dancing, restrooms, Photo Booth, etc.
In memory of: A great way to honor those that couldn't be there to celebrate with you is with a sign on a photo table, or on a seat during the ceremony.
Dessert: As couples move away from a traditional wedding cake and start using various desserts, why not have a sign that shows your options? Different flavored cupcakes, cake pops, etc.
Did you have any signs around the venue, or are you planning on it?
I played around with some wedding sign designs and created these free wedding printables!
---
Nikki and I love reading all about your big day, someone else's wedding adventures, or anything else wedding related. We just can't wait to read all about it, so link-up with us for Wedding Wednesday!