Oh, Wacotown. The place I have been dying to visit for at least 2 years now…totally thanks to Chip & Jojo. While Dave said he would have went, I figured it was the perfect trip to take with one of my best friends. I don't think any guy would have enjoyed going to Magnolia Market a few times…let alone the 6 times Gina and I did over our 36 hours in the area.
We landed on Friday night, got in our rental car and made the 1.5 hour drive down to Waco from Dallas. It was a quick and easy drive, though a bit scary because the highway went through long stretches of nothing and there were not street lights. Thankfully we had the music blaring and constant conversation and there was no time to think about the possible scary movie situation that could occur. JK, I love Texas and would take those open fields any day.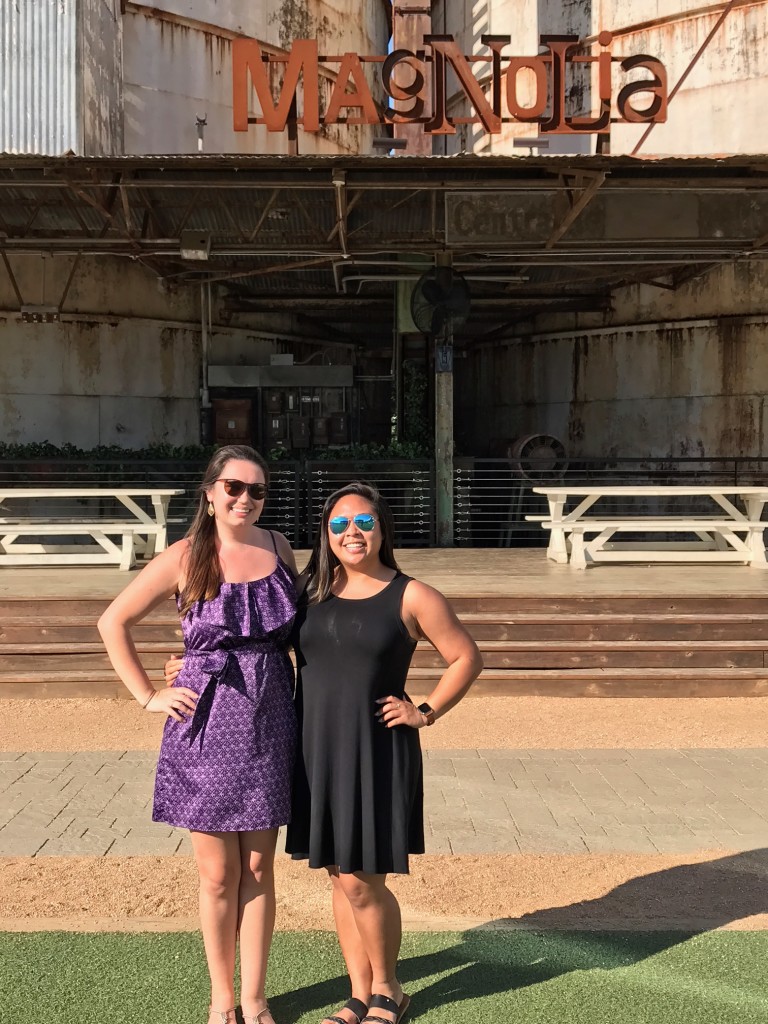 When we arrived in Waco, we went straight for In-N-Out. Lord have mercy. The very best. We waited in the drive thru for about 25 minutes to get our food but I didn't even care. After our laps were full of our delicious meal we wanted to enjoy from our hotel room, we did a quick drive by of Magnolia Market…got a little teary eyed, and made our way to our hotel which was right on the river where the Waco Suspension Bridge is located. We set alarms for 5:30am and crashed.
Morning came quick but we wanted to get some golden hour photos of Magnolia Market and get inline for some of Jojo's cupcakes at the bakery. After enjoying the best cupcake I have ever had (no lie) we wandered the market, took a ride on the swings, made some purchases from the market, wandered through the garden, and drank from watermelons…then something very upsetting happened. My phone crashed. Thinking back, I wish I wouldn't have let this effect my attitude as much as it did. But I had the BEST vlog idea and had gotten some great footage while the market was empty.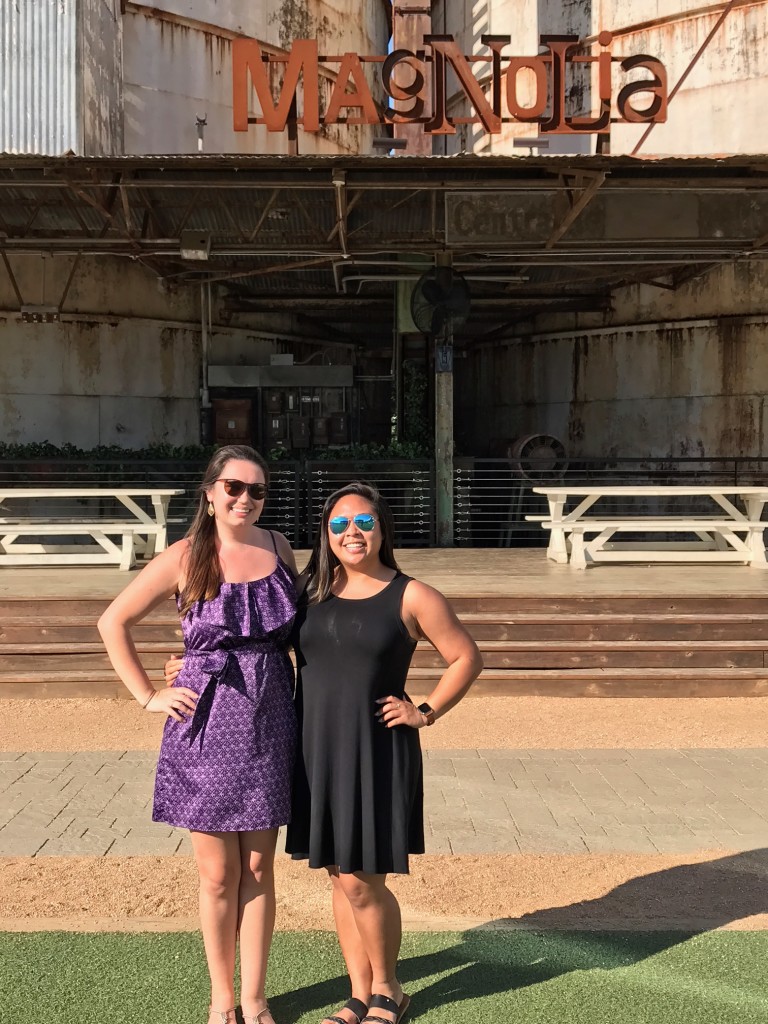 We retreated back to our hotel room and my phone was too far gone at this point. I knew I needed to restart and that I would loose all of the photos since I last connected to wifi…Thursday night. I was bummed, but slow got over it. We had a delicious bbq lunch to ease my pain, then went back to Magnolia to get more photos on my camera. After getting some photos we went to The Findery, Spice Market and then changed for dinner.
I had heard great things about The Clay Pot, which was by Baylor, so we drove there and had some amazing ramen. Afterwards we drove around Waco for about an hour.
Waco has a whole is not what I expected. The "downtown" area isn't the big, and then it goes right into neighborhoods. I expected more "cutesy" but wasn't disappointed, just surprised when it seemed average and similar to suburbs. We looked for murals, got a drink, and just laughed until our stomachs hurt.
Sunday was meant for sleeping in, and then walking around Baylor. I seriously want to start a college fund now in order for my future children to go to school there. We stopped for coffee at Common Grounds before wandering the campus and it was hands down the best coffee I have ever had. I am so upset I can't find it here. After our walk, we made our way back to Dallas to spend the day…more on that in another post 🙂
This was exactly what I needed. A weekend with so many new memories, laughing about the memories we have made over the last 10 years and just exploring. Waco was the perfect place for this adventure, and I can't wait to go back! But to hold me off until there, I am excited to share more.