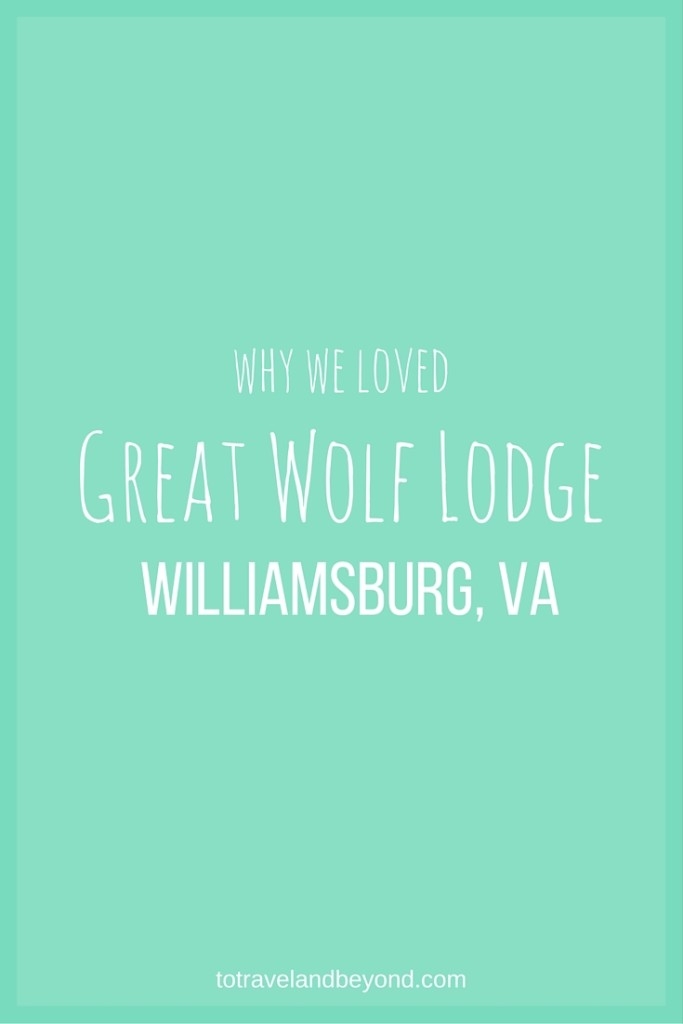 In September, my family and I took a trip to Great Wolf Lodge in Williamsburg, VA. What a great stay! We were all surprised by the size of the room and the extensive options on the property. It truly is a resort experience. The hotel rooms are huge, the water park was fantastic, and the events the have for kids were wonderful. Just pulling into the parking lot, you can tell that you will have a great experience.
For starters, the lobby. It was modeled after a forest, and there was a large tree in the center with large branches that were stairways to the 2nd floor. There was a fireplace, which was the location for story time in the evening, a Dunkin Donuts, and a large check-in area. This was nice because we arrived at a busy time, but only waited in line a few minutes before checking in. Instead of normal keycards, they give each person a wristband with different capabilities. The children couldn't go to certain areas of the hotel, and the adults had access to everything.
Now about the rooms. Oh my gosh they were incredible! One of our rooms was a loft and the other was a "tree house". There were several beds, a kitchenette, and 2 large bathrooms. One of them had a jacuzzi tub and the other just had a shower. The loft room was my favorite because of the two floors, and good separation from my brothers 😉 The hallways throughout the hotel were all themed as well, some of them were a forest, others had fairies on the walls. The entire resort was transformed and it was awesome.
The waterpark was a very good size for being indoor. They had several different slides, a large waterpark in the center, a few different pools and more hot tubs. Amongst the slides and park, they also had water games, a tornado tube slide, and the adults had a ton of fun in the park, some of us even lost our bottoms trying to "surf".
There were also several other things to do besides the waterpark like, a cute salon for little girls to get mani's and pedi's, I can't wait to have a little girl and take her there! The arcade is the size of a house, and right next to a bowling alley, laser tag, a maze and a few other fun games. There are a few gift shops for those who want to take something home for others. There is also a daycare, but who wants to let somebody else have all the fun with your child? I can't wait to try some other locations!
Have you ever been to Great Wolf Lodge?