We recently booked another cruise and that reminded me that I should probably finish the recaps from our first cruise! As I mentioned in my last post about this topic, we decided to cruise with Holland America because we wanted relaxation. We wanted to be reminded that we were on our honeymoon and that we should enjoy it to it's fullest. A big part of that was the atmosphere that the other cruisers and the staff provided, but it was also because of the delicious food and drinks.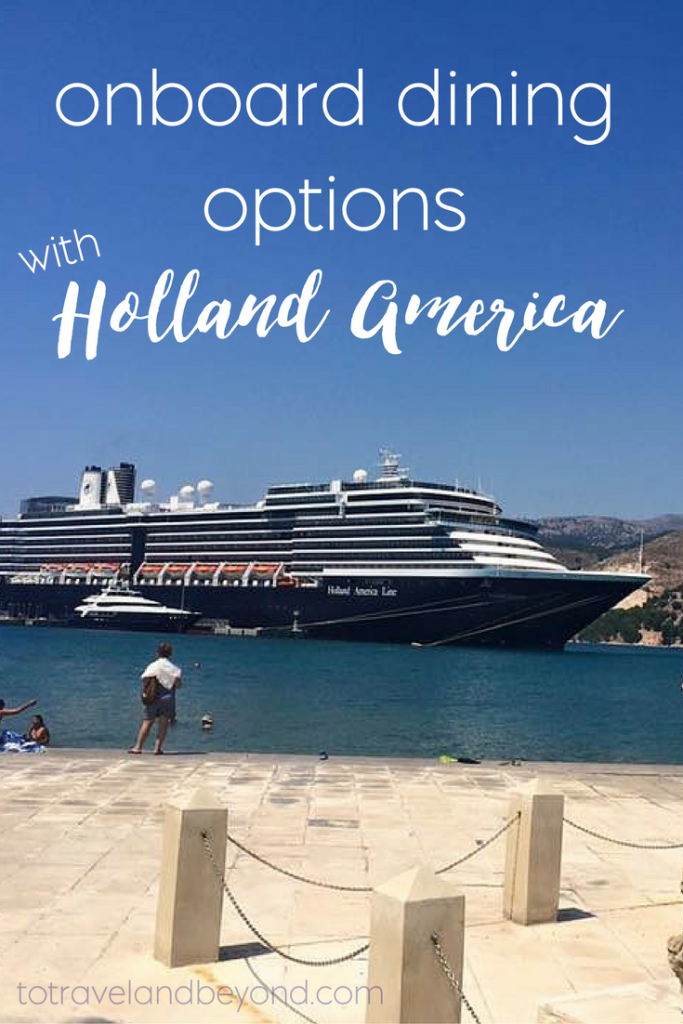 There were 6 various restaurants on board with four of them being included and two of them incurring an extra fee. I can honestly say that we would have been happy with only going to the restaurants that were included, but we did end up dining at the others throughout our trip.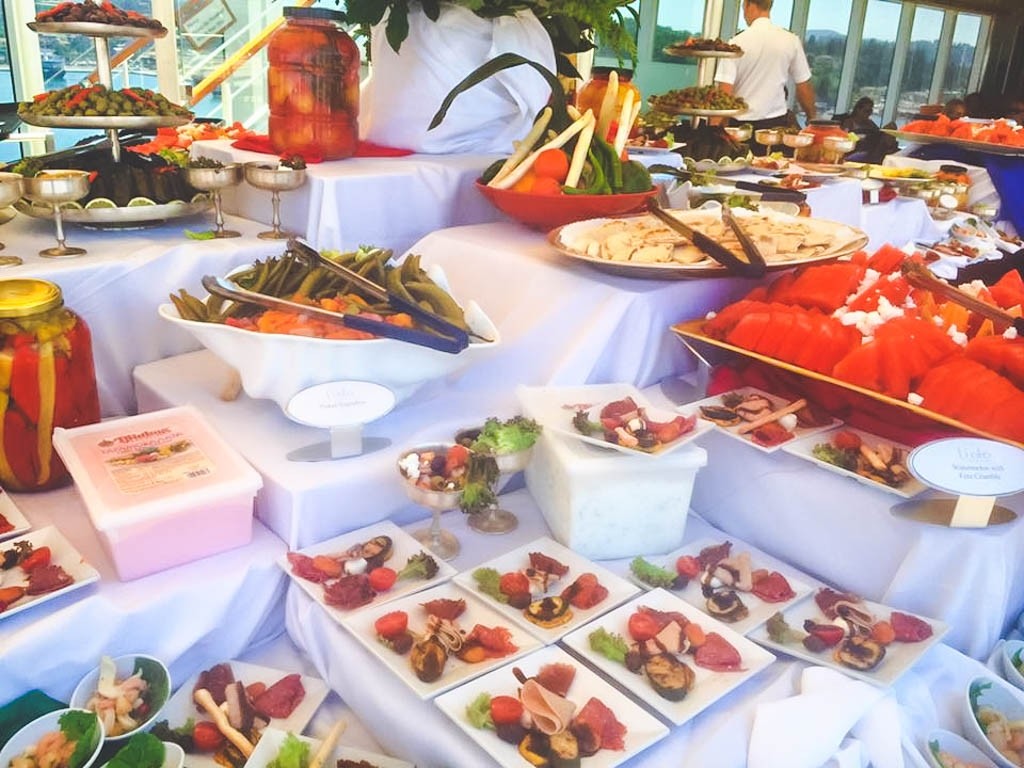 My favorite dining option was on select port days when we were welcomed back with a themed snack and appetizer menu on the pool deck. By the time we were sailing away there was an open air buffet full of traditional foods from wherever we were leaving. My favorite was the overload of Greek food we had after leaving on of our ports in Greece. I had endless spinach pie, grape leaves and hummus…it was amazing!
Included Dining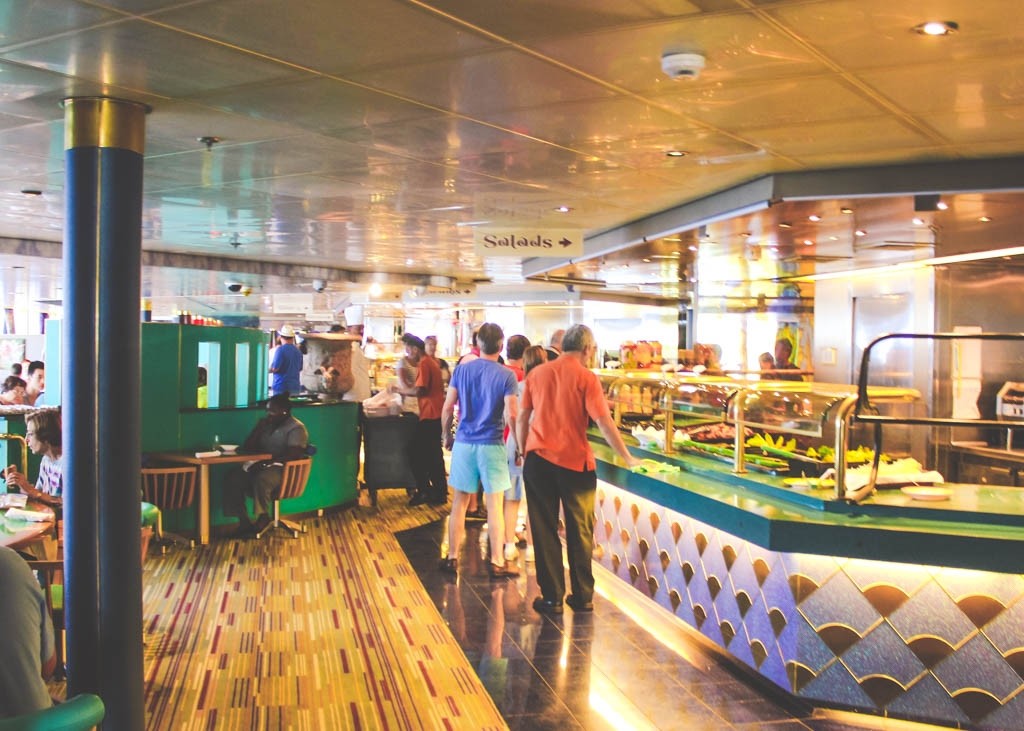 Lido Restaurant- This buffet was pretty incredible. The offerings changed from breakfast, lunch and dinner, and then rotated daily. There was also made-to-order pizza or pasta, along with fruits and cheeses, then the addition of various things throughout the cruise. For breakfast you could get Belgian waffles, omelets, and various other breakfast type meals. For lunch and dinner they had a Mongolian station with sushi, fresh seafood, a deli, and more offerings that rotated.
Vista Dining Room – Breakfast everyday, lunch sometimes and a four-course dining menu every night. Holland America offers two styles of dining in this location, traditional dining at a specific time of 5:30 or 7:45 which has to be reserved, or as you wish dining between 5:15 and 9pm, which is subject to availability and there may be a wait. We loved the food options offered at the dining room, and they changed every night.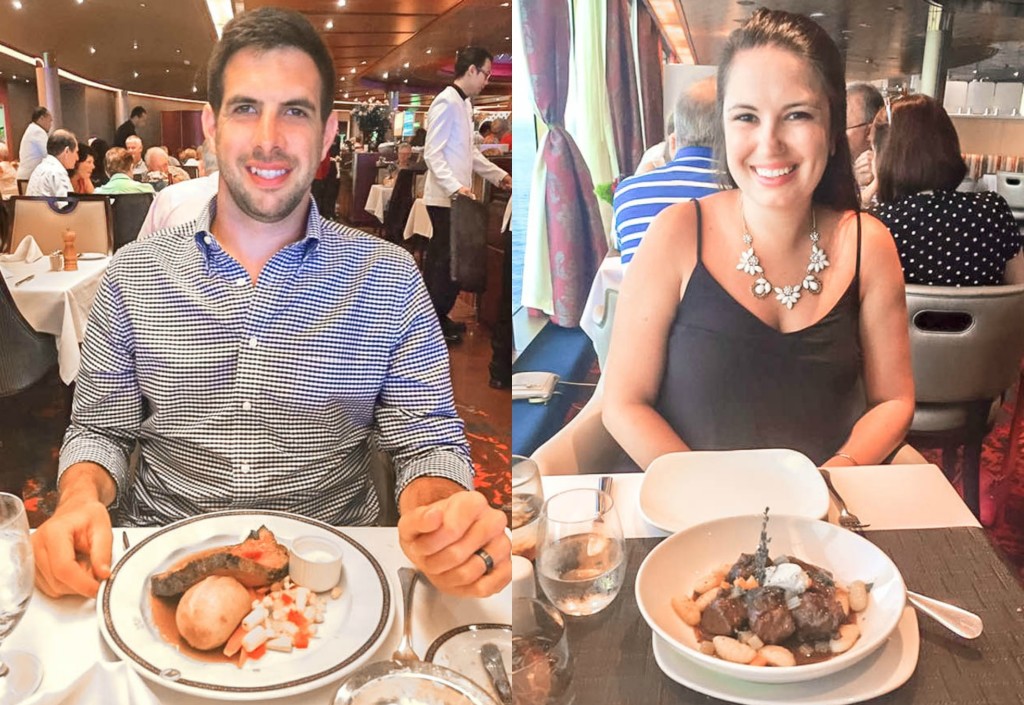 Explorations Cafe – At the top of the ship is a library, board game room, computers, and lounge. We loved ending our nights in this area because it was so quaint. There was a bar which took part in happy hour, along with a bakery/coffee shop that had pastries and other desserts, which were included, and then drinks you could purchase. During certain times of day they had various appetizers throughout the lounge for cruisers to nibble on.
Dive In at the Terrace Grill– Poolside offerings during the day. You will find general "cookout" style foods like hot dogs, burgers, fries and also a nacho bar.
FEE Dining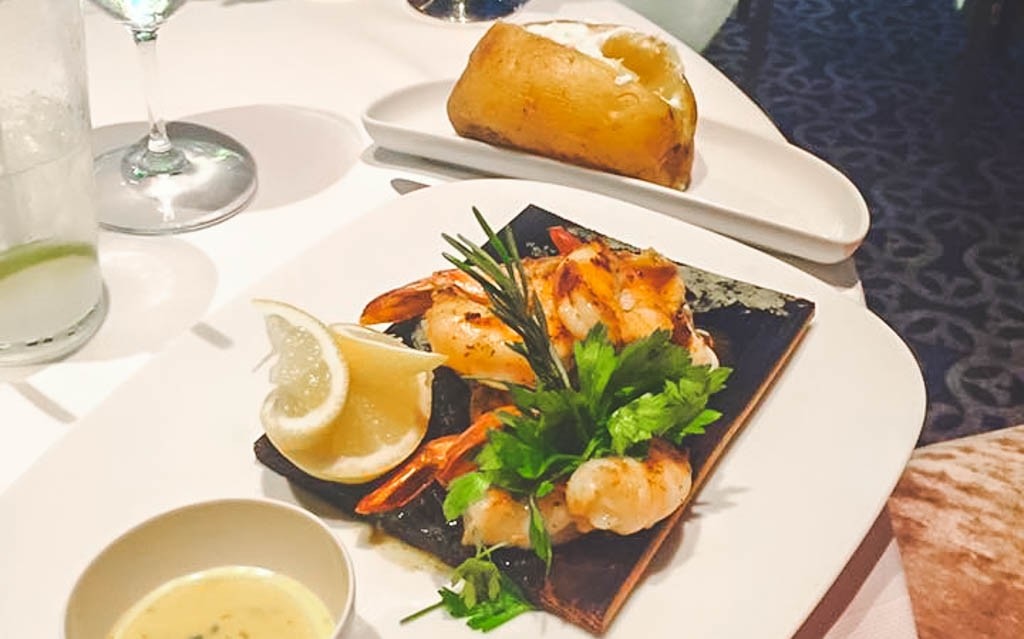 Pinnacle – this option was $35 pp extra. If we had not had our waiter I am not sure if we would have went back twice. He was the most amazing person, incredibly helpful and truly interested in our lives. Our travel agent had gifted us dinner for the first night we went, and he waiter had known that it was our honeymoon. He sat down with us and asked about our wedding, where we had been so far, what our future plans were and more. Because of his genuine personality we decided to go back an additional night just to chat with him some more. The food was delicious, but we didn't have a bad meal at any of the restaurants.
Canaletto- This option is $15 pp extra. If you are looking for authentic Italian meals, this will be the best option. The restaurant in located right next to the Lido restaurant, but is serviced by a waiter and had a delicious menu. We loved our meal here because it was right next to a window and provided a beautiful view while sailing.
Le Cirque- This option is $45 pp extra. The Pinnacle Grille is turned into the fine dining options offered at Le Cirque. We did not partake in this, but heard it was very unique.
Don't forget, there is no limit to what you can ask for. If you want 3 entries and no appetizer, ask for it! There was one night when we were eating in the main dining hall and Dave ordered two entrees…it was surf and turf so why not?! They ended up bringing out 3 lobster tails and another steak. Looking back, I probably should have done this too because it looked delicious!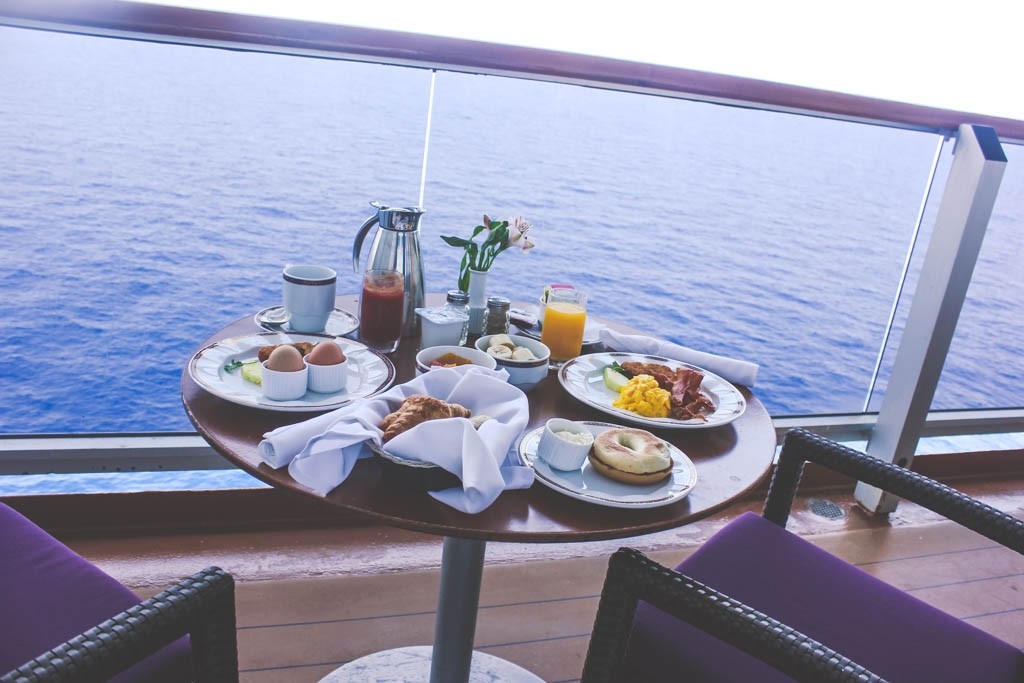 There is also 24-hour room service which is a big bonus for those nights after the show when all you want to do is relax in your room, but hunger strikes. If my house could be a cruise ship, I surely wouldn't complain. We also failed and ordered room service almost everyday of our cruise, then on the second to last day decided to see what was offered for breakfast…oh my goodness was it all delicious! The room service breakfast options were a little slim, so I recommend heading to the buffet.
Have you ever been on a cruise? What was your favorite meal option?