After highlighting all the delicious foods from our Holland America cruise, let's get to the drinks! Holland America, like most cruises, now offers an all you can drink plan which starts around $50 per day. The catch is that you have to purchase the plan for everyday on your cruise, and for everyone in your room. For us that would have been $1100 on our 11 day cruise, plus tax. We were on a very port heavy schedule, so we decided to buy each drink instead of purchasing the plan, and I am so glad we did. The best thing about Holland America was the happy hours every.single.day. There are 11 bars on board the ship and each of them had happy hours throughout each day. Most of them ran on the same schedule, but others, like the B.B. King Blues Club had a later happy hour, along with the Northern Lights night club.
Happy hour consisted of buy one get one drinks, and even counted for buckets of beer. We took great advantage of this perk. During happy hour we would start off with whatever drinks we wanted, and then right before it ended we would each purchase a bucket of beer, and take one of them into the mini fridge in our room. The drinks averaged about $6-8, and the buckets of beer I believe were around $18, so the BOGO special was well worth it. The earlier happy hour started at the Seaview (by the front pool) or Lido bar (on the back of the ship) which was perfect for days when we would come back from the port a little before disembarkation. We would grab our seats on the back of the ship, our favorite waiter would be walking around say "happy hour, happy people" (AMEN) and we would spend a few hours just hanging out as we left for the next port. This was my favorite part about our entire cruise, especially with my new husband by my side.
We managed to get around the times without a happy hour in a few ways. Someone had delivered a bottle of champagne to our room (#HoneymoonPerks) which we obviously enjoyed right away, but we also ordered a bottle of rum to be in our mini fridge. It was double the price you would pay in a liquor store, but it lasted the entire trip. With this rum and the beers we would stash, we ended up with a well stocked fridge. Keep in mind, sodas also cost extra on the ship, but they will deliver cans to your room. We did this a few times and it worked out well for our drinks while in the cabin.
Everyday on the ship there is a different drink of the day for only $5. We only took advantage of this a few times because a lot of the drinks were made with banana liquor and I wasn't a fan, but it is a great option when they make good drinks. If you pay attention to the itinerary, I highly suggest looking out for tastings or mixology classes. Dave did a beer tasting which was $10 and in total he had about 5 beers, and received a coupon for a free one at the bar. We both took a mixology class which was again $10 and we made 5 different drinks…it's safe to say that we did not need happy hour after that class…but we went anyways ?
You can also purchase a bottle of wine to save some money, which works out very well while you are dining. We aren't really wine snobs, but we are picky on what kind of wine we get, and we were very happy with the offerings. For about $25 we had a bottle of wine with dinner, and were able to take it with us if we didn't finish it. If you enjoy wine, I highly recommend purchasing it by the bottle.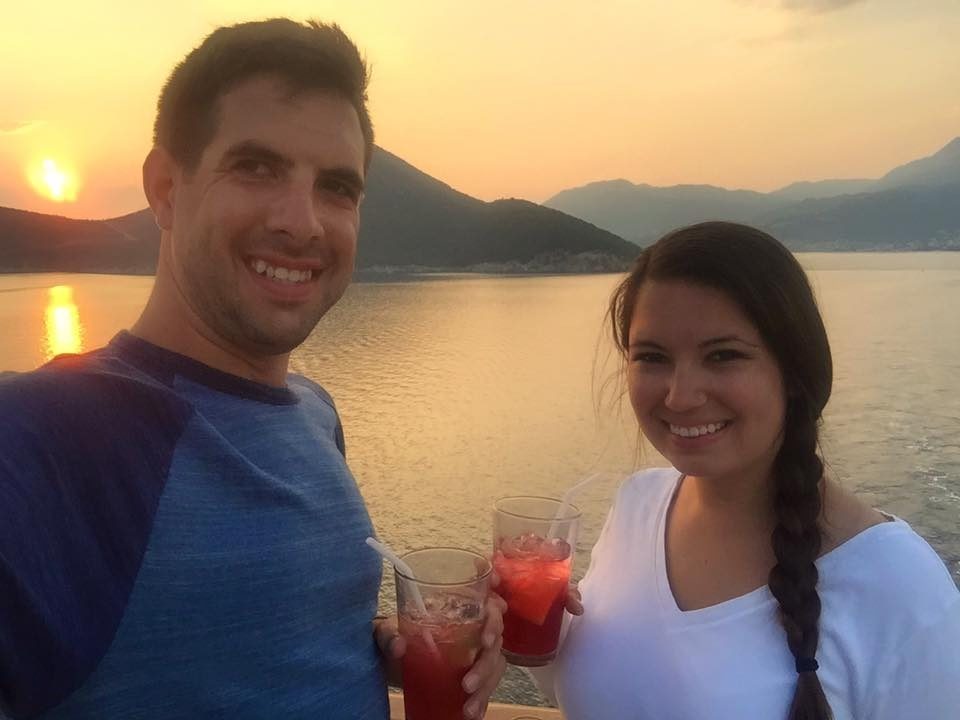 If you pay attention to the daily and weekly itinerary you will notice a few additional drinking activities. During the embarkation party you can enjoy a free glass of champagne to toast to your vacation. During the nightly entertainment there were often waiters walking around with complimentary champagne, though you could only have one…if they noticed your empty glass 😉 On the first evening of the cruise there will be several tastings offered in the shops, where you could purchase a bottle for the rest of your cruise.
ps. huge thank you to Kayla from
A Paper Arrow
for pointing out when this post went live too soon!