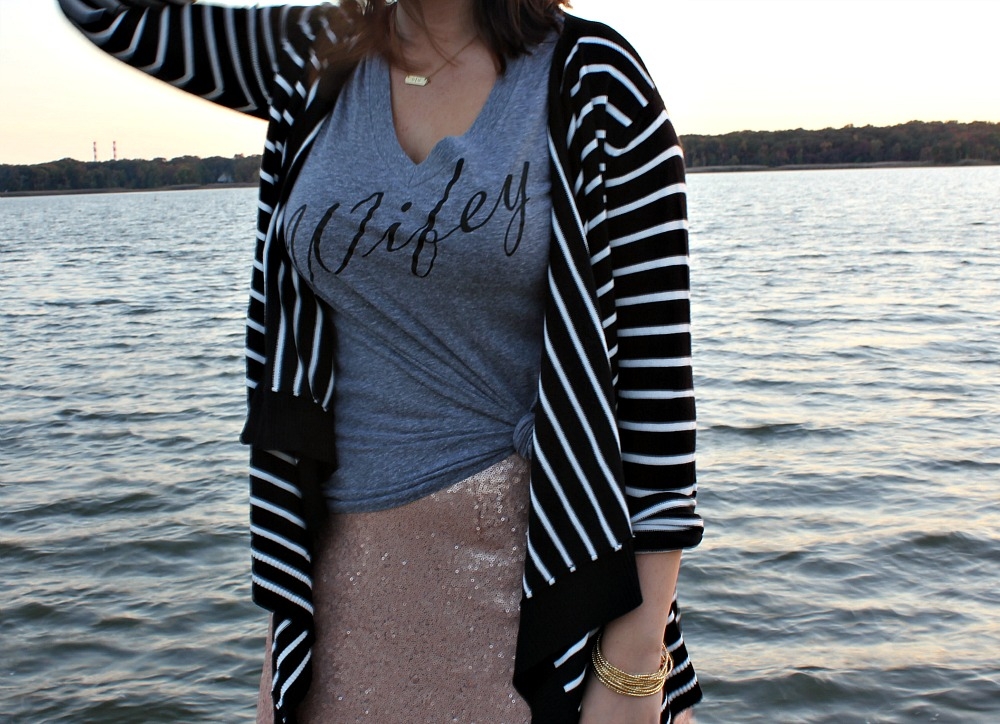 cardigan- Oakleigh Rose | wifey shirt- Etsy | bracelet & necklace- Stella & Dot
I get this question all of the time, and I really don't know how to answer it. It's kind of like how Alex talked about being asked if you are nervous to get married. I totally get why people ask, and it doesn't bother me at all, it's just a weird question in general. I mean yeah, things actually do feel kind of different, but then many things also feel the same. I do know one thing, I love being Dave's wife.
I have only been a wife for a little over 4 months, so I can't really give solid advice, but I am happy to share what I love and what has been difficult. Since I don't typically go into the long details when I am asked and normally just respond with "it's great!", I'm excited to give some more details. One thing that didn't really change was living together. It was nice to have lived together since we got engaged, so moving wasn't something we had to do once we got married. Honestly, I may have lost my mind if we would have had to deal with moving in together at the same time as planning our wedding. But I can also see how that would really change things. For us, we knew once we were engaged, that would be change enough for Dave to move in.
Changing my name has been a big change, and it was a heck of a process. I have only correctly signed my name like 2 times, and I love it when people call me Mrs. Volpe. I seriously want to buy alllll of the things in my new last name. Another big change has been combining all of our bills and really getting into discussions about our finances. I felt bad because I have many other things going on, this blog and my Wedding Planning business being two of them, so including all of those expenses and income seemed daunting at first, but it has all worked out really well. While it is not for everyone to combine everything, I am really happy with our choice. I plan on getting more into this in the future, but we are doing well with it for now!
I would have to say that the most difficult thing about being a wife is not having a wedding of my own to plan anymore! We put so much love, sweat and tears into our big day, and as it sinks in that it is over, it's bittersweet. But I am so thankful for all of our photos and memories. Having such a great day makes everything worth while and being blessed with marriage to my best friend is as incredible as it gets!
The best change is absolutely my love for Dave has somehow become even stronger. Being able to call him my husband is an amazing feeling, and I am so happy to know he will be my partner through everything. I have even loved spending evenings on our sofa with pizza and our tv shows. It seems like such a married thing to do, and I just can't get enough.
So there you have it, folks. Being a wife is incredible and I can't wait to see everything that continues to change.
Do you ever get odd questions like this?
---
Have you entered the birthday giveaway? There is still time!