I announced my word of the year on the Enchanting Events instagram, but then realized I have yet to talk about it here, so today that is what I am going to do. I really love the concept behind a word of the year. One word that has a little extra meaning for 365 days in order to help you strive towards a goal.
Last year my word was intentional, and I will be honest, I failed. Being intentional in everything is difficult. I let myself get sucked into way too much and attempted to take part in too much. Which obviously is not very intentional. Saying "no" is hard for me- I always want to DO everything. The glory in the busy is something that speaks to my heart when I have an open month/week/day…until it gets to that time and I am exhausted.
Because intention is still very difficult for me, and hard to grasp in such a large sense, I decided to go with a more refined word for 2017. This year I want to focus on doing things that evoke a fun spirit. Not only those that make me happy, but those that lower stress when the times comes. Things that will spark love in my marriage, business, and relationships. I want to pursue opportunities that will be a benefit but also enjoyable.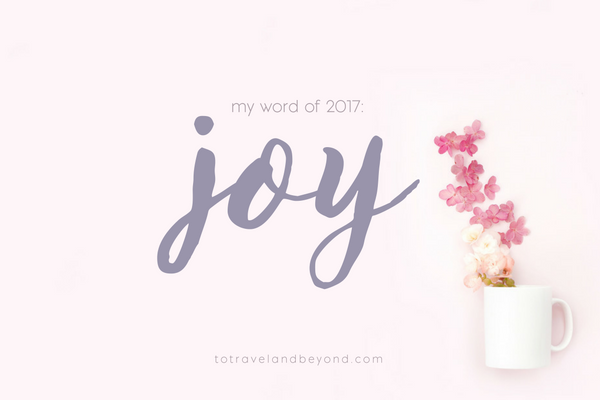 This brings me to a perfect word to describe the feeling I am longing for…JOY! I was between two words for this year, celebration and joy, so it was very ironic to see that Annie's word for 2017 is celebrate. She put it perfectly in her post about her word "Celebration means JOY. JOY means there is no room for complaining or selfishness or anxiety"
I am already focused on using this word throughout daily life- does eating this meal bring me joy? Is it joy for right now, or joy for always? Is filling another weekend on the calendar going to provide joy for Dave as well? One example of this way of introducing joy into my thinking is while we were on our cruise. We talked about taking an excursion- simply because there wasn't much to do in one of our ports; however, the cheapest excursion was $120 each. While we were on vacation, and typically the thinking would be something like "you are on vacation, spend like you are on v a c a t i o n" I talked with Dave and said, yes this sounds like fun, but will it be worth it to carry this vacation debt home with us? The answer was no. We would have temporary joy while on the excursion, and then drain ourselves and possibly resent the excursion once we got home.
So as we move forward through 2017, we want to participate in things that will cause long-lasting, and permeant joy. These are things like enjoying quieter and less busy time together, spending quality time with our friends and family, saving for big trips rather than taking a dozen small ones (which will help us to be less busy as well). I am very excited to bring this word justice throughout 2017.
Do you have a word of the year?