this post is not sponsored but may contain affiliate links- thank you for supporting my family & future blog posts!
Summer is coming to an end this weekend and while I know it's happening, I am not quite ready to fully let go. So I am going with my heart and sharing some of my favorite Lilly Pulitzer clothing from this year! These pieces are "holy grail" to me, meaning I keep buying them again and again in various new patterns, and they have never steered me wrong. I am also gathering products to share my favorite accessories! In the future I plan to do a round up of toddler clothing as well, but for now Olivia only fits into baby shifts and other baby options, once she can wear size 2 (Lilly's XS is 2-3) there are many other options for her. I have popovers and Finns ready and waiting!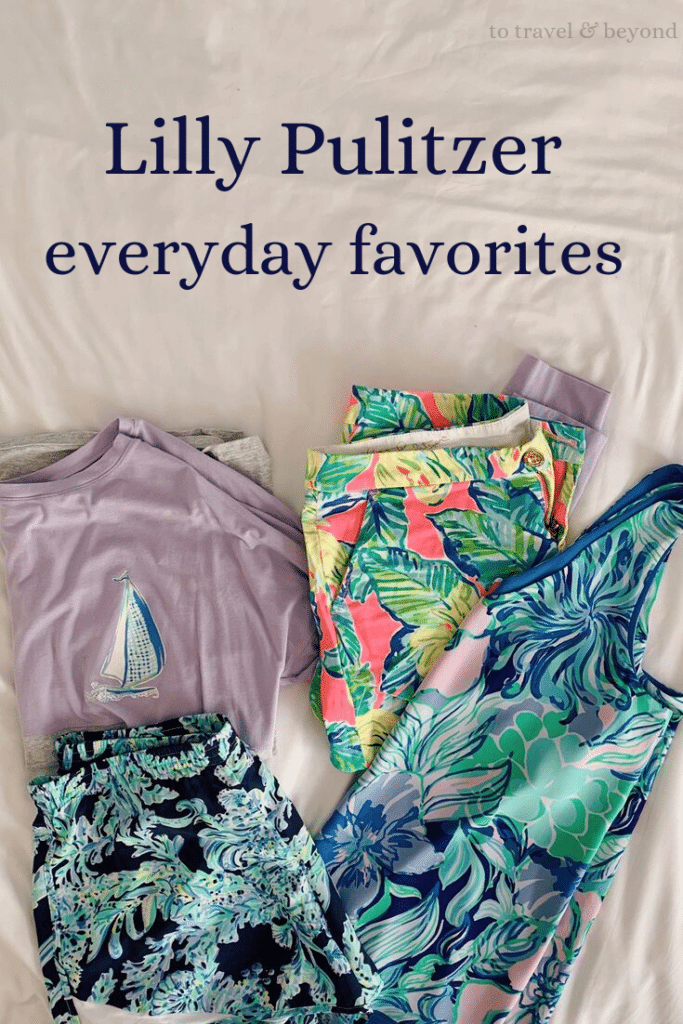 Without further ado, my top Lilly Pulitzer pieces, that I will be transitioning to fall because #Lilly365.

1- Florin Tops. These are amazing! Reversible to get more wear out of the tops, thick straps so you can wear a regular bra, loose but not unflattering, and a variety of patterns continue to come out. I have 5+ of these tops and will continue to buy more. These are TTS.

2- Ocean Trail Shorts. These are a newer favorite for me and I now have 4+ pairs. My favorite aspect of these shorts compared to others, like Run Around, is that they have shorts inside! There is 1 backpocket which fits my iphone XS and I size up for a looser fit.

3- Gigi Top. I LOVE the style with the pom-poms around the neckline, but any Gigi style will do. I like these shirts in solid colors to match multiple shorts, skorts, etc. and also in patterns to wear with jeans or solid shorts. I can wear a M or L.

4- Buttercup Scalloped Shorts. These shorts are perfect. They are a nice fabric, the scallops are flattering, they are a great length and overall a nice pair of shorts. I have several paid in multiple patterns and solid colors as well. I can wear my size or 1 size below.

5- Etta shirt. I like these for everyday wear throughout the year. They are looser, a lighter fabric and come in multiple patterns or Lilly colors. I prefer the patterns for these since they are a light fabric. If I am looking for a basic V-Neck, I almost always lean towards Target since they are thicker fabric.

6- Colette Skort. Skorts for the win! I just started wearing Lilly skorts this year and goodness I don't know what took so long. The Colette skort is my favorite option (I don't like the Madison at all) and quickly purchased several patterns. Again, the scallops are awesome and flattering. These are TTS.
7- Finn Top. Can we talk about the most amazing, comfortable, breathable fabric ever?! I would live in Finn shirts if I could. Unfortunately they are highly coveted so you may not always be able to get your hands on your top choice, but truly any pattern is worth it. There are also mini-matches WOOT WOOT! I have several of these shirts and highly recommend. If you want a loose fit, stay TTS, if you want something a little tighter, size down.

Honorable Mentions: Callahan Stretch Shorts– I wear 1-2 sizes down from my normal size so that is a win. They are a great length and very comfortable. Essie Tops are TTS and great for breastfeeding. Hollie Dress– This dress is a little short but it's hands down my favorite Lilly style. The lace on the sleeves and neckline is perfection and the bell sleeves are a wonderful touch.

Now I love a good shift dress, but I don't ever find myself reaching for one unless it's a special occasion, which is why I stuck with everyday favorites for this list. For the cost, shouldn't we get a lot of wear out of our clothing?
Do you have a favorite Lilly Pulitzer style? I would love to try something new!