this post is not sponsored but may contain affiliate links- thank you for supporting my family & future blog posts!
Creating our baby registry was by far the most overwhelming experience during my pregnancy. How do you know what you will need or what is just a gimmick? What if your baby doesn't like something and you need to try something else? We wanted to be over-prepared instead of under-prepared because Amazon in 1-hour doesn't work in our neighborhood quite yet 😉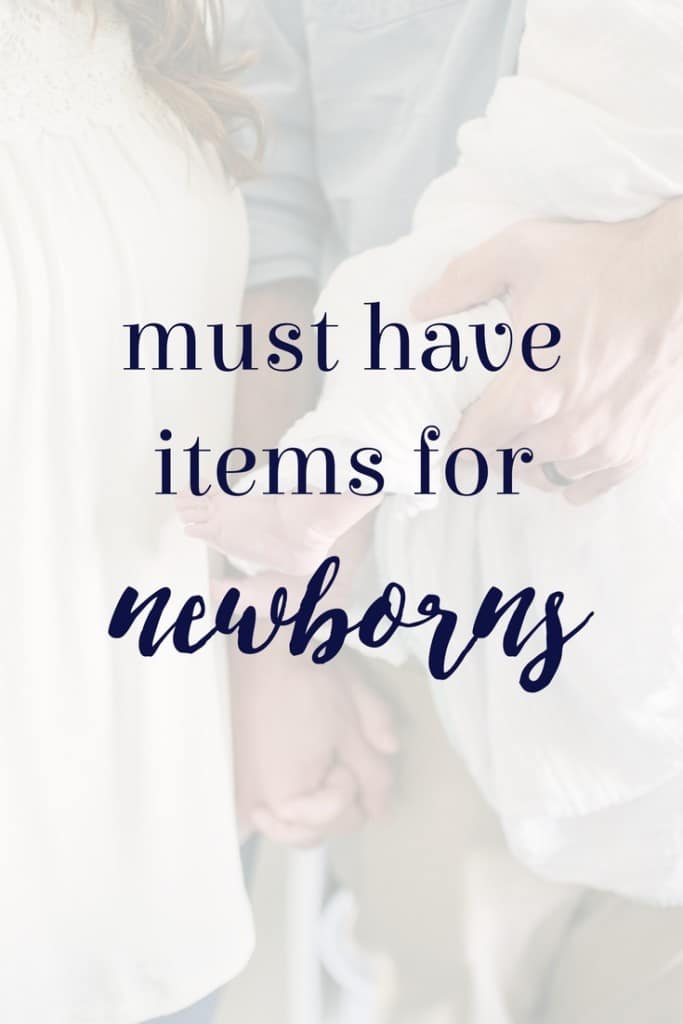 These items are the can't-live-withouts, the must have newborn items for our first 6 weeks of Olivia's life. Some of these things may not work for your baby, but they were all essential to keeping our sanity.
Baby Susher– we ended up buying this 2 weeks into newborn living and I can't imagine going without it now. We don't use it all the time, just mainly when I am putting Olivia back in her bassinet after night-time feedings.
Hatch Rest– this goes on as soon as we get into our room every night. We use the rainstorm noise and we keep a white light on the lowest setting to avoid turning a light on when we have to replace her pacifier or get her out of the bassinet.
Jersey blankets- I have one from this Etsy shop and a Lou Lou and Company one as well. These are hands down our favorites! Olivia could get out of muslin swaddles right from the start, but these jersey ones easily stayed in place and could get really tight.
Zipper Footed PJs– I didn't always wrap Olivia for naps during the day so these PJs were awesome. She stayed warm and it was really easy to change her diaper since most of them unzipped from the bottom. You can get them from a variety of places but the Burts Bees and Cloud Island were by far my favorite. 
Halo Swivel Bassinet– our plan is to sleep with Olivia in our room until she is around 6 months so this bassinet is amazing. The sleeper portion swivels in, out and around so I can move it in the middle of the night. I pull it closer to get her out and then push it back out when she's back in it. The side also bends down when I get her out to make it easier, this was great when I was newly out of the hospital and a little weak.
Owlet– this is the most expensive item we wanted but I absolutely love it and couldn't imagine going without. Even though Olivia sleeps right next to our bed, it helps me sleep better knowing her heart rate and oxygen levels are being monitored while she sleeps. If either get low the alarm will go off on our phone and on the base.
Solly Baby Wrap– Dave and I both LOVE these! We currently have two of them- a striped version and a floral version. We wear these around the house, for walks, when we're out shopping and more. Thankfully, Olivia loves to be in the wrap, so we fully take advantage.
SwaddleMe Pod– a guy we work with mentioned how awesome these are and sent us 2 before Olivia was born. I'll admit, they look a little odd but goodness are they awesome! We have tried other zip swaddles but Olivia doesn't like them as much as this one. It makes middle of the night diaper changes a breeze and it keeps her settled throughout the night.
Milksnob Cover– we have 2 of these and use them every time we go out with the car seat. You can use them for other things like breastfeeding, in the cart, and others, but we have only used it to cover the car seat for now. It keeps people from touching her and it protects her from as many germs in public.
Boppy Pillow– we have 2 of these to save me from taking one back and forth, which has been really helpful. Olivia will "lounge" against this and I use it for almost every feeding.
Changing table pads– multiple people told us to get waterproof changing pad covers, but I struggled to find cute ones! Instead of settling for decent at best changing pad covers, I decided to buy the cute ones I liked and invest in pads to cover them. These munchkin pads were our saving grace for the messy changes. We either toss them in the wash or throw them away if Olivia decides to go to the bathroom mid change. We have currently washed them multiple times and only tossed one in the trash.
Clip on fan– this fan is rechargeable and battery operated, having both options has been great! This clips to her stroller, carseat, toys, and can be handheld if needed. The speed options are great and it keep Olivia feeling good if we're out in the heat.
Things We Didn't Need As Much
Ollie Swaddle- I am SO bummed this didn't work for us. Mainly because it was fairly expensive but also because it's cute. Olivia wiggles a lot which doesn't work very well for this style swaddle, and it is also really loud during middle of the night changes because of the velcro.
Mittens- several people recommended these to us but Olivia knocked them off her hands in no time. I wish they would have worked because she was always scratching her poor face.
Nightgowns- another item that was highly recommended to us. We're using these more often now, but for the first 6 weeks we used onesies or zip-up PJs much more. I highly recommend stocking up on those instead and only getting a few nightgowns to start you off. 
I hope this was helpful! Let me know in the comments what your most favorite and least favorite newborn products are!