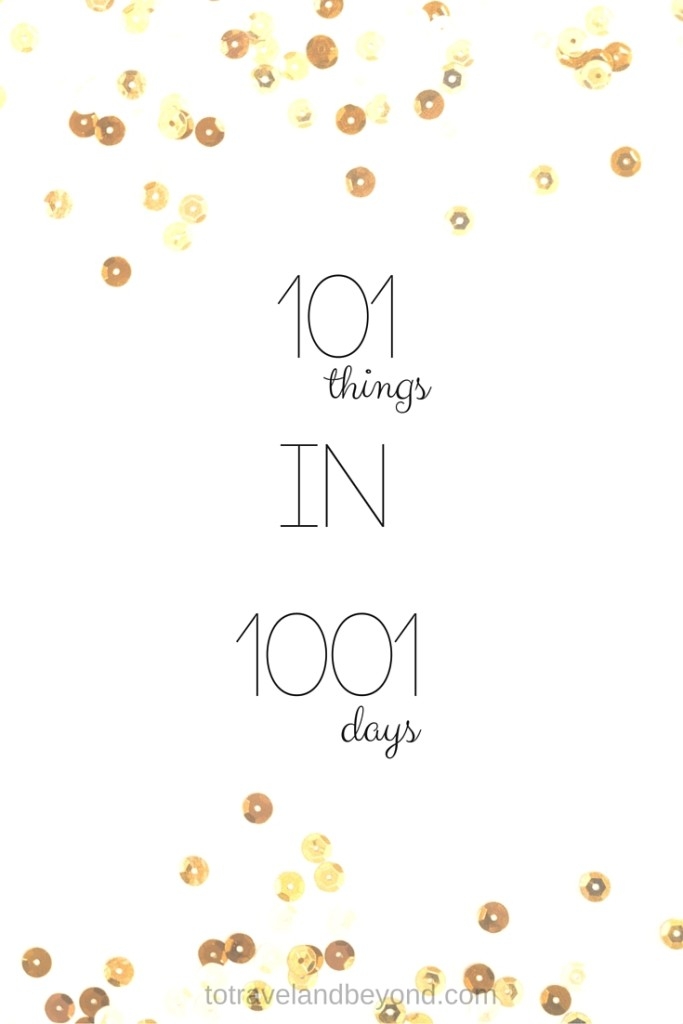 Welcome to the first link-up of the 101 in 1001 challenge, I am so excited to be sharing my list! I can't wait to read what everyone else has on their list, and follow along as we check off our goals.
Since the link-ups are only every 3 months, I wanted to come up with a way for all of us to keep up with each other in-between. I was searching around for a hashtag we could all use as we do the activities on our lists, and realized that #my101in1001 is not currently used on Instagram or Twitter, what do you all think about using that? It will be fun to keep up with each others activities!
Start: November 16th, 2015                     Finish: August 13th, 2018
LIFE
Read 30 books (0/30)
Start and maintain a daily devotional for a month

Create a budget and stick to it

Save at least $30,000

Hang wedding photos above the fireplace

Buy a new SUV

Host a Friendsgiving

Buy a house

Get rid of 30 things in my closet (0/30)

Have an album made with wedding photos

Finish the bar downstairs in our house

Start and finish a Project Life scrapbook

Start our own tradition

Take a trip for our 1st anniversary

Take a trip for our 2nd anniversary

Take a trip for our 3rd anniversary

Read 3 devotionals (daily or otherwise)

Finish our bedroom

Record a one-second a day video for one year (like

Megan

)

Read the entire Bible

Make a quilt

Only buy essentials for one month

Get a new/better DSLR and learn how to use it

Continue to grow our little family with a human sibling for SharkBait (this might be at the very end though 😉 )

Build a fire in our fire place by myself (yes, I know it is easy, but I am nervous!)

Save $10 for every task completed from this list


TRAVEL & ADVENTURE

Visit 10 new places
Go on a girls trip
Have a wine tasting at 5 wineries (0/5)
Go to Charleston, SC
Take a brewery tour
Go to Nashville, TN
Go skydiving
Go to Japan
Stay at a Bed & Breakfast
Swim with sharks (again)
Take a trip with another couple (or two of three!)
Drive around Iceland
Take a train ride
Go hiking somewhere new
Take Nathan to Disney
Successfully drop one ski while water skiing
Go camping
Go for a bike ride in 3 cities (0/3)
Take another cruise
Go zip-lining
Visit 2 countries (that I haven't already been visited)
Go snowmobiling
Take a spontaneous weekend trip
Visit 5 new restaurants
Ride in a hot air balloon
Save $10 for every task completed from this list
HEALTH & FITNESS
Exercise at least 3 times a week for 3 months
Find a fitness class I enjoy
Do yoga 5 times a week for a month
Drink at least 8 glasses of water for a month
Run 3 times a week for a month
Run a 5k
Run a 10k
Reach my goal weight and maintain for 3 months
Go through my makeup and invest in good products
Have a spa day
Go paddle-boarding 5 times in one month
Start a daily skincare routine
Go 1 month without fast food
CULINARY
Make 3 crockpot recipes
Make 5 healthy freezer meals

Pick a random page in a cookbook and make whatever you get

Cook a meal for someone else

Successfully make french macarons

Help make Thanksgiving dinner

Make 3 recipes found on Pinterest (0/3)

Make peach cobbler

Make up 3 cocktails (that actually taste good!) (0/3)

Eat Vegan for a day

Grow something that I can eat/use while cooking

FOR OTHERS
Send at least 15 handwritten notes in the mail

Pay for someone else's coffee/meal 5 times (0/5)

Leave a 100% tip

Take Emily (my sister) on 2 trips (0/2)

Volunteer at least 5 times (0/5)

Donate to 3 different charities (0/3)

Throw a surprise party for someone

Give 3 handmade Christmas presents (0/3)

Make family dinner one week (all 15 of us have dinner together every Wednesday)

Help someone else achieve one of their 101 goals

BLOG
Meet 3 bloggers in person (besides my Baltimore loves!)

Create an e-course (dreaming big here y'all!)

Record 3 vlogs (0/3)

Finish 2 courses to further my blog (0/2)

Take part in a mentorship program, as a mentor
Business
Plan and coordinate 6 styled shoots (0/6)

Coordinate 15 weddings

Finish 2 courses to further my career (0/2)

Start a blog for Enchanting Events

Attend a wedding industry conference (hopefully Creative at Heart!)

Exhibit at a Bridal Show

Read 3 business based and encouraging books

Finish my office (this is Blog + Biz)

Periscope 3 times in one week, 3 times (0/3)

Take a calligraphy class
AH! I am so excited to be doing this with all of you!