I am on my phone all of the time, especially during middle of the night feedings. There isn't much more to do when you have one hand, a baby on your lap and no light besides the dim nightlight. So how do I pass the time? SHOPPING (or window shopping at least)! I have found some amazing Instagram shops and I'm really excited to share them all today!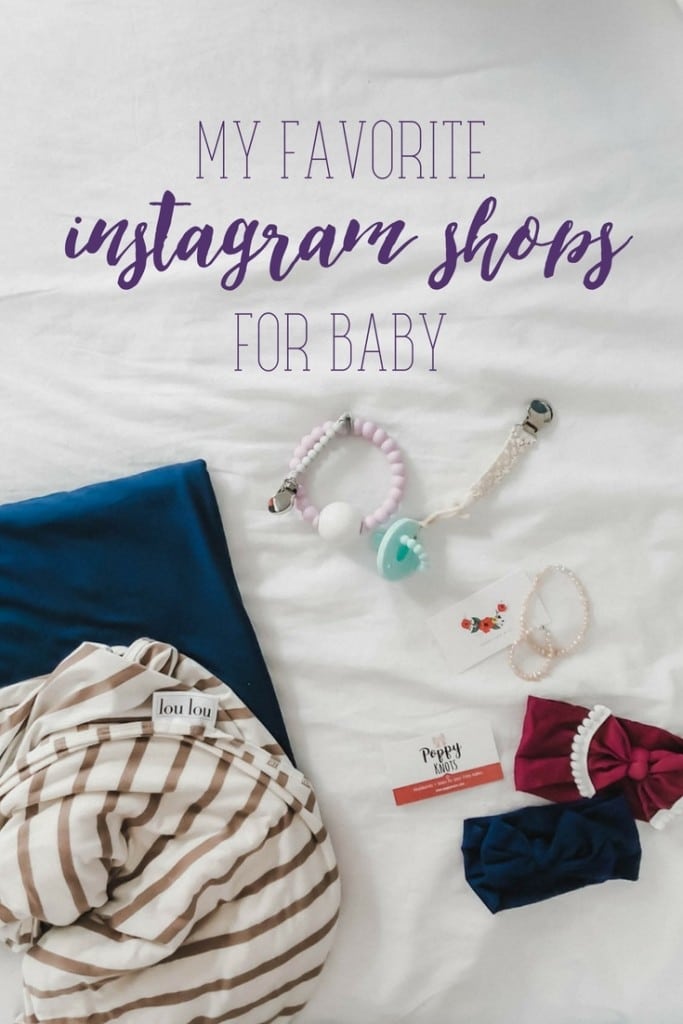 There are countless shops out there these days, but these five are by far my favorites. I love the brand behind the photos and products and supporting these families is so much better than a random product from Target (even though we all know I love me some Target!) This is not a sponsored post, in fact these shops don't even know this post is happening.
If you follow me on Instagram there is no chance you haven't heard of this shop. I talk about them all the time and we're obsessed! Olivia uses their PATpat's and clips right now but we also have tethers ready for the future. I LOVE Lindsey, her brand, her message and her team. It's a family affair over at Ryan & Rose and that means so much to me. The PATpats are wonderful and the colors offered with each product makes it easy to match everything to every outfit.
These swaddle blankets and bows are my FAVORITE!! Seriously, we have 5 now because they are so soft and made really well. New styles are released every week and once a pattern sells out, it's gone for good, so I suggest joining the newsletter asap. The price point is great as well.
We had a good amount of bows before Olivia made her arrival, but I didn't realize most of them would leave an indent in her poor little head. When I noticed this I started searching for bows with a larger band and a comfy material. That is when I discovered Poppy Knots and we now have several bows from the shop. I especially love their warmer color bows and that might be the only thing getting me excited about cooler weather. They have lots of different options from knots to bows, I love them all!
This isn't really "for baby" but it's my favorite place to shop for heirloom pieces like initial necklaces or their new birthstone rings. I bought a ring for November (Dave), February (me) and May (Olivia) and wear them stacked on my left hand. I originally planned on just an emerald ring to represent May, but Megan gave me a beautiful necklace after I had Olivia that represented all three of us and that meant so much to me. After receiving that necklace, I realized I wanted something else to be for our entire little family.
When it comes to Olivia, I am ALL ABOUT matching. I have no shame in my mom game. Poppy Lane makes the most adorable bracelets for babies and adults. We have mother of pearl bracelets right now and I am hoping to add to our stacks as time goes on. There are endless options of colors, size, etc.
Do you shop with any of these companies? I would love to know! Also, do you have favorite Instagram shops?