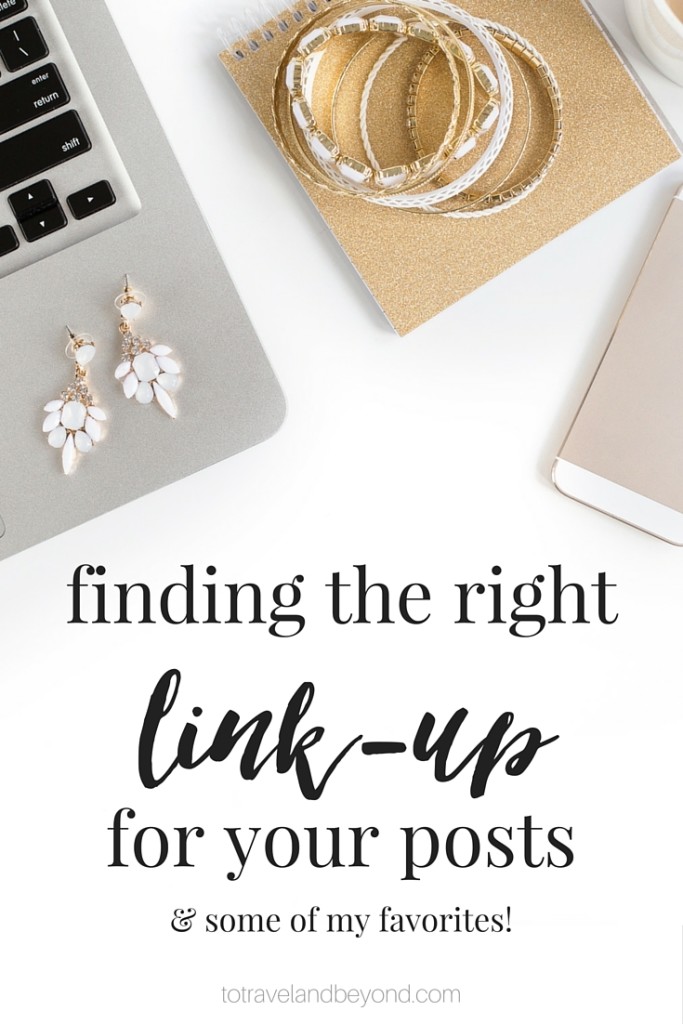 A few months ago, during the community series, I mentioned that linking up with other blogs is one of my favorite things about blogging. I love having one similar thing to talk about with several other bloggers, and this is the perfect way to do that. If you aren't familiar with link-up's it is where one, or a few, blogs host a gathering of sorts for bloggers to share posts related to a specific topic. The topic can be as specific or broad as the host desires, and can be about anything.
The right way to go about link-up's is easy.
Find one that matches topics that you blog about, or blog about a specific topic for a link-up.
Link to the blog hosts or use their button within your post
Add you link to the link-up on the host(s) page when the link-up goes live!
Follow the directions (if there are any) and jump around to other link-up participants posts. This is where community comes into play, it's a great way to meet new people with specific interests.
It's important to share relatable posts with each link-up. For example, if you are joining a recipe link-up, you wouldn't want to link-up with a post about your new office space. There are link-ups out there for everything, and if you can't find one, ask around or start one yourself!
Below I have listed some of my favorite link-ups that I love to participate in and read. While I don't link-up with these every week, I do try and check out what everyone else is sharing, and add my own post every few weeks. If you have a link-up to recommend or one that you host, please let me know in the comments!
Sunday
A Scripture and a Snapshot with Glimpses of Our Life. Post with a reflective scripture, and a snapshot of your week
Monday
Meet-up Monday with The Everyday Christine. Share your favorite recent posts from your own blog or others
Weekending with B Loved Boston and Champagne and Suburbs. Summary of your weekend happenings.
*Coffee Dates with Mr Thomas and Me What would you talk about if we were having coffee? The second Monday of every month.
Tuesday
*Monthly Recap with To Travel and Beyond & The Low-country Mama. Join us on the first Tuesday of every month!
Delicious Dish Tuesday with Eat, Drink & Be Mary. Share a recipe you have made lately
Travel Tuesday with Bonnie Rose Blog and other hosts. Link-up and share your favorite travel stories from anywhere in the world
Lets Be Friends with The Dwelling Tree and Southern Beauty Guide  Share a favorite post on your own
Wednesday
*Wedding Wednesday with To Travel & Beyond and make.upHer. You know I had to include the link-up that I co-host with Nikki! Share your wedding tales, stories and photos with us!
Wise Words Wednesday-
Humpday Confessions with Alanna and Company. Fun and not so fun confessions about your week and life
Wednesday RoundUp with The Crafty Wife. A round-up post with some of the best posts from the week including DIYs and recipes
The Wednesday Showcase with Wear Flowers In Your Hair. Share any type of post you have been working on this week
Thursday
Thoughts for Thursday with East Coast Chic. General thoughts and musings.
Brag-worthy Thursday with Meet The B's. Share your latest projects and DIYs
100 Happy Days with Life of Scoop. "Bring some sunshine to your readers" with inspiring thoughts and celebrations
Friday
Oh, Hey Friday! with September Farm. Share 5 things about your week
Blogger Love with All The Joys. Shout out your favorite bloggers and their posts from the past week!
Other Link-ups:
*#My101in1001 with To Travel & Beyond and co-hosts!  (let me know if you would like to be a cohost). A link-up to share your 101 in 1001 list, or catch everyone up on your progress! Every 3 months. The next link-up: February 15th
Collaboreads with Mr Thomas & Me and Rachel a Dawson on the last Monday of every month
The Awesome Link-Up, Love The Here and Now & The Trish List
Travel Tuesday with Life Sweet Words every 2nd Tuesday of every month.
The Reading Roundup with Berke Does on the last Tuesday of every month
#12MonthsOfBliss with Ember Grey on the last Wednesday every month. Spreading bliss through the entire year, and each month has a different prompt.
Currently with Gold & Bloom every 1st Wednesday of every month.
What Would You Do with Berke Does every 3rd Wednesday. The prompt changes for every link-up, so be sure to check it out ahead of time!
Love The Everyday  with Love The Here and Now & The Everyday Christine on the second Thursday of every month. Talking about anything and celebrating the everyday.
Reading Lately with Blogs Like A Girl on the last Friday of every month. What you have been reading, and what you are reading.
Final Friday Finance cohosted by Berke Does on the last Friday of every month.
I am sure I missed some of my favorites, and I will add them in the future! Please let me know if you have a link-up that I am missing. Thank you, Annie, for this post idea!
What are your favorite link-ups?