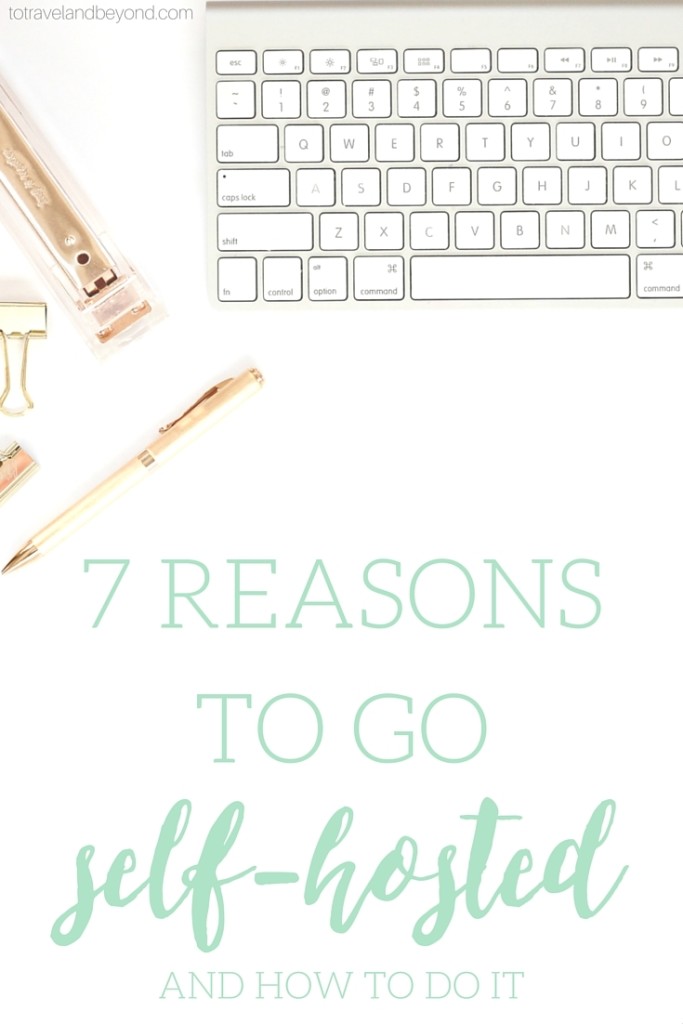 Affiliate links are listed below
One of the most popular blogging questions out there is to be self-hosted, or to not be self-hosted. I have been both, and now that I am self-hosted, I don't plan on turning back. There is also a debate about which blogging platform to use, WordPress and Squarespace seem to be the front runners, but I won't get into that today. This post is going to be focused on a self-hosted WordPress blog, aka wordpress.org.
The first glance confusion begins with WordPress having two types of blogs. Mainly, the difference between .com and .org. To quickly summarize, wordpress.com is a free blogging platform and wordpress.org is for a self-hosted blog using the WordPress platform. I started on wordpress.com and switched to wordpress.org over a year and a half ago.
There are several reasons I am staying with a self-hosted WordPress blog:
1. Monetization. You are not allowed to run ads of your own, participate in giveaways, or offer any paid sponsorships. While I didn't start my blog to make money, it definitely helps to cover the costs of my blog (which really isn't all that much) I have done sponsored posts, sidebar ads, product reviews, etc. and I have either made money directly, or received a product in return (I have tightened up my product reviews in order to keep others from taking advantage, which you can read about here, but I still do them from time to time).
2. Customization. You are able to change your layout to however you see fit, you have access to change the coding of your blog, and you can instal widgets to make things look exactly as you want them to.
3. Access to more themes. There are endless theme options out there for a self-hosted WP blog. You can search the free theme library directly through your WordPress site, buy a pre-made theme from Etsy, or have a designer make one custom for you. Basically, you can make your website look exactly how you want it to look.
4. SEO. This isn't necessarily a pro for only self-hosted blogs, but it definitely helps, but it means even more to own your domain. Google wants to pull the most accurate and "serious" posts in their searches, you will seem more legit in this case by having a domain without ".wordpress.com" after your blog name. This article will further explain SEO.
5. Ad-free unless they are your own. When I had a wordpress.com blog, there were often ads on my sidebar or at the bottom of my posts. I wasn't a fan of this because I didn't like the fact that any of the ads could deter people from my site, or they could be based on something I don't agree with. I like to have control over the ads on my site.
6. Plugins. This is a whole new world, folks. Seriously, there is a plugin for everything. SEO, Instagram photos, fonts, mailing lists, etc. My favorite plugins list could go on and on, but that is another post for another time.
7. Owning your content and your blog. One of the biggest fears I had with my .com blog was this sentence from the TOS "terminate your access to all or any part of the Website at any time, with or without cause, with or without notice, effective immediately." WHAT?! Now I am sure this doesn't happen often, but I was fearful of loosing something I have worked so heard to create. I also don't want my photos, posts, and links being used for anything unless I have a say in it.
Now it comes down to how to go about actually going self-hosted. First you need to buy hosting, I use A Small Orange and absolutely love it. It's user friendly, inexpensive, and comes with amazing customer service (which is free!). They moved my site over for me, but this is something to ask before signing up, which you can do through the live chat function. You can use code "SIMPLEHOSTING15" for a 15% discount off of the annual plan. This makes one year of their most popular hosting just over $40, including a free domain name for the first year.
After you have your hosting set-up, you can either start your blog from scratch, or migrate everything from a previously blog. There are several resources out there to help you make the switch, or start a self-hosted blog if you wanted to do everything yourself. Starting a WordPress blog is actually fairly simple, don't let things like CSS and HTML scare you. Watch youtube videos, read articles and don't be afraid to ask for help! I promise, it's worth it in the end!