If you followed along on Instagram over the weekend, I had taken over The Baltimore Baton and took followers along for a rainy weekend ride. If you aren't familiar with The Baltimore Baton (or aren't from the MD area) here is a quick intro.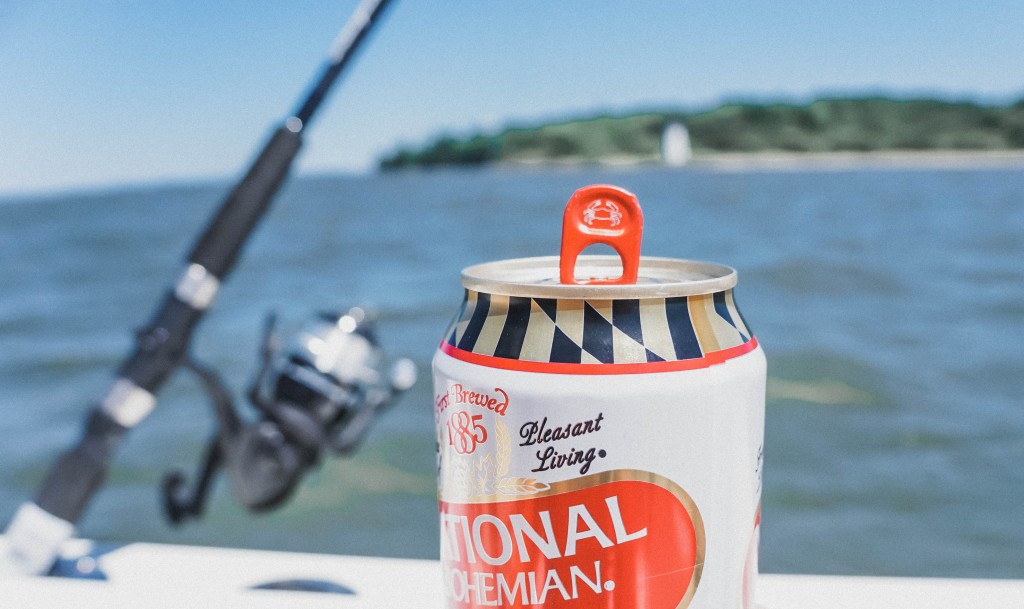 The Baltimore Baton is founded by Megan from Soup of the Day (+ she is one of my bff's) and it's an Instagram account. Every weekend (and some weekdays) a new Baltimore local takes over the account to share their weekend. Depending on who the influencer for that weekend is you may see lots of delicious food options, beautiful hidden gems within the city, or simply daily routines.
Since I live in Baltimore County and work in Baltimore City, I thought it would be fun to do a mix of both. On Saturday, we had big plans for downtown. We were going to do some fun activities and explore new-to-us places…but the weather had a different idea. Out of the three things we had planned, all three things were cancelled. I understand because it was a monsoon from 12pm until 5pm which left things either in the rain or soaked afterwards, but I was worried about changing plans last minute. Thankfully, my husband is more go with the flow and he helped to think of alternative ideas.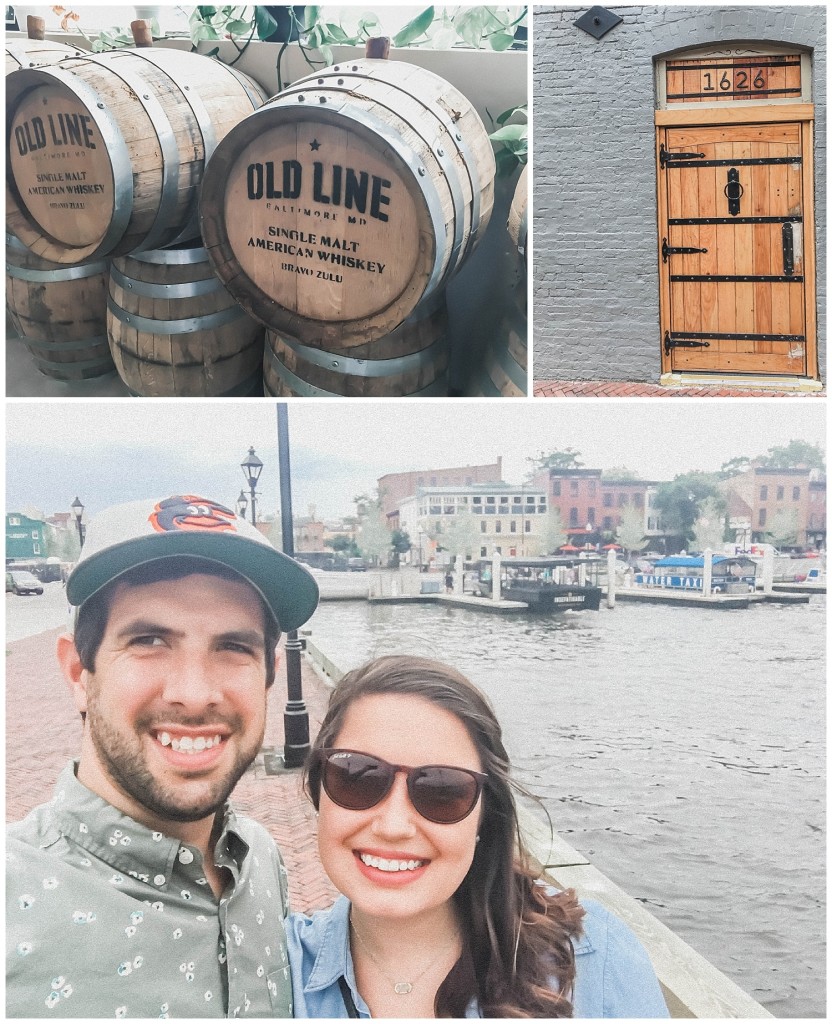 The first thing we did was hit up the Fells Point farmers market. I had been to several markets around town, but never the one in Fells Point, so it was a great start to the day! We picked up local produce, sampled some mini donuts and thought of a plan for the rest of our day. Old Line Distillery was there giving out samples of their whiskey and rum…but more on this in a bit. After the market, we had breakfast at The Daily Grind and did some shopping around Fells Point.
Over breakfast we talked about our favorite things to do when we visit new cities, and we realized we had never done a few of them in our own city. The number one thing being try the local breweries or distilleries….so a decision had been made. We both loved the Old Line rum, and I had remembered seeing a Groupon for their distillery. Thankfully, walk in tours were encouraged, so we bought the Groupon and made our way there. Only to find out we drive by their location every day on our way to work. It was such a cool tour and I'm going to give it it's own post next week.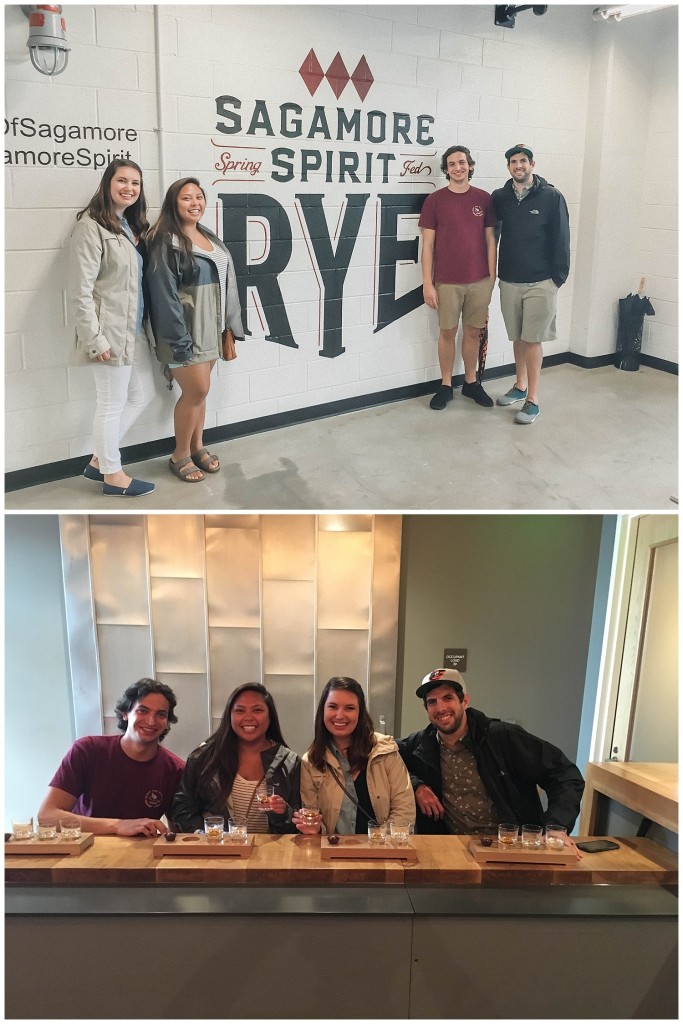 After Old Line, we headed to another brand new distillery, Sagamore Spirits. This one is owned by Under Armor founder, Kevin Plank, and it is huge! This is not your small town distillery but a well oiled machine that creates thousands of bottles of Rye whiskey. The experience was very unique and educational, plus we got to sample not only their whiskey but also their chocolate! It was very cool to hear about a company wanting to bring back such a big piece of Maryland. We even had friends join us for this tour!
Next we needed some dinner and my favorite Baltimore pizza was calling my name. Homeslyce is my favorite pizza place downtown, with great food options but also drink options as well. It was #nationalchickenwingday so we enjoyed some of those along with the pizza.
Our evening ended with a walk along the Canton Waterfront and talks of what we planned on doing on Sunday.
Sunday I wanted to show The Baltimore Baton followers what they can do in Baltimore County. It is an escape from the city for a beautiful summer day, but not many residents know how close it is. Especially because so many city residents are not from the area.
The day started with a bike ride to Gunpowder State Park, with beaches, water sports, and lots of land, it's the perfect mini trip away from the concrete jungle. It was a beautiful early morning just as the park was opening and that is the perfect time to arrive- because it gets crowded! Grab your spot early if you want to spend the day there.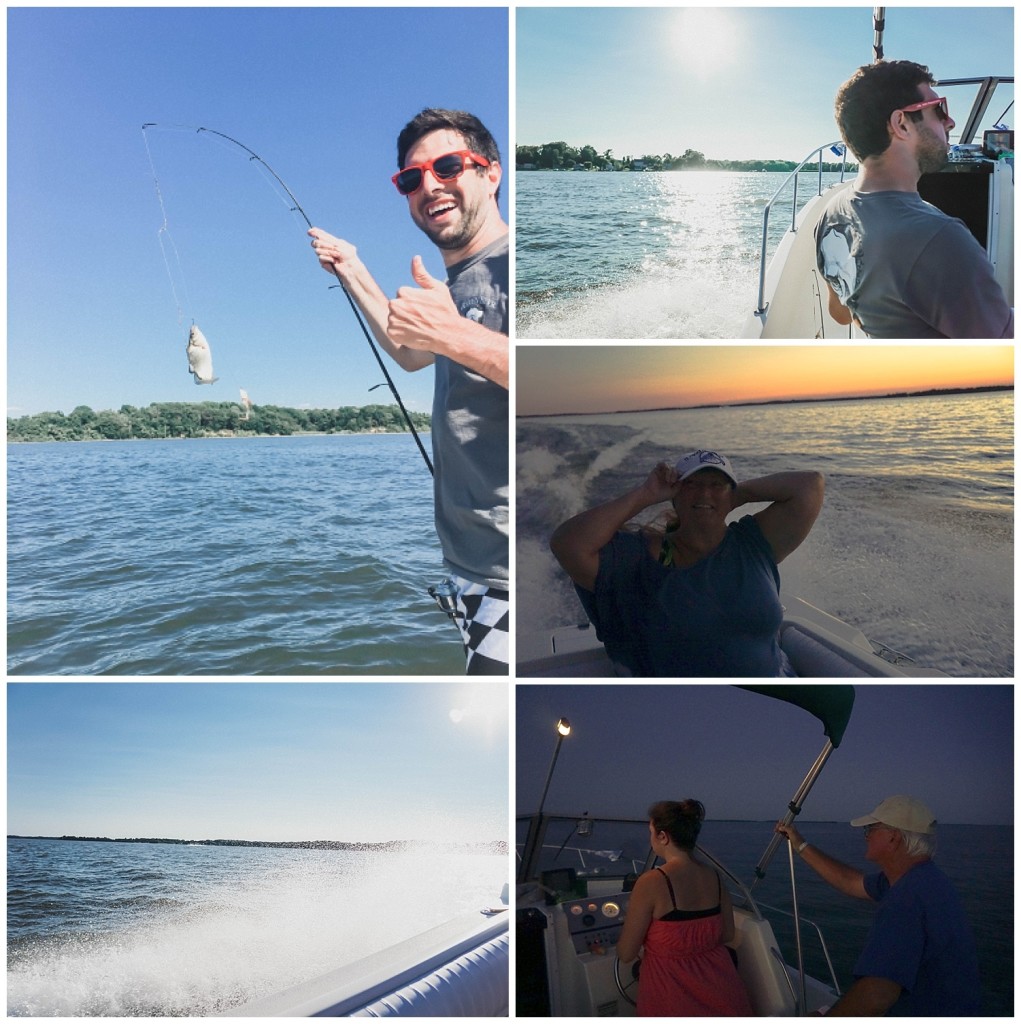 Next, I had planned on a paddle around the water, but the wind had different ideas. Paddleboarding is great exercise and so much fun, but you do rely on a low-wind day to make it enjoyable. We were experiencing 10+ mph winds, which meant that paddle wasn't happening. Instead we went out on the boat, went swimming and fishing, and toured some neighborhoods on the water.
We ended the weekend at Island View Cafe which opened in the early 1920's specifically for people living in the city to get away from the summer heat. It was a cute, family-owned restaurant right on the water. You can rent kayaks, go fishing off of one of their piers and enjoy some seriously delicious food. I had the veggie quesadilla and I highly recommend it!
There you have it, my weekend with the Baltimore Baton. If you are a Maryland local or even plan on visiting Baltimore at some point, make sure you follow along!