This shop has been compensated by Collective Bias, Inc. and its advertiser. All opinions are mine alone. #WearLoveShare #CollectiveBias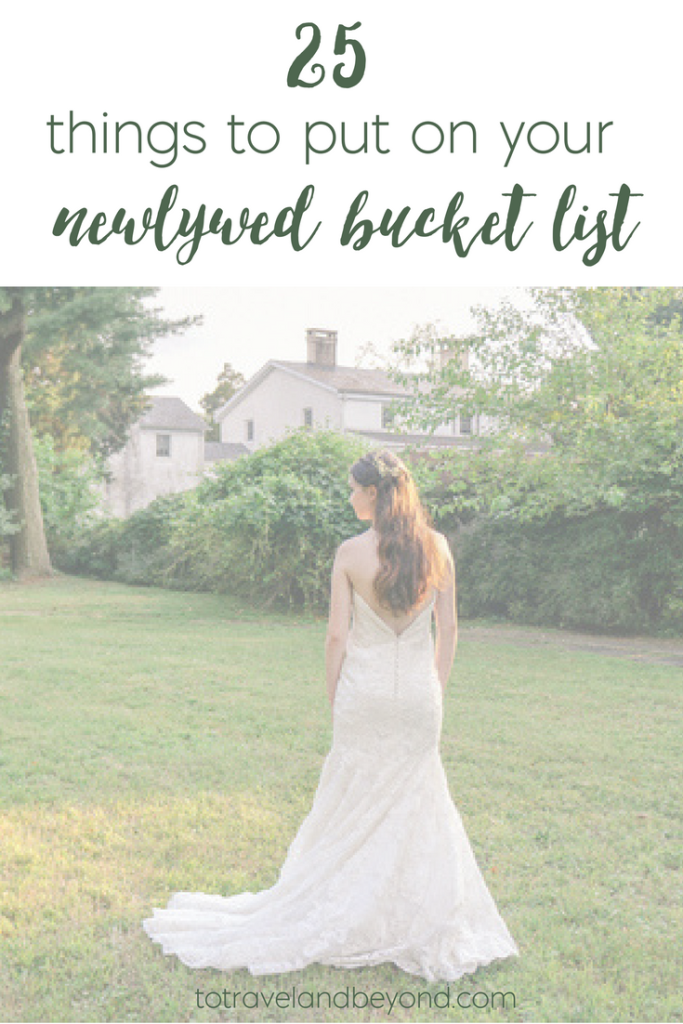 When the planning is over, your wedding dress is back on it's hanger and you are snuggled with your new husband, it may feel bittersweet. After our wedding, I wasn't sure what to do. I missed the planning and the constant conversations with my best friends, but I knew our life was just continuing on with the next adventure.
Having a newlywed bucket list was fun because it gave us other things to focus on, from the honeymoon and beyond. Endless memories are still to be made after the wedding is over, so why not make a list to see what you can do next? As someone married for over a year now, I love these 25 newlywed bucket list ideas to do in your first year of marriage.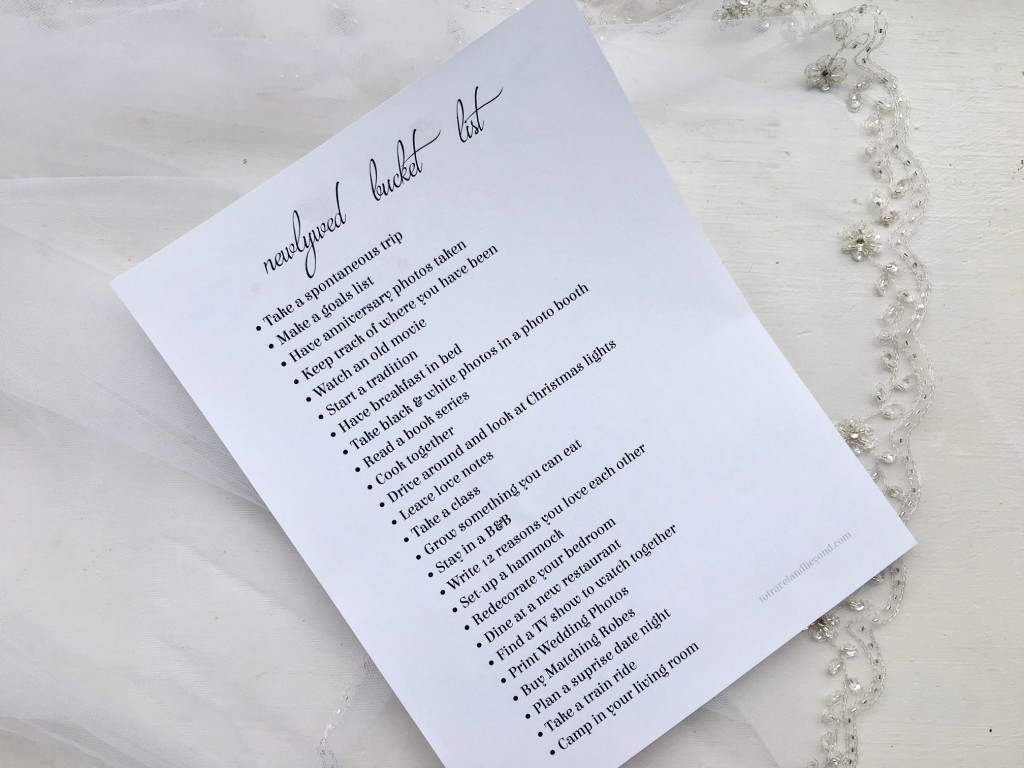 Dine at a new restaurant for your one-month wedding anniversary. It's always so much fun to try something new and celebrate the "small moments" of marriage.
Find a TV show that neither of you have watched and start it from the beginning. With streaming services this should be easy!
Print wedding photos to give as gifts. Our parents and grandparents loved getting wedding photos for Christmas.
Buy robes. Whenever we are traveling I always LOVE to lounge around in a robe and slippers at some point, so why not get comfy ones for home as well?
Plan a surprise date for each other. It's fun to see what the other person choses for you to do.
Take the train somewhere. This is a different way of transportation for us which makes little things more fun.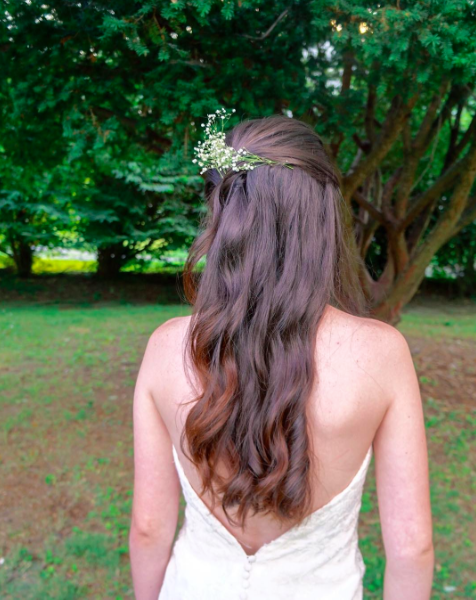 Redecorate your bedroom. When you have your wedding photos back, it's always fun to redecorate and add some new frames to the wall. I love having beautiful photos around our house, and especially in a special place. Start with cleaning up the space, which may mean selling your wedding dress- but don't worry, PreOwnedWeddingDresses.com is able to help!
The site is very easy to use, will earn extra money to put towards redecorating, and will make another bride feel so beautiful! The Wedding Dress Value Calculator is a great way to find out how much your dress could be worth. It is not the price you have to set for your dress, but it is a good starting point. Sellers pay a one-time $25 listing fee, and that's it! No other charges or commission will be made by PreOwnedWeddingDresses.com and you are able to recoup more than you would in a consignment location.
Dresses that sell the easiest on PreOwnedWeddingDresses.com have details of the front, back, style and fit of the dress- it's best to explain as much as possible, beautiful photos and a price using the dress value calculator. The best thing is that there are dresses at all price points- which will help other brides find their dream dresses.
Camp in your living room. Who said that pillow forts were only for little kids? Grab some sheets, pillows and candles and watch a movie under the fort.
Set-up a hammock. This is a fun way to relax and read a book or just enjoy each others company. If you don't have space to set one up, look into getting a hammock stand.
Take a spontaneous trip. If you find a free weekend, or even just a day, pack a bag and go somewhere new. Exploring together will be a lot of fun.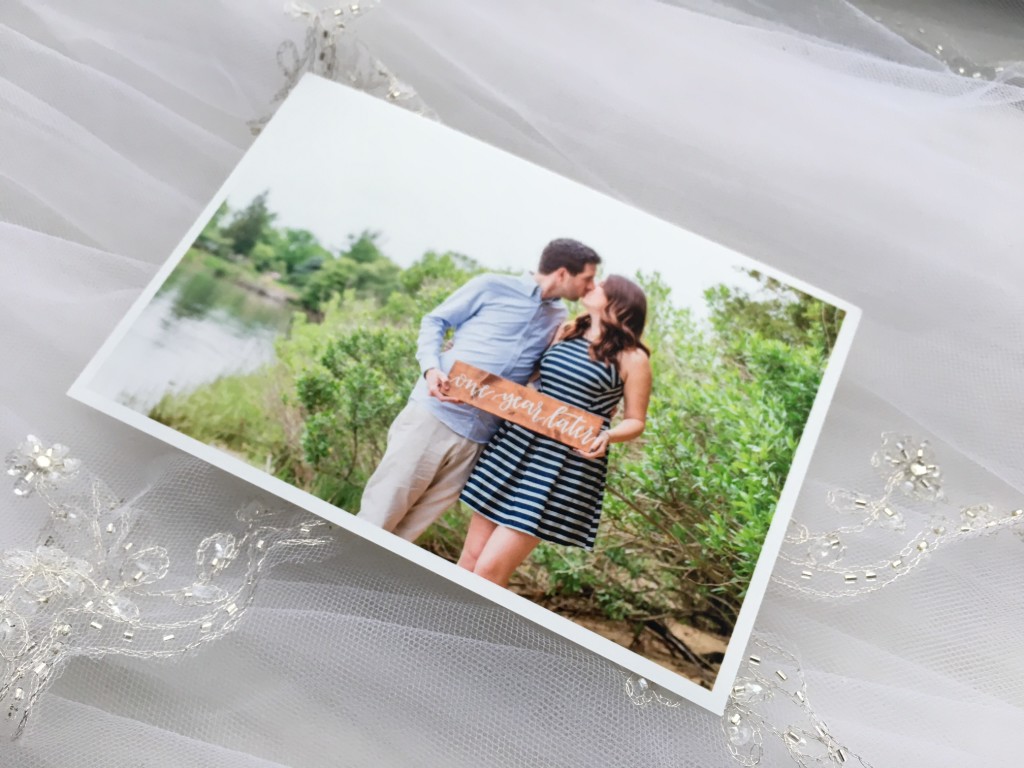 Have anniversary photos taken. Seeing the difference a year makes in your marriage is a beautiful thing.
Make a goals list. This can be your wildest dreams, small things you would like to do together, or even parts of a 10-year plan. Work together to create the list.
Keep track of where you have been. We have a large map on our wall to pin the places we have been, but you could use a globe, postcards, a book, etc.
Watch an old movie. There is something about a black and white movie to make a romantic evening.
Start a tradition. Anything from Taco Tuesday to a Christmas Eve celebration, the routine will be nice and it's something you can both look forward to.
Enjoy breakfast in bed. Taking turns cooking breakfast for each other is nice, but add something special and make it breakfast in bed!
Cook together. For us this is my husband cooking the meal and me handling the appetizers and dessert, but for you it could be making the whole meal together. Find the balance and go for it.
Take black & white Photo Booth pictures. Before these became a popular wedding attraction the only place I knew of to have photo strips taken was on the boardwalk. We have gone back tot he same photo booth a few years in a row and I love seeing the difference in the photos.
Read a book series. If you both like reading, why not read a series together?
Drive around to look at Christmas lights. I love the holiday season and looking at Christmas lights is my favorite thing to do. Grab some hot chocolate, put on your PJs and go for a drive together.
Leave a love note. This could be on his pillow, on the bathroom mirror, on the coffee pot, etc. Something sweet to start the day right.
Take a class. There are painting classes, sushi making classes, gardening classes, etc. Find something you will both enjoy and sign-up.
Grow something you can eat. Each of you can pick something to grow, or you can decide on one thing together. My husband would pick peppers and I would go with mint.
Stay in a B & B. Bed and Breakfast resorts are so quaint and different compared to a regular hotel. Even if you are only able to stay one night, the experience is well worth it.
Write down 12 reasons you love each other and read them once a month.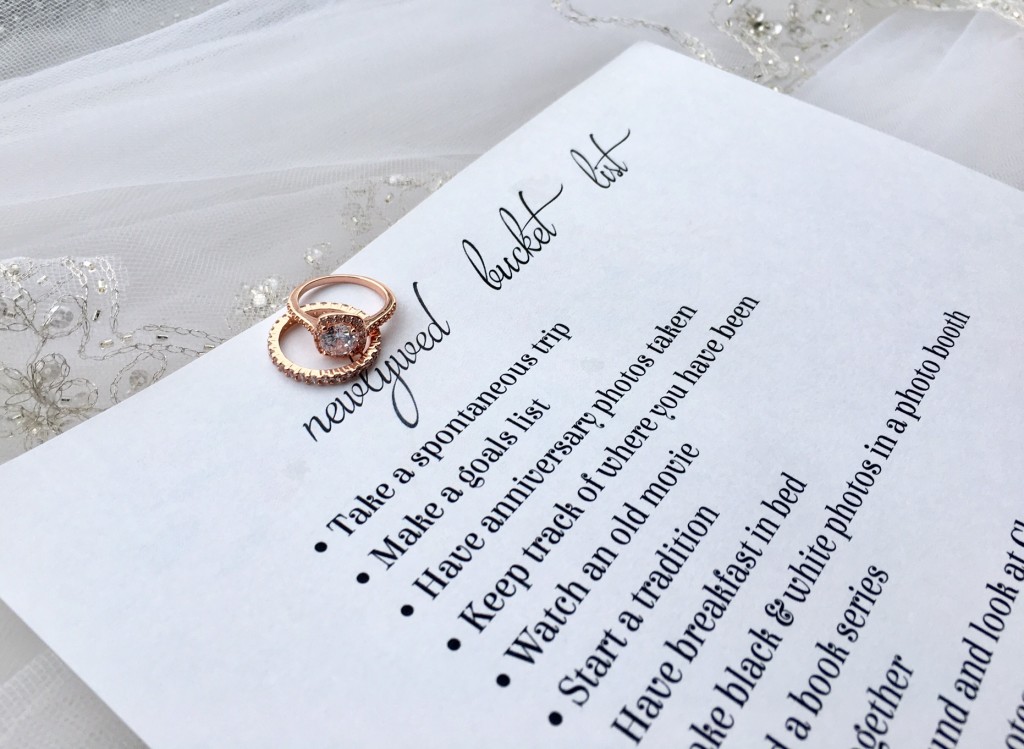 If you want a printable version of this newlywed bucket list, download it here!
Is there anything you would add to this bucket list?
---
Are you interested in co-hosting the Wedding Wednesday link-up? Please let either Nikki or myself know!
Nikki and I love reading all about your big day, someone else's wedding adventures, or anything else wedding related. We just can't wait to read all about it, so link-up with us for Wedding Wednesday!