I have been thinking about our future nursery since we found out there was a baby on the way. I had ideas for the colors, theme, furniture, etc. but I didn't know that Dave had ideas of his own and they weren't exactly the same. We decided to start from scratch, go through Pinterest, and decide more on colors rather than a strict theme. But in order to start working on the room, we needed to do a major cleanup because that was my closet for the last 5 years.
The Before:
I had a dresser, full length mirror, 3 bookshelves turned clothing racks, a chair, shelves full of scarves, shoes, etc. all in this room. We redid the actual closet to also have some shelves, and I got rid of SO.MANY.CLOTHES. yet it's still a tight squeeze. I'm slowly getting rid of more to make room for baby things.
We took everything else out, removed the wallpaper border, and painted everything. After these steps, I was getting really excited to start seeing it come together! Then the floor went in and I could have peed with excitement (though that doesn't say much because I am constantly peeing). We also had one of our good friends install a light in the room because there hadn't been a ceiling fixture previously.
The After:
Freshly painted, new light & fan, hardwood floors, and much more floor space than when it was my closet. We started off with Olympic Magical Moonlight as the wall color but after we did the first coat, Dave (surprisingly) wanted to go a little more pink, so we settled on
The Plans:
We're going to have a wardrobe and dresser for Olivia's clothes, some furniture, a floor lamp, crib and bookshelves. We're thinking out the little details and I'm getting really excited to slowly be putting things together.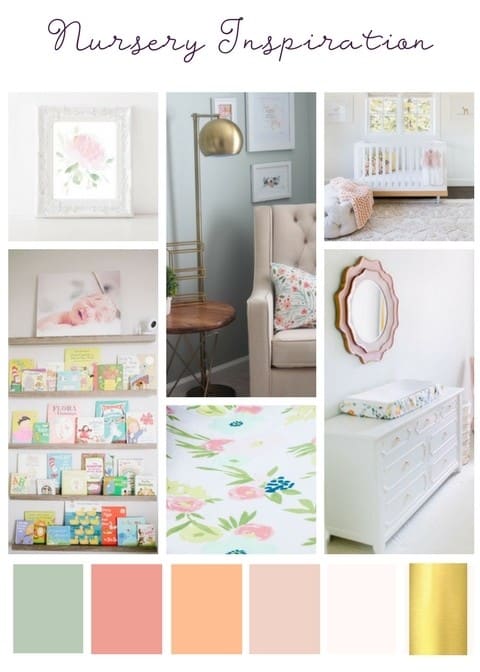 floral print  /  mint green inspiration  /  white and peach inspiration
bookshelf inspiration  /  cloud island print  /  changing table inspiration
We're focusing on muted brights, is that a thing? Coral and peach, but not vibrant and crazy, some sage and blush tones, and brass/gold accents. You will also notice the crazy popular Cloud Island floral print from Target. I am well aware that practically everyone has this pattern right now, but I can see why because it's perfect! We may or may not own half of the collection already because I bought some as soon as we found out it was a girl.
I will be sharing her final nursery when everything is in and organized, my goal is to have this finished in the beginning of April to give myself 4-6 weeks for final details.
Do you have any suggestions for getting a nursery together?