How is a baby so tiny but there are so many things they need? At least things you think you need when you're preparing to welcome a baby into your house. One thing that overwhelmed me was the organization of all the things. With so many clothes (thanks to some amazing friends hand-me-downs & our shower) I needed to figure out a way to store everything. We don't have much storage space in our house so we needed to get a little creative.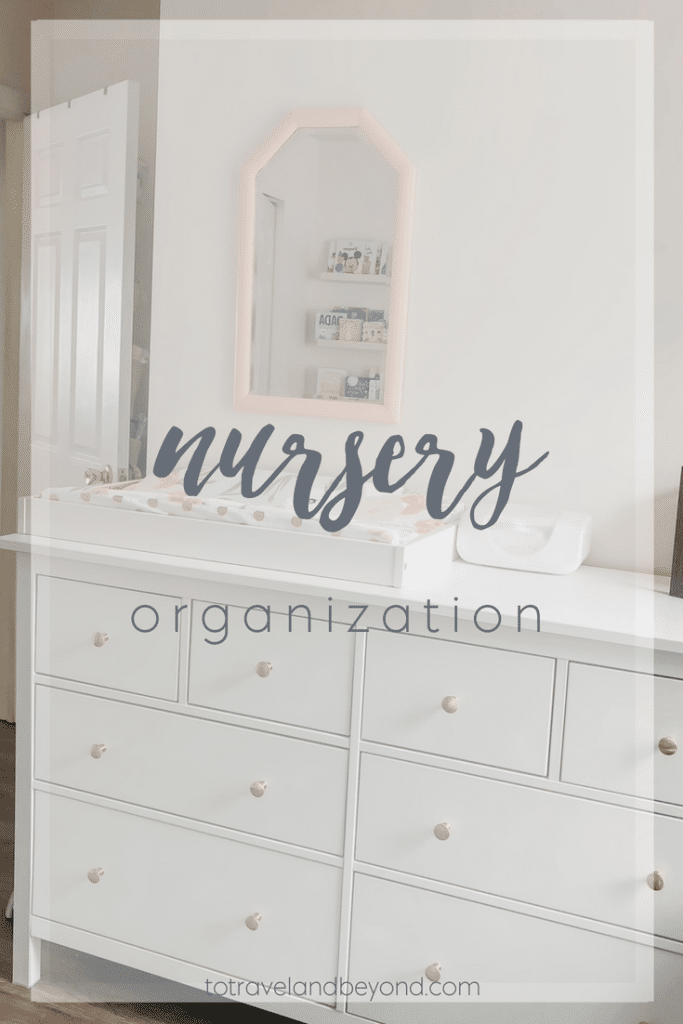 Let's start with the dresser!
We have the Hemnes dresser from IKEA and it's perfect, especially with the SKUBB boxes.
Drawer #1- I used the top left drawer for some breastfeeding things like nursing bras, extra pads, etc.
Drawer #2- The second top drawer towards the left is for all things diaper changing. We have a wipes warmer but I wanted to have some others close by in the drawer. We also have rash cream, lotion and hand sanitizer in a smaller bin.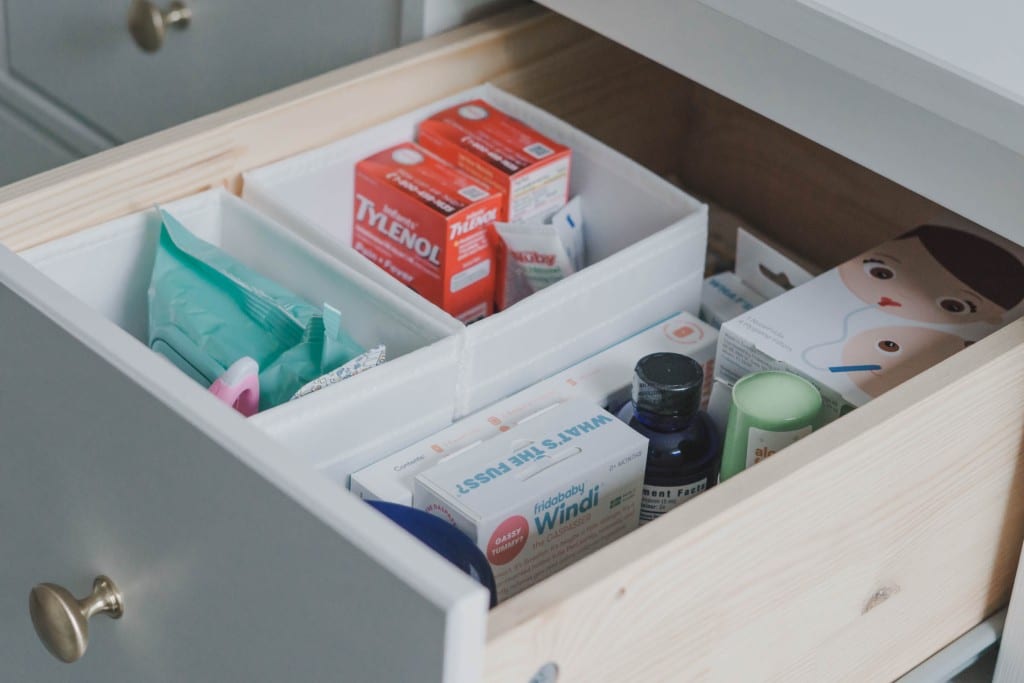 Drawer #3- The third drawer on the right has two small bins and is for all things baby care. Nosefrida, thermometer, medicines, gripe water, etc. All of these types of items are in this drawer.
Drawer #4- The last drawer on the top to the right is for washable changing pads, washcloths, etc. I want to keep the changing pad protected so we have washable pads, washcloths we won't use and some other misc. things in this drawer.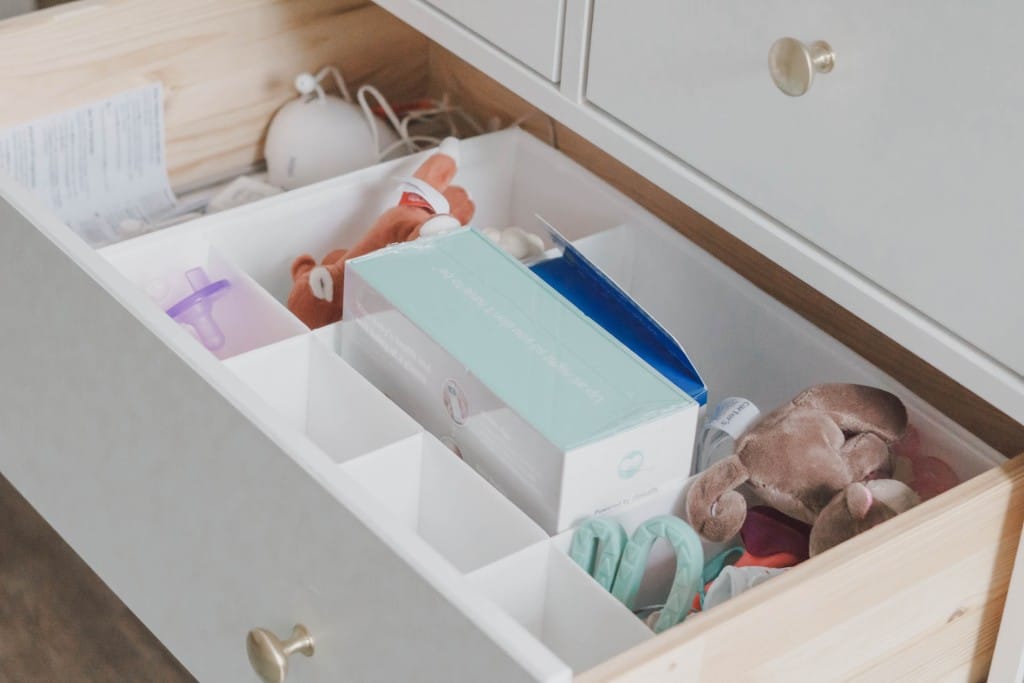 Drawer #5- Random baby things from pacifiers to the Owlet and charger. There are so many little things that need a spot, so the SKUBB bin with compartments is perfect for this!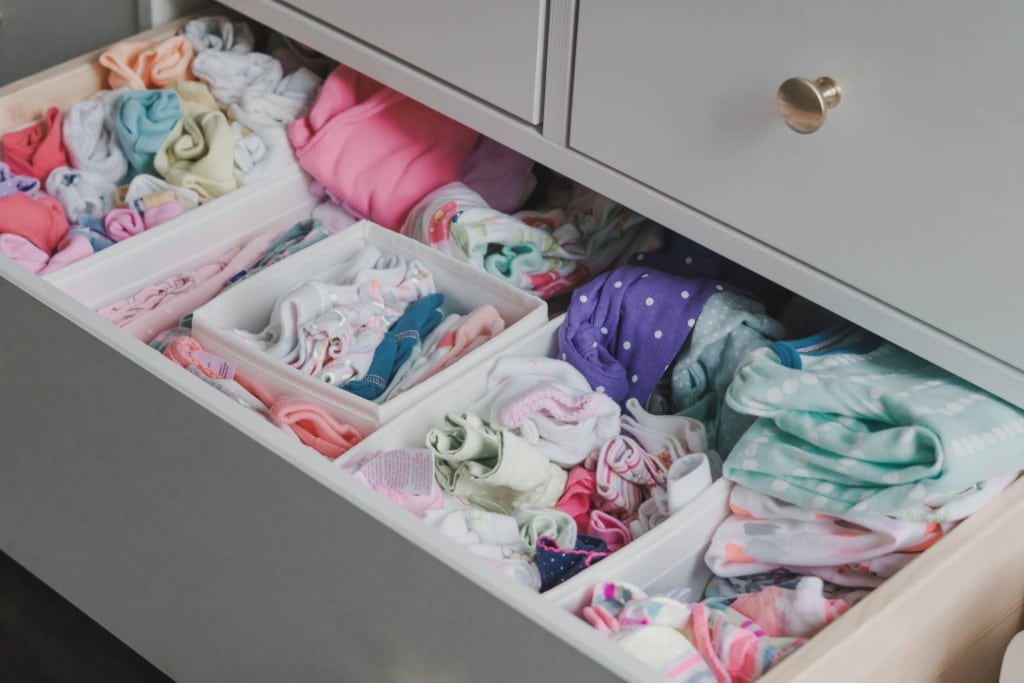 Drawer #6- Clothes round 1! I am a huge fan of the rolling method and it is helpful to get an overall view of everything thats in the drawer. These clothes are all newborn and 0-3 months.
Drawer #7- Sleepsacks, larger blankets, carseat/breastfeeding covers, etc. plus diaper genie bags.
Drawer #8- Clothes round 2! This second drawer of clothes is 3 months and 3-6 months. As Olivia grows out of 0-3 and I start moving clothes up to the drawer above, I will wash and move the next size into this drawer. I'm trying to stay ahead of the game so I don't have to stress when I realize she is a little bigger and doesn't fit into her clothes anymore…let's see if it works.
Tips for organizing the dresser:
POST IT NOTES! I used post-its for every drawer as I was deciding how to lay everything out. I even drew pictures on the clothes drawers to help me remember what was where.
I also used post-its for each drawer as I washed and sanitized. I may be a little crazy but before everything was washed I put it all away, then washed or sanitized drawer by drawer. I would stick another post-it on the drawer when it was done. This really helped me visualize what still had to be finished.
Think about the everyday. What will you be using everyday? What will you need multiple times a day? Keep those items front and center. This is why I have the diaper drawer directly under the changing pad, and the clothes one above the other for ease of transition.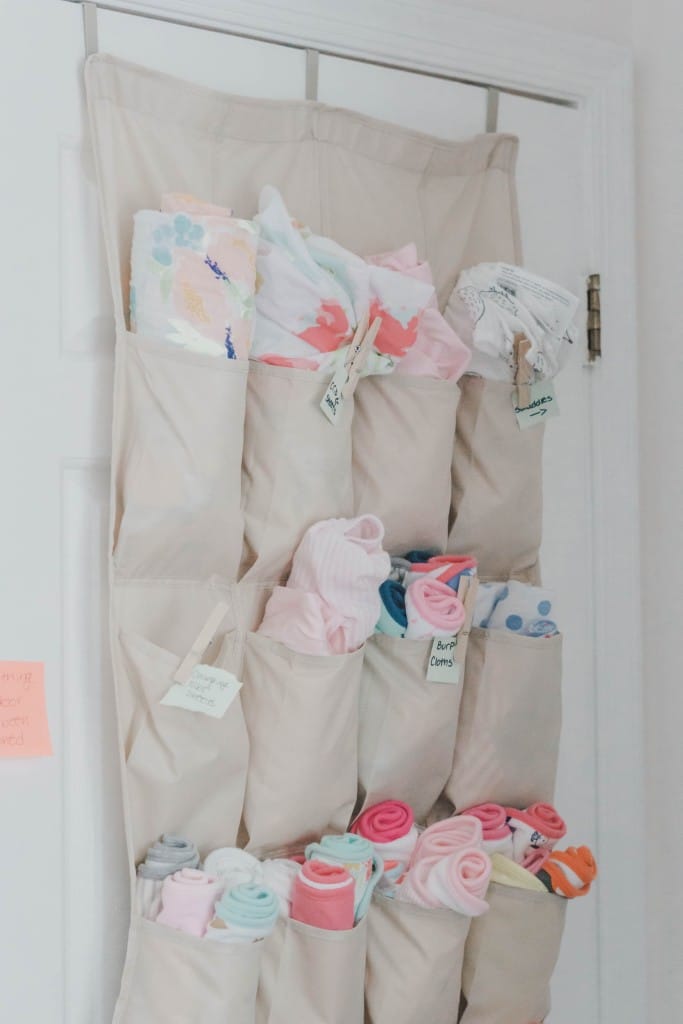 Next, behind the door.
This is such a wasted space in most of the rooms throughout our house, but when I realized how much stuff this little girl has, I knew we would need some organization behind the door.
I purchased a 24 slot shoe organizer and played around with a few things until I figured out the best fit. I used clothes pins and small pieces of paper to outline what is in each slot, and it filled up pretty quickly!
I use this organizer for: crib sheets, changing table sheets, burp clothes, muslin swaddles/blankets, bibs, washcloths and the last row is mainly miscellaneous. Having these items away but organized is already a huge help as I have been packing things in the diaper bag and hospital bag, I imagine it will be pretty helpful when Olivia is here as well.
We also have a plastic bin under the crib that has 6-9 month clothes and extra diapers.
As we find out our rhythms and routines, these things may change. If they change a lot, I will be sure to post an update!
Do you have any methods of organization you recommend?