While I have a feeling the nursery will be an ongoing project as we learn what Olivia likes, everything I wanted to have finished before her arrival has been completed! We still have some blank spaces to fill, but in time we will add those things to match her personality or to reflect things we find along the way. I am so happy with how everything turned out, from the wall color (props to Dave) to the wardrobe, I love it all! If you remember the inspiration I shared for the nursery, you will see some similarities.
The wardrobe used to be mine, then all of my siblings used it as well. It has been pink, yellow, mint and blue, but never has it looked as good as I think it does now. The cream paint and the brass knobs make it look completely different than it did when we got it from my parents house. The quote above the wardrobe is from "Never Grow Up" by Taylor Swift and I have wanted this exact quote in the nursery since I heard it the first time SO many years ago. The castle music box also used to be mine and my grandmother said it was the only thing that would calm me down after baths when I hated being cold.

I mentioned this Cloud Island pattern in the nursery inspiration post and I thought about not using it at all since everyone else is, but it matches the color scheme we wanted to go with, so we used it in a few places. The dresser is from IKEA and had black knobs on it, so we changed those out for brass knobs to match the wardrobe (and the closet doors) and I loved the transformation. The mirror is an antique from somewhere along the way in our family and we painted it peach.
The space next to the mirror is one of the places we aren't sure what to do with. I'm thinking shelves to match the mirror, but we don't know what to put on them yet. Let me know if you have suggestions!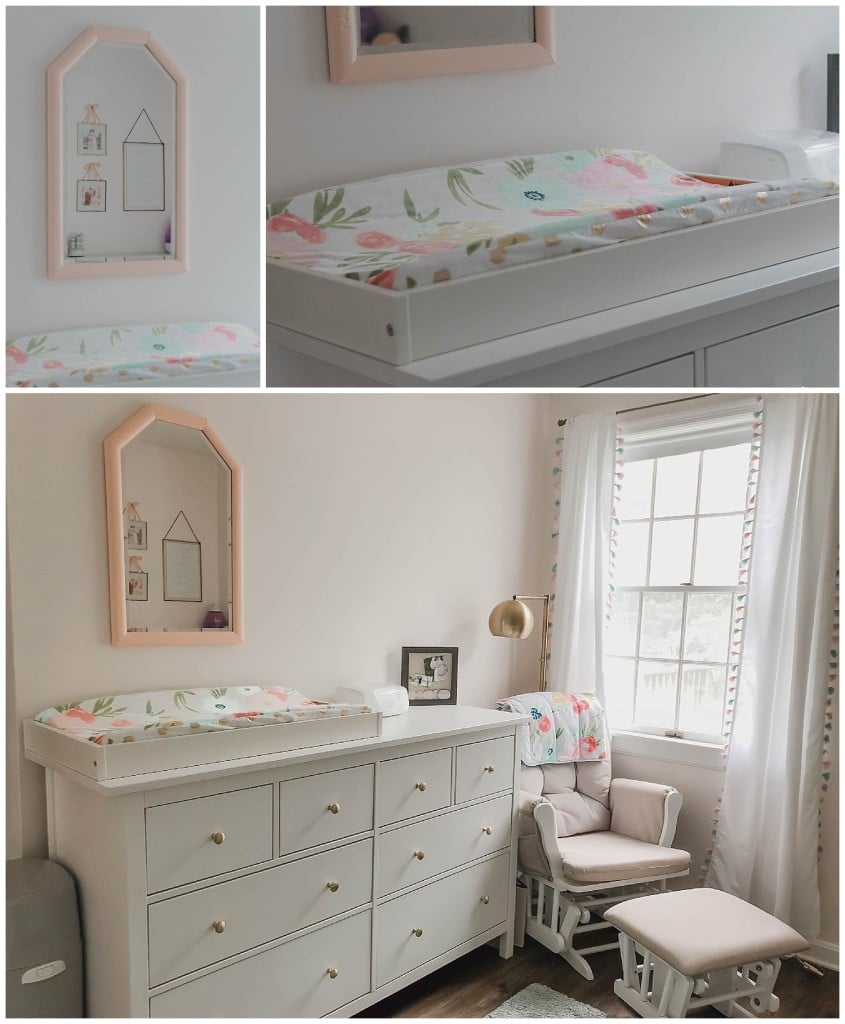 This is my favorite spot in the house now. I love sitting in the glider and dreaming about the day I will get to rock our little girl there. I'm very excited about these curtains and how well they matched what we were going for with the color scheme. I want to change our entire house to match them!
The Olivia sign was painted by my sister for our baby shower and it's the first thing you see when you enter the nursery.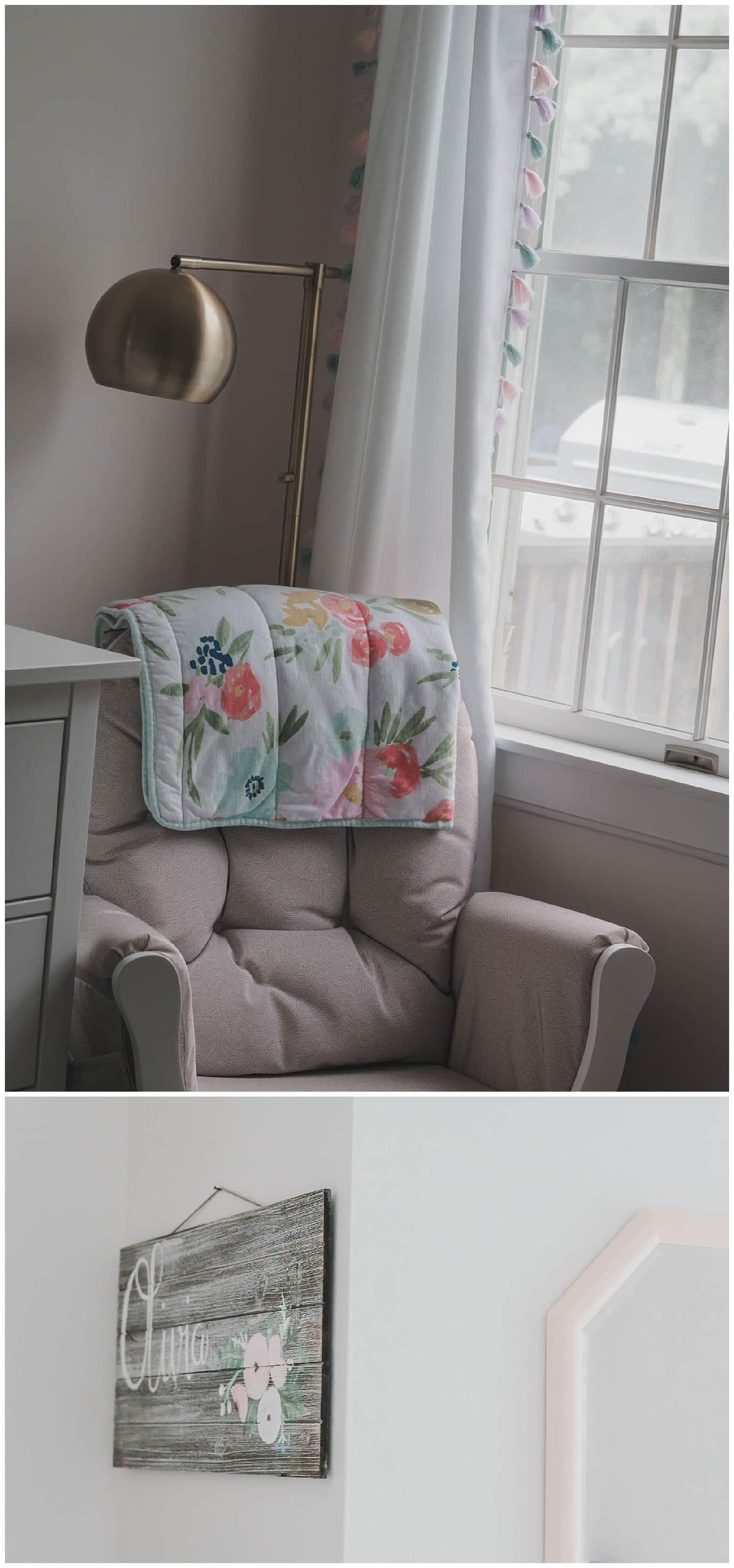 The crib was the first gift we had for the nursery and it was from my grandparents. It has a very beachy and driftwood look to it in person. Dave made the bookshelves and we went through about 25 different paint samples to find a cream color that matched the crib. I'm so excited to read all of these books to Olivia and can't believe how many we already have for her!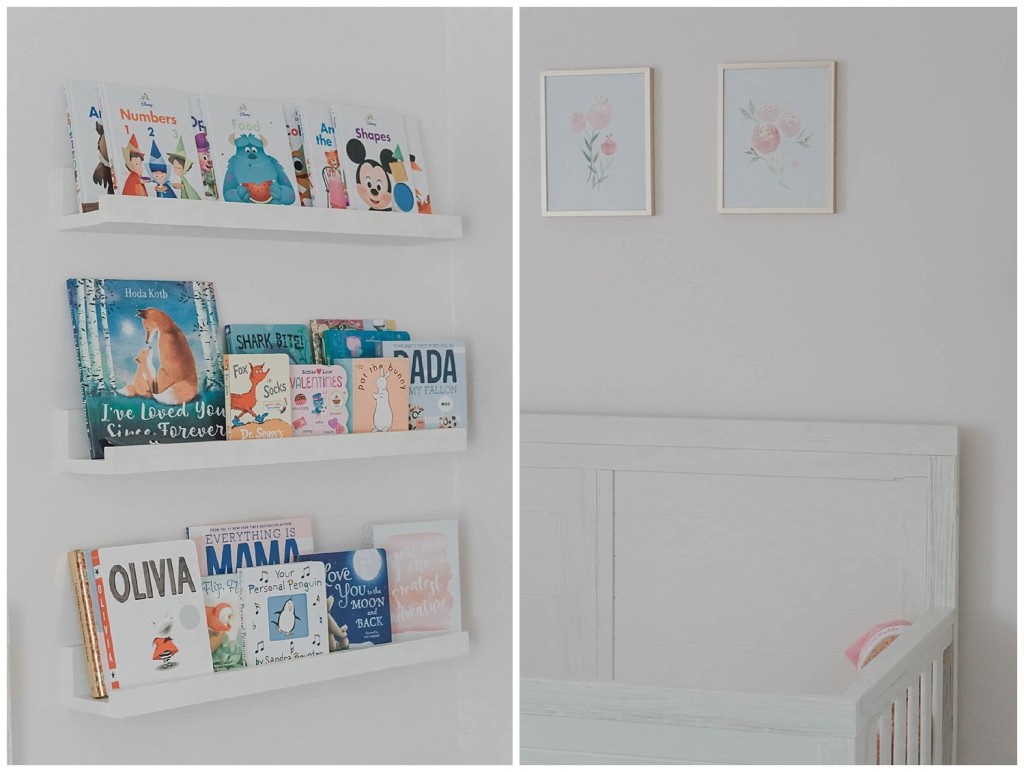 I searched all over for watercolor prints that would match the room but also not be overwhelming. I love these so much and they actually came as a set of 4 so we could decide which ones to use. The sweet baby frame is from Mud Pie and obviously needs a photo of our actual child instead of the model babe in the frame. The swan rocker is from my grandmother and we LOVE IT so much!! It's the sweetest thing and I've never seen anything like it! Olivia is going to have lots of fun taking photos in it, I'm sure 😉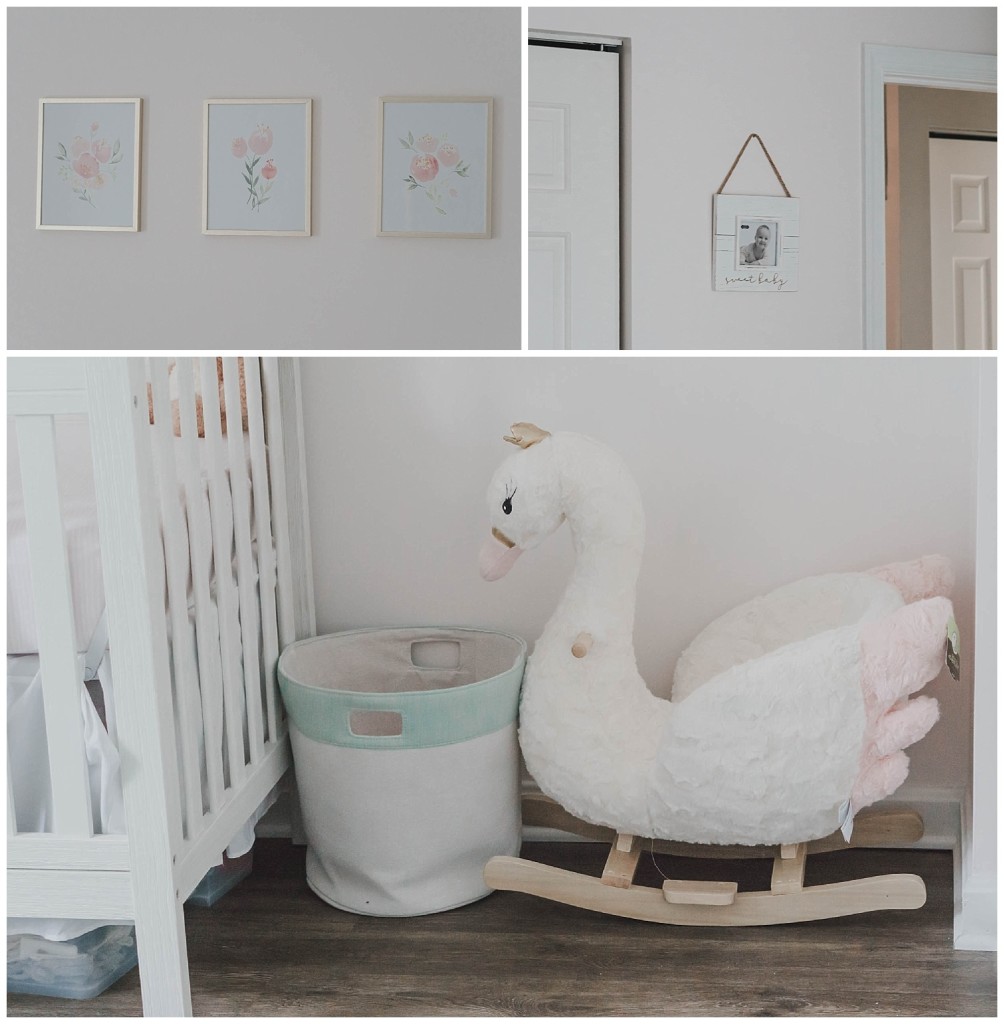 I can't wait for Olivia to arrive and see her in this space!
Large brass illusion frame: similar    |   Calligraphy quote by Jes Smith Designs
Dresser: Hemnes Dresser in white stain   |   Glider: similar    |   Brass Light: Exact
Curtains: Lu Lu Curtains