Something weird is happening with my blog. Every month from the 25th until the 1st, it's down because of bandwidth. I don't have the time to find a solution so from now on I am getting all my posts finished before the 25th…except in this case, this should have went live on August 28th and I forgot…whoops!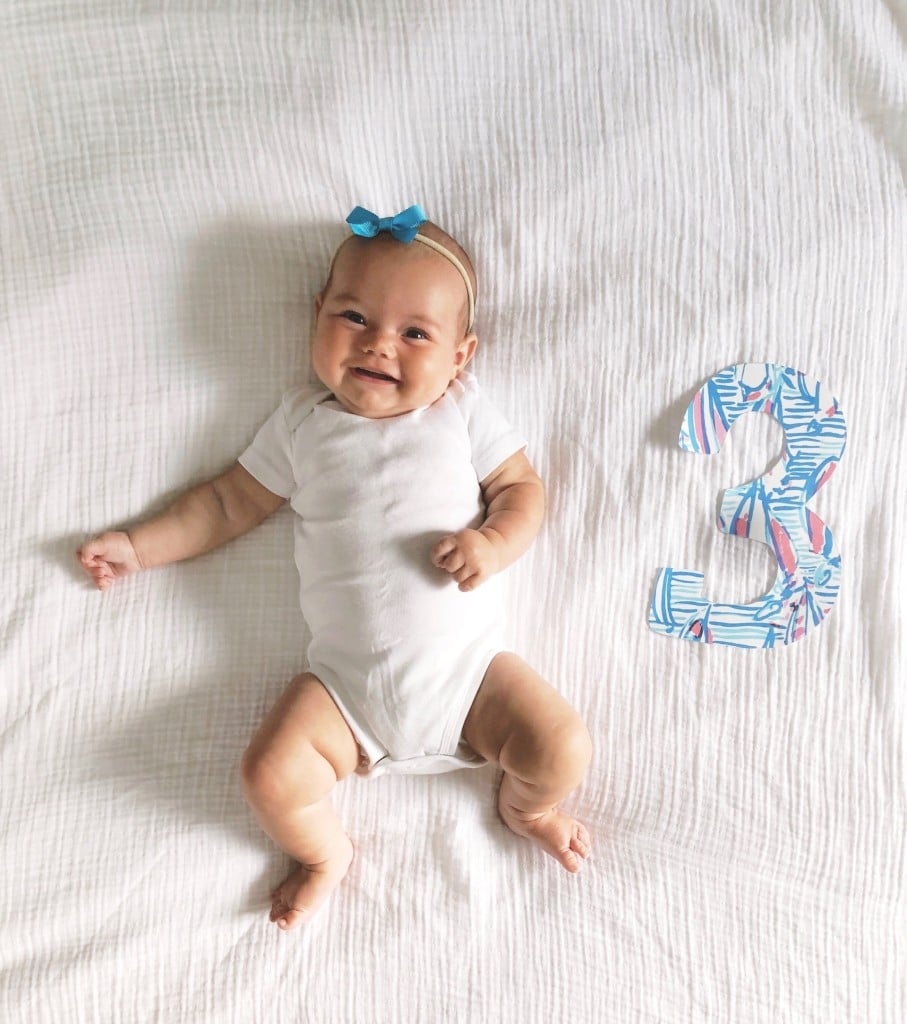 The saying that the nights are long and the years are short is really true! I can't believe how quickly we reached 3 months. It feels like Olivia has been in our lives forever but also for such a short amount of time. Since I didn't do a 2 month update (#momfail) these first bullets include both the 2nd and 3rd month happenings.
We have our first trip to the hospital is under our belt. Olivia developed a 101.5 fever throughout the night when she was 5 weeks old and it really scared us. After a trip to Patient First and their thermometer telling us she was 98 and they couldn't find anything wrong, we went to the hospital. They could tell right away that something was wrong and once they took her temperature it was still 101.5. They did a bunch of tests and gave her medicine. She was better within a day- thank God!

Olivia loves the water! Pool, ocean, bath, she loves it all!
She sits up in her boppy so well!
She found the fan! She loves staring at the fan and talking to it. The perfect distraction for me to get ready in the morning.
Olivia's best friend was born! Our neighbors had a baby girl (it was a surprise!) and I can't wait for these two to grow up together. They will go to the same school, ride the same bus and hopefully enjoy the same extra circular activities. We're pumped because we LOVE her parents and doing this parenthood thing together is so far a blast.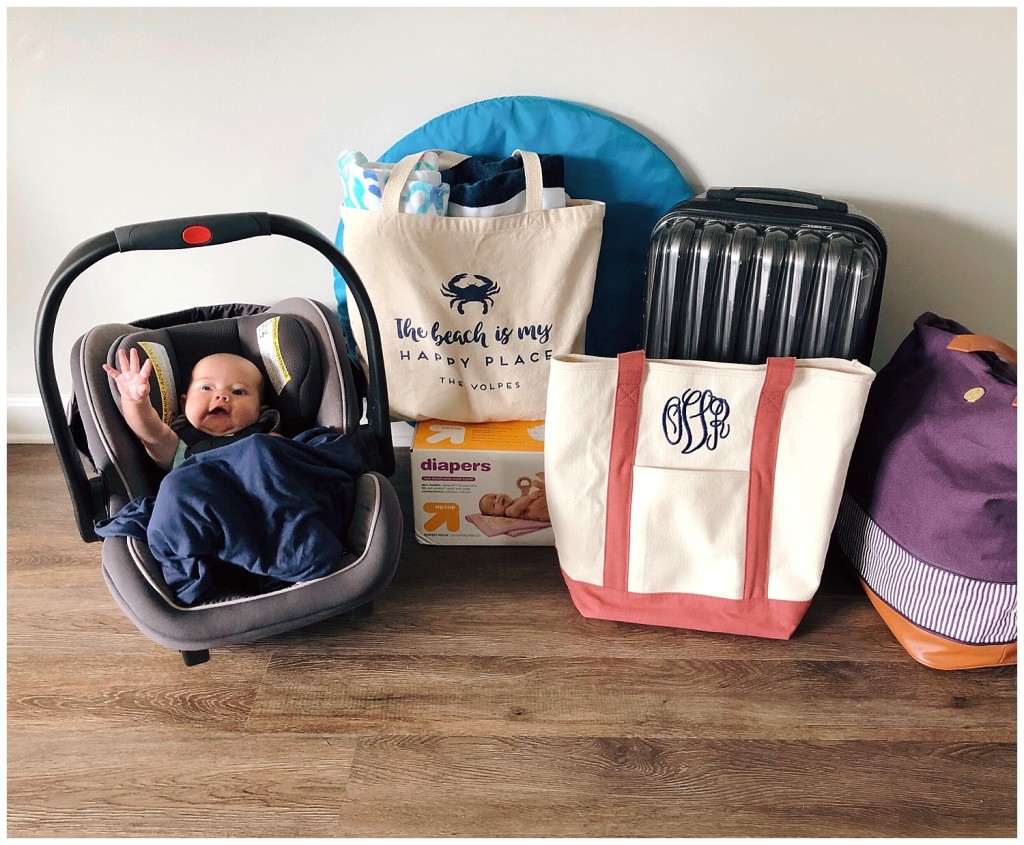 Size: She is slowly growing out of 0-3 month clothes because of her height. She has a long torso and long legs (she is clearly my child) which makes sleepers even more adorable with the tight legs and loose arms. She is almost in size 2 diapers, but we need to finish the size 1 box first 😉
Eating: Still going strong with breastfeeding! She takes pumped milk in a bottle and also straight from the tap like a champ.
Sleep: Olivia goes to sleep between 9-10 wakes up between 3-4 am for a feeding and then around 6 for a snack. She wakes up for the day between 8-9, but this will change when I go back to work next week. We stopped swaddling her at 8 weeks and she was doing fine until we had a rough week. We bought a Magic Merlin Sleepsuit and she loves it! It's also a bonus that she looks so adorable in it!
Routines:  Our morning routine before vacation started was my favorite. I had been getting up around 8 to straighten up a little bit until she wakes up. Then we snuggle, change clothes, go to the living room and have our first meal of the day. I also do my daily devotional as often as possible during this feeding. I love our special time together and hope we can find a way to continue this when I'm back to work.
Our routines were thrown off with 11 days of vacation and I'm not too worried about it this week. I am savoring my last week of maternity leave so whatever Olivia wants goes. We'll get settled again when I am back to work.
Loves: swimming in the pool, the ocean and sand touching her toes, being cuddled by her family, her sit-me-up seat, eating, and dresses up
Dislikes: still hates going into her carseat, being in traffic, looking at the same thing for long periods of time
Milestones: Rolls from belly to back, she found her hands and learned to point her finger, she "sings" along to Adele, she had her first real tears, and is in 0-3 & 3 month clothes
Favorite products: Merlin Sleepsuit, swing, Solly baby wrap, sit-me-up seat
This months adventures:  (2 month & 3 month)
Olivia attended 2 walkthroughs with me and my mom for weddings

We spent a day with Grandy going to Ladew Gardens and Brooms Bloom dairy farm for lunch and ice cream

Olivia attended her first industry event at Anne's wedding workshop

We took an 11 day vacation! We started out in Virginia Beach with the Volpe family and then went to Rodanthe, North Carolina with my family. She loved the beach and pool- yay for a beach babe!!

Our vacation was Olivia's first 2 states!

We visited 2 sets of outlets (OBX and Williamsburg) and you didn't fuss at all!
Nicknames: Ollie, Ollie girl, Olivia Schmivia (Auntie Em calls her that)
Dear Olivia:
The last three months have by far been the best of my entire life. You have changed my world by making me a mom and your dad into a father. Every little thing you do is incredible to us and we are so excited to continue to watch you grow. I have loved every stage at this point from the newborn cuddles to your smiles every morning, I don't even mind the middle of the night feedings (most of the time) because it's a special time only the two of us can share. When the rest of the neighborhood is sleeping, we're up bonding and I love that.
Your dad and I both cried when you touched the ocean for the first time and started smiling. You will learn how emotional we both are and that's even more now that you're here. We're pretty sure you were the only missing piece our family needed and we love you so much.