HOW is it possible that I am already typing this post? Next month, Olivia will be 6 months old and we will be halfway to her first birthday. I'm always pretty future-focused but right now I would be fine with time standing still a little longer.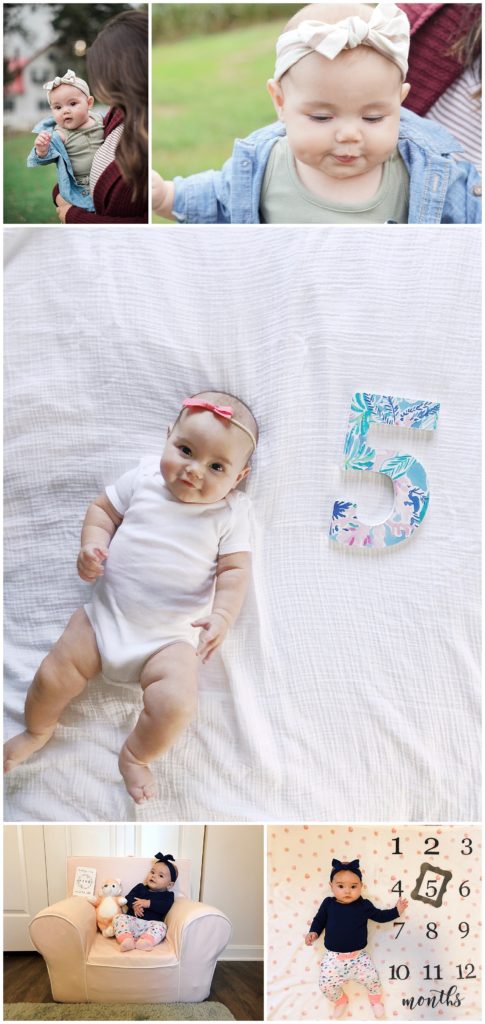 top left photo by Anne Casey Photography
Size: Olivia is mainly wearing size 3-6 clothes, almost out of size 2 diapers and her chubby little feet don't fit into several shoes I had for her.
Eating: Breastfeeding like a champ! We're starting solids next month when she is 6 months and I am excited to see how she likes it. We're going to try the baby-led-weaning method and figure it out from there. Everything goes into her mouth right now so I think it will be a fun transition for her when there is food to grab onto. If you have any advice on BLW, I would love to hear it!
Sleep: While she has her nights when she still gets up a few times, she mainly will sleep until 3 or 4, eat, then go back to sleep, then we wake her up at 7 am. She naps once in the morning and then may or may not take an afternoon nap later in the day.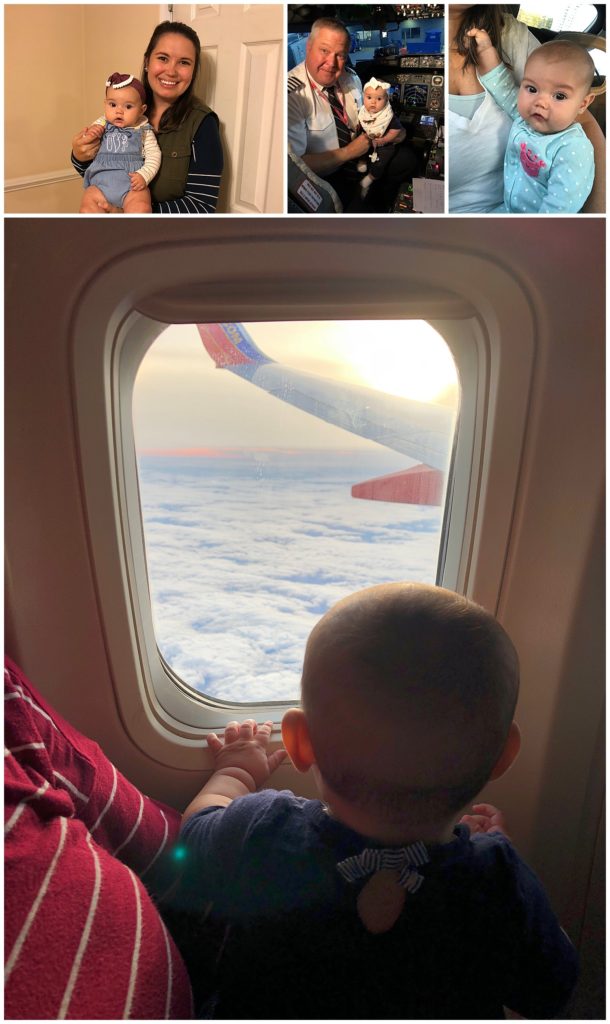 Routines: We change her diaper in the morning but keep her in her PJs to go to my sisters house, they get her dressed after her morning nap and normally do a few activities everyday. My sister loves Olivia so much, it makes me so happy to see their bond, even this early on. We pick Olivia up around 4:30 and try to take as many evenings walks as possible. After a walk we make dinner and hang out until beginning the bedtime routine around 8 pm.
Loves: blowing raspberries, putting everything in her mouth, watching her cousin Mayson run around, going for walks now that she is in the regular part of the stroller, rolling and scooting around, hanging out in her walker.
Dislikes: Being up after her bedtime, getting bored, long car-rides unless she is sleepy, and pooping. The last part had us worried as she was going a LONG time and was clearly uncomfortable. We tried everything and when nothing else helped, I tried the dairy-free life…and it worked! I have been DF for almost 3 weeks and girlfriend is back on the train. 
Milestones:
First plane ride! Olivia had a great first experience on an airplane. She was great until the descent and even met the pilot.

Met her great-grandparents in Buffalo! Dave's grandparents are all in Buffalo so we took a quick trip up to see them.

Learned how to blow raspberries and how to scream/yell

Hysterically laughed for a long period of time
Favorite products: her girafe that makes crunchy noises, Beat Belle, Fox blankie toy
This months adventures: Buffalo, pumpkin patch 2 times (1st time with Auntie Em, pap, Mayson, Grandy, etc. 2nd time with the blogger babes + guys), Port Discovery, Science Center, 1st hayride.  
Nicknames: Ollie Girl, Ollie, Olivia schmivia
Dear Olivia:
I'm realizing just how perfect you are for our family. You take all the kisses, tight hugs, and photos like a champ. You're constantly being introduced to new people that want to hold you and play with you, and you seem to love it! You're all smiles for everyone!
I thank God every single night for giving me you- a daughter! I still can't believe it and you have been here with me for 5 months now. I have held you for over a year! I love dressing you up and I put far more effort into your attire than I do my own. Your tight squeezes and bashful looks are things I never want to forget.
Thank you for being here and already becoming my best friend. I can't wait to watch you grow but I also want you to stay this little forever. I love you, Ollie girl <3