WOW! 6 entire months have passed since I had Olivia. Like I say every month, I can't believe it. I have some other post ideas if I ever get around to it, but for now, here is another post all about Olivia 😉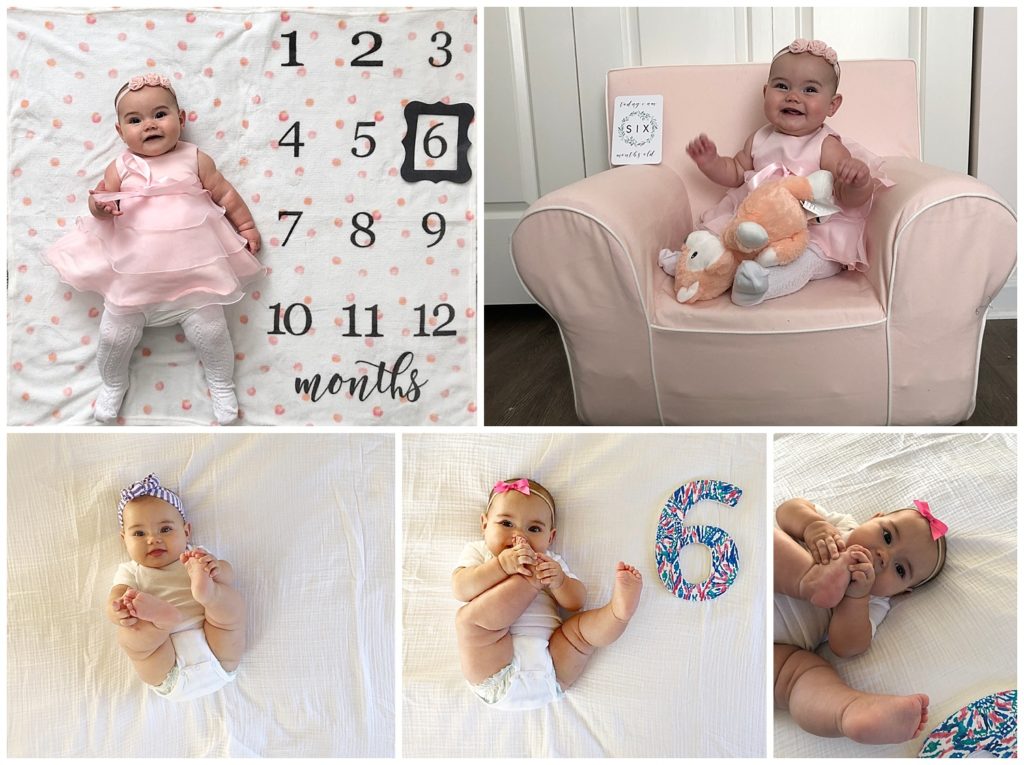 Size: Olivia is wearing 3-6 month and 6 month clothing. The 3-6 is getting a little short, but 6-9 month is still too long. She is 18 lbs and 8 ounces and 27 inches long.
Eating: We started solid foods on Thanksgiving!! Her doctor gave us the go ahead and we started right before she turned 6 months. We planned on waiting a full 6 months, but how cool is it to start solids on Thanksgiving?! We are doing the Baby Led Weaning method and Olivia loves it so far. We really enjoy sharing meal time with her and giving her different textures to experiment with.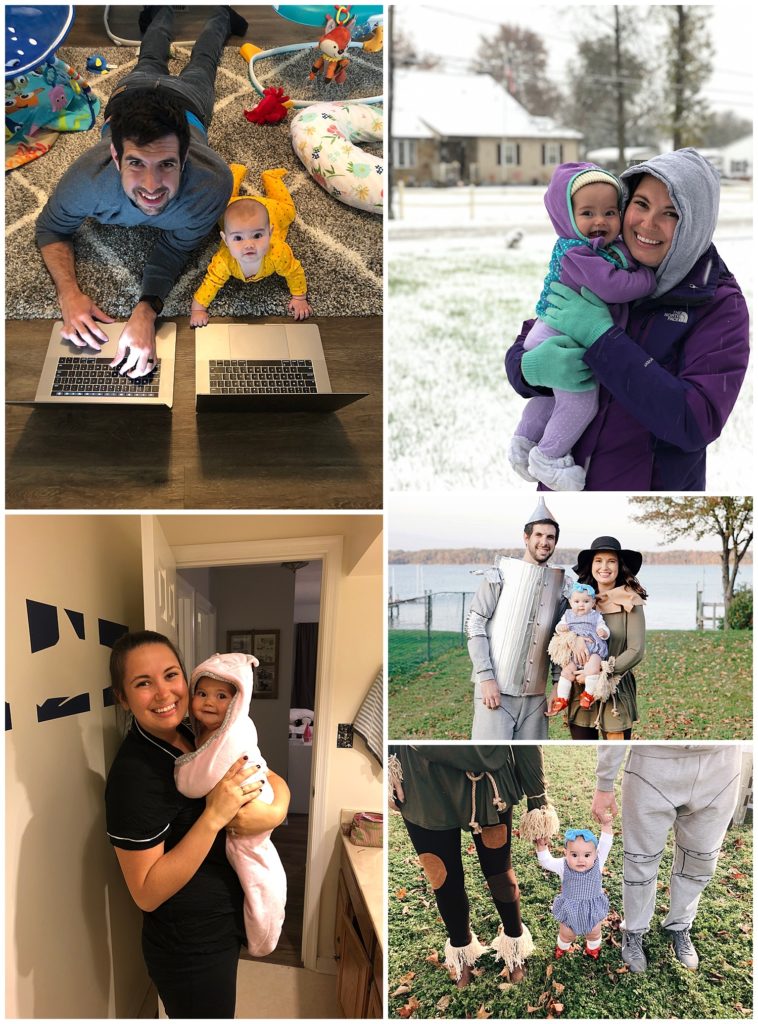 Sleep: For the most part, good! We have a few nights where Olivia will sleep from 8:30-5:30, eat and fall back to sleep until we wake her up at 7am. Other nights, she goes to sleep at 8:30 and is up 2-3 times a night. I either nurse her or rock her back to sleep each time. Either way, she is READY for bed between 8-8:30! Olivia still sleeps in the bassinet next to our bed and will soon be transitioning into her crib- I'm not quite ready but I think she is…and she is quickly outgrowing her bassinet.  
Routines: We have a morning routine and an evening routine for nights when Olivia takes a bath. I think our routines will change up a little bit when she is sleeping in her crib.
Loves: Olivia still loves morning time, following SharkBait, spending time with her cousins (especially Mayson who she watches like a hawk), people watching (this was a big hit for black friday!), putting her toes in her mouth, moving around on the changing table while we try to get her dressed, and most recently, eating! She also likes bath time and floating around in the pool.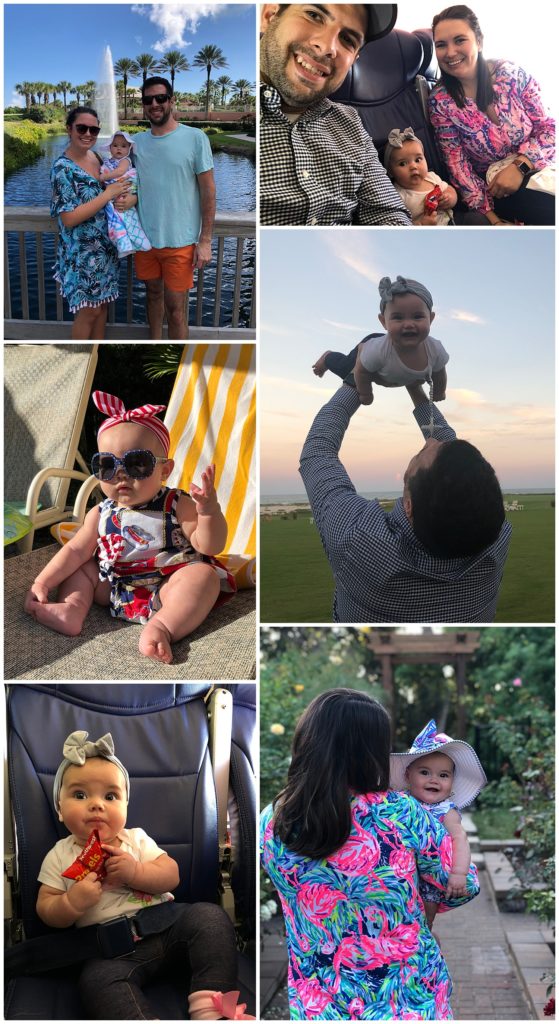 Dislikes: Getting into her PJs once she is already sleepy, when she is bored, being around a group of people when nobody is talking to her- girl loves some attention.
Milestones: SO MANY! I can't believe how much has happened this month.
Olivia sits up on her own

Loves sitting in carts at Target

Can sit in a highchair at restaurants

First halloween! Olivia dressed up as Dorothy

First bath by herself in the big tub! We put a little water in the bath rub and she sat in it playing with her toys.

Putting her hands on your face and pulling herself into you open mouthed, the very best kisses <3

First solid foods!
Favorite products: Her walker is her favorite activity toy, she has a racoon from Uncle Isaac that she holds all of the time, and she likes teethers.
This months adventures: We took our first vacation with just the tree of us. We all had so much fun and it was great spending 5 days doing whatever we wanted together. Lots of poolside and oceanside naps were taken- by all three of us!
Olivia experienced her first snow! We ended up with around 2 inches of unexpected snow and she loved watching it fall.
First halloween & first Thanksgiving!
Nicknames: Ollie and Ollie girl are the top favorites. I also love calling her Ollie Ronnie <3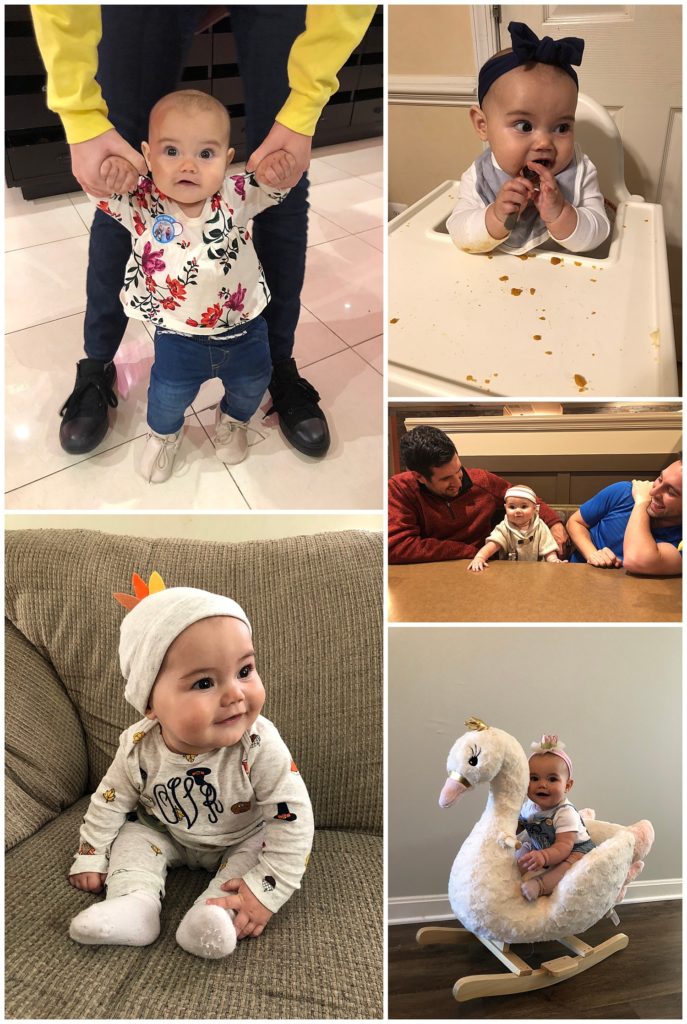 Dear Olivia:
6 months ago I held you for the first time. I cried hearing your cry, seeing your tiny little feet and feeling your skin. It is bittersweet watching you grow, time is truly a thief. I know you will never be as little as you are today and while that makes me sad, there is no greater joy than watching you learn new things, snuggle into me and enjoy life so much.
Being your mom is the best thing that has ever happened to me, tied with marrying your dad. Being your mom alongside him as your dad is an indescribable feeling of so much love. I am so thankful God chose me for this role.
I have so many prayers for you. I pray you're always healthy, happiness surrounds you throughout life and that you are successful in anything you put your mind to. Most of all, I wish you endless love. The love I feel for you is out of this world. I hope you always know just how loved you are. By everyone around you, not just your family but also by our friends and even random strangers in Target. We are stopped constantly as we walk around so people can oh and ah over you, especially your eyelashes (still no idea who those came from!)
I am excited for our future mommy & Ollie adventures, getting our hair and nails done, having fashion shows for your dad, sipping Starbucks and people watching, but all of those things can wait because I love you being this age. I know you won't remember how special our times have been so far, but I will never forget the last 6 months.
Thank you for making me a mom, my darling Olivia Ronnie. I love you dearly.