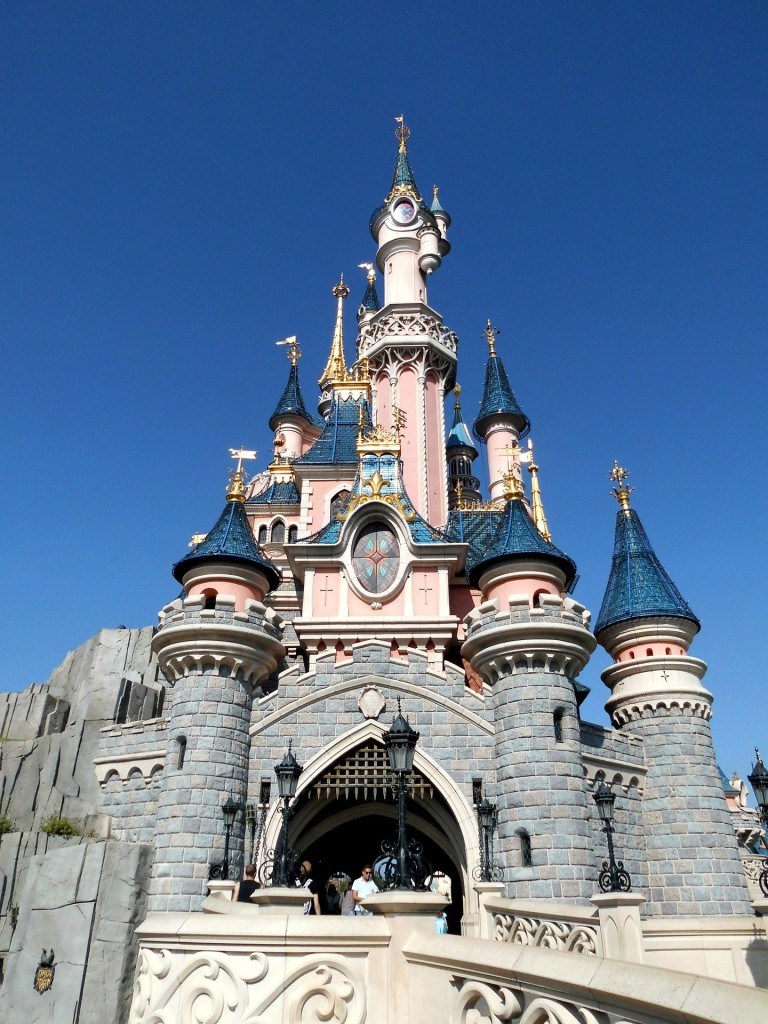 (Just a warning, this is one of those days where my "lifestyle" blogging is going to happen. I will detail Disneyland Paris next week, this is just the crazy story that I still don't fully believe about our journey to get to Disney)
During our first trip to Paris we planned to make our way to Disneyland on our anniversary. During our 12 days in France, the only day it rained was on our anniversary…so we decided not to go. As soon as we got on the plane to come back to America, we decided that we would be back and we would go to Disneyland on our next trip. Fast forward to honeymoon planning, and one of the first things on our list was to make it to Disneyland Paris.
When we brought this up to our friends, and we were excited to know they were fully on board. Trying to still keep our days pretty open and not setting many plans, we waited until we arrived to decide when to go and bought tickets for our second day in Paris. I could not contain my excitement, we were finally going to Disney in PARIS! We planned our transportation route and woke up the next day ready to go.
There was a metro station at the bottom of the apartment building and that was the first stop on our transportation list. There was also a cafe right there, so we ordered breakfast and coffee, then made our way to the metro. Well you know those turnstiles that are automatic doors instead of the poles? Mine promptly slapped me back in the face as I was walking through which in turn made me spill my coffee ALL over my adorable Lauren Conrad Minnie Mouse shirt that I was thrilled to wear. I ran up to the apartment to change, not only did I not have coffee and I also didn't have an adorable shirt in any of the photos.
So then, we are on the metro heading towards the train (RER), all is well at this point. We're able to purchase our train tickets easily, make our connection quite quickly, and we are off. Then they weren't so smooth. Here is how it went-
Oh look, one stop away from Disneyland Paris!
Wait, why have we been stopped for 10 minutes at this stop?
Why are all the signs saying there is a security breach?
Okay, now everyone is getting off. What is going on?
Can somebody please tell us in English what the announcer just said?
We got off the train and stood there for a bit waiting for something to happen. Slowly people started walking up to the platform, so we followed. A British lady and her daughter asked if Dave we spoke English (SO many people thought he was a true Italian- he was asked this multiple times) thankfully we were able to converse with her about it. We asked if she had Uber, she said she did but her phone wasn't working either. We walked into the little shop by the platform and asked the cashier if he could tell us what to do. He told us of a bus stop across the street (it was full from everyone on the train already), he said that taxis are never around this area (it was residential, it actually looked like a suburb of the US), and then he said "Disney is a 10-15 minute walk, straight down this road" DUDE, why didn't you tell us this from the start? Off we went.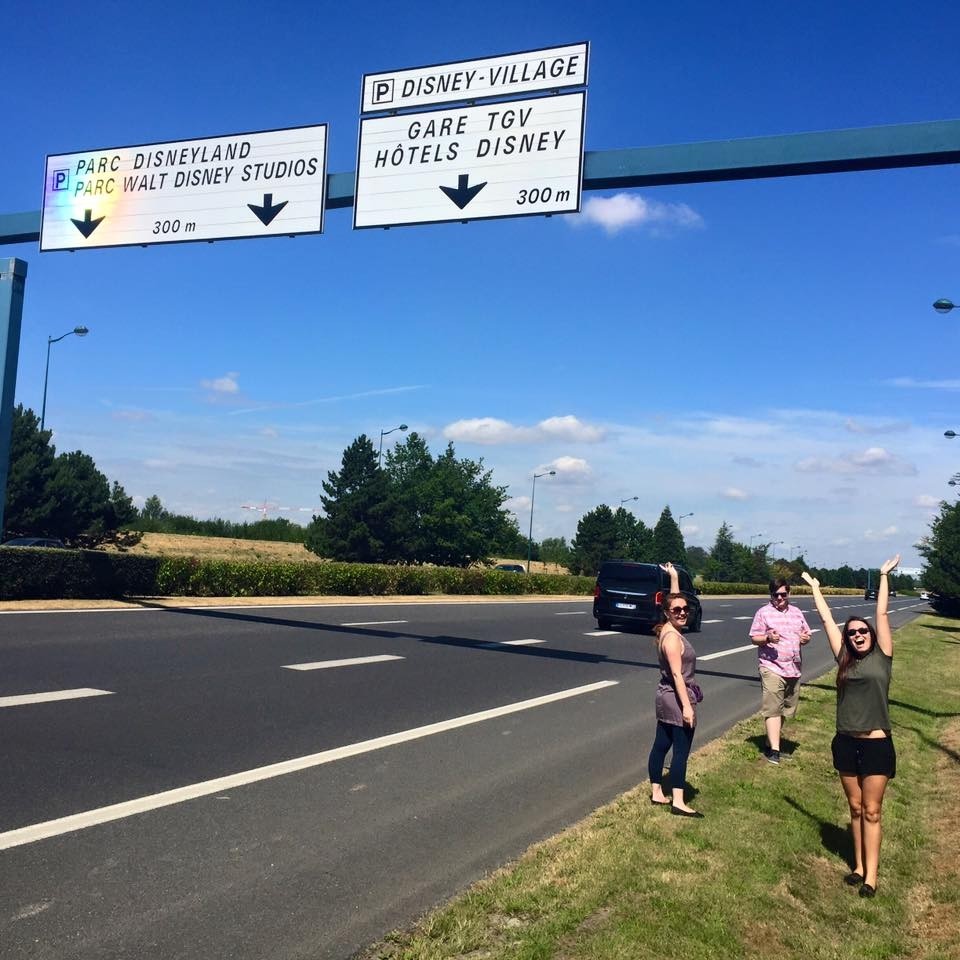 We walked and walked and walked. We walked for at least 20 minutes and finally saw a sign that said "DISNEYLAND PARIS" with an arrow pointing straight. We we kept walking. Eventually, to our left we could see what likely was Disneyland. If only there wasn't a few miles of tall grass between the road we were on and Disneyland. So we kept walking. Then we saw the sign that said Disneyland Paris was just one turn away. We made the turn and all realized in unison that we were on an on-ramp to the highway.
That's cool, just 4 Americans walking along a highway in France, with basically nothing besides the clothes we were wearing, because you gotta pack light going to a theme park. Did I mention it was about 100 degrees? We hoped, prayed and laughed at our situation. Hoping that eventually a taxi of some sort would drive by. One car stopped to ask us how to get to Disney…really? 4 people walking along the highway, and you think they know? Was this a normal thing for people to walk into Disneyland Paris?
We kept on trekking for what seemed liked forever, then we started to see the signs. Donald Duck, Minnie Mouse, Goofy and the gang were lining the streets. Just around the corner we saw a exit sign for the parking lot…and then "WELCOME TO DISNEYLAND PARIS" above the parking lot entrance. Thankfully, we didn't have to pay the 15 euros to walk in versus drive in. This was one of the most surreal moments in my life. We just walked to Disneyland. Our 4+ mile walk is one of my favorite memories from our trip, I still can't believe it really happened.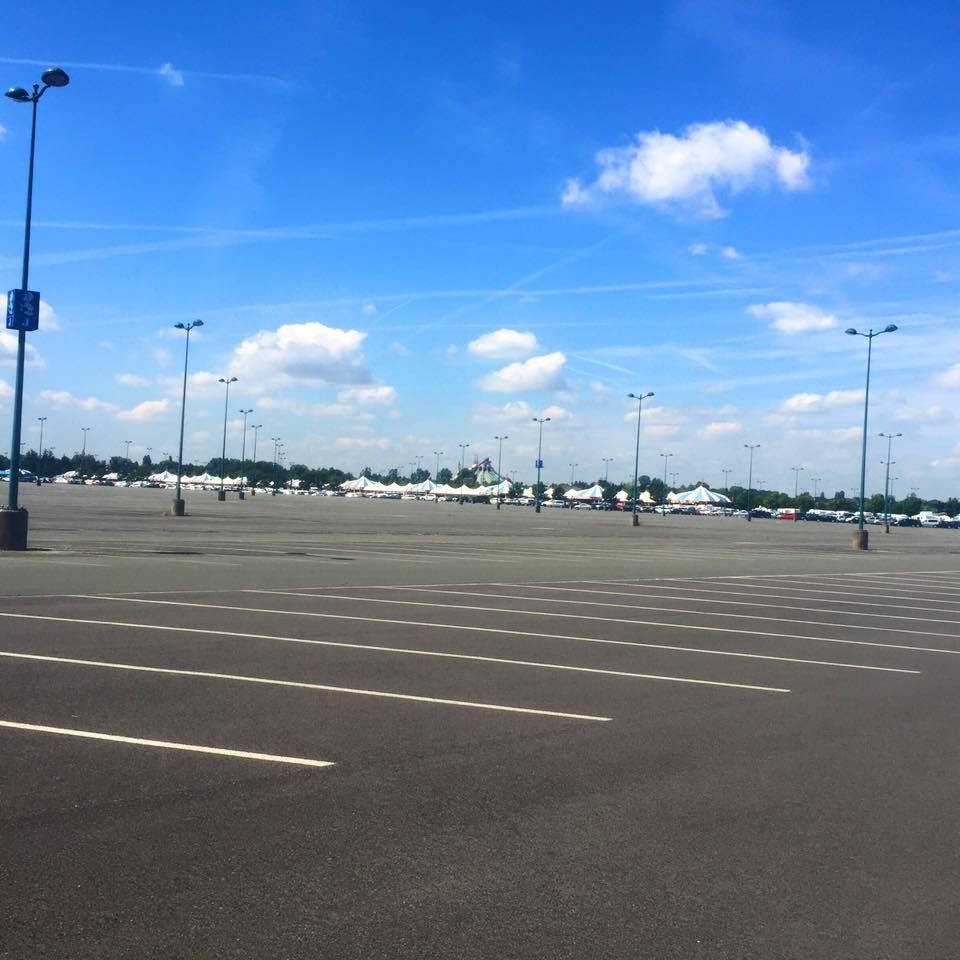 Just as we walked up to the entrance, a train was dropping off people. I guess they fixed the security breech.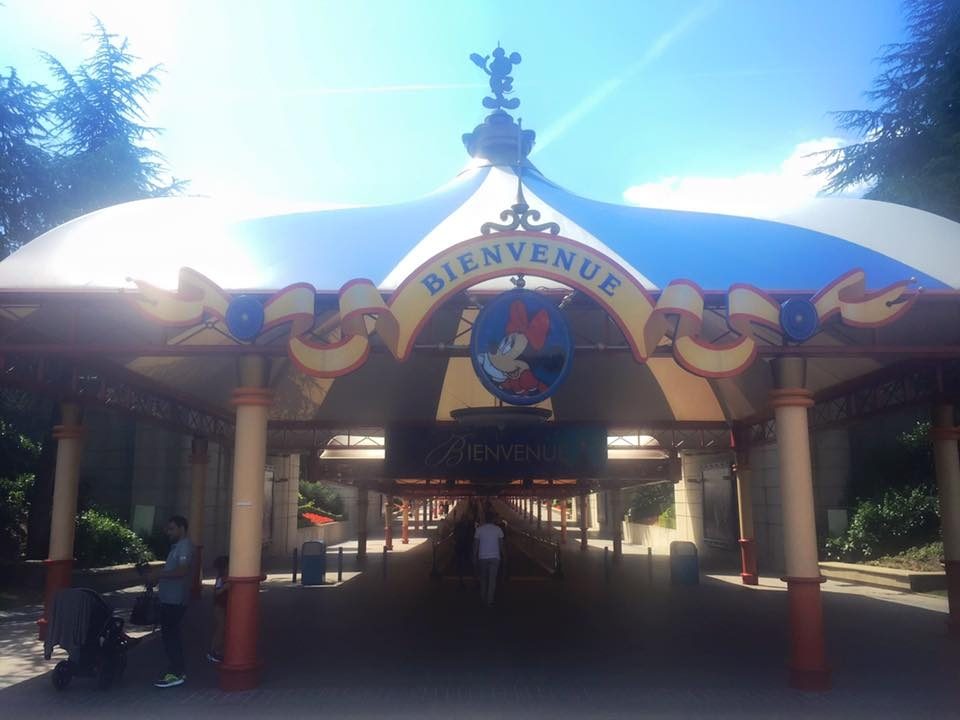 So there you have it, a quick tale into the real life world of traveling.
Do you have any crazy travel stories?