This shop has been compensated by Collective Bias, Inc. and its advertiser. All opinions are mine alone. #ProtectYourEverything #CollectiveBias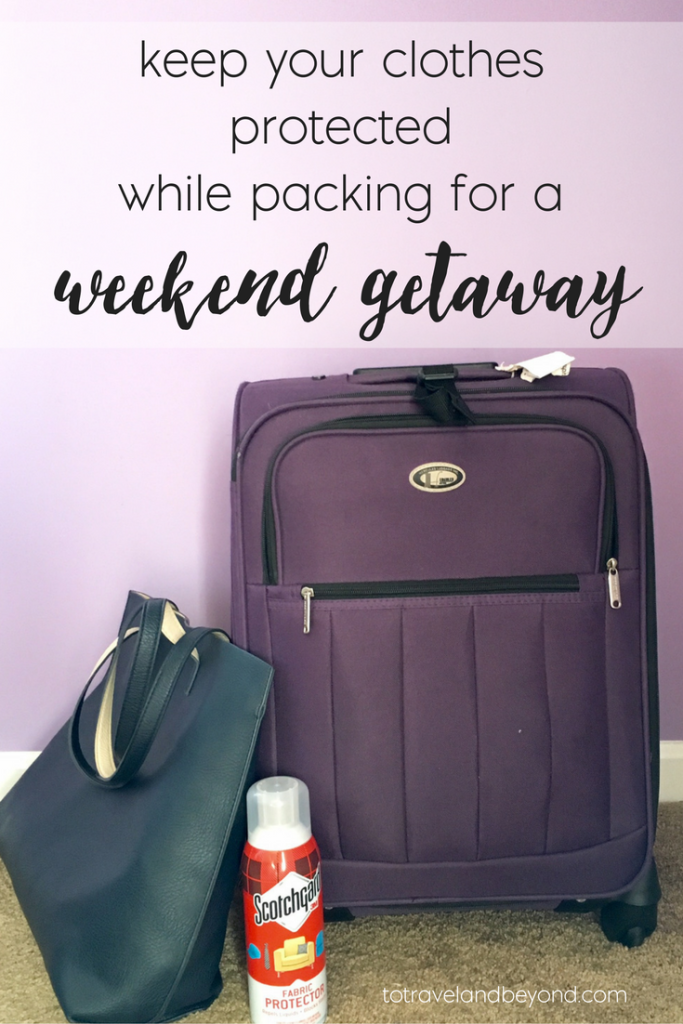 Traveling often means packing a repacking some of the same clothes constantly, and in tight spaces of my carry-on suitcase. Remembering everything I need to pack, and keeping everything looking new is where organization and Scotchgard™ Fabric & Upholstery Protector come in handy in every travel situation.
As I pack for trips, I like to make sure they are protected while I am on-the-go. What if I spill my coffee jumping into a cab? My clothes need to still look new in tough situations, especially when we pack as light as possible and I don't have backup options. Thankfully, Scotchgard™ Fabric Protector is available to protect your everything, even when traveling.
Earlier this week I mentioned my steps for before I leave for a trip, and now is all about doing the actual packing. This week we are off for a mini-getaway and I'm limited to one carry-on sized bag, so I have to make it work. The day before I leave, I almost always make my way to Target. If I don't need anything, I will typically just walk around because it's my happy place. This time I was on a journey to pick up Scotchgardv™ Fabric & Upholstery Protector.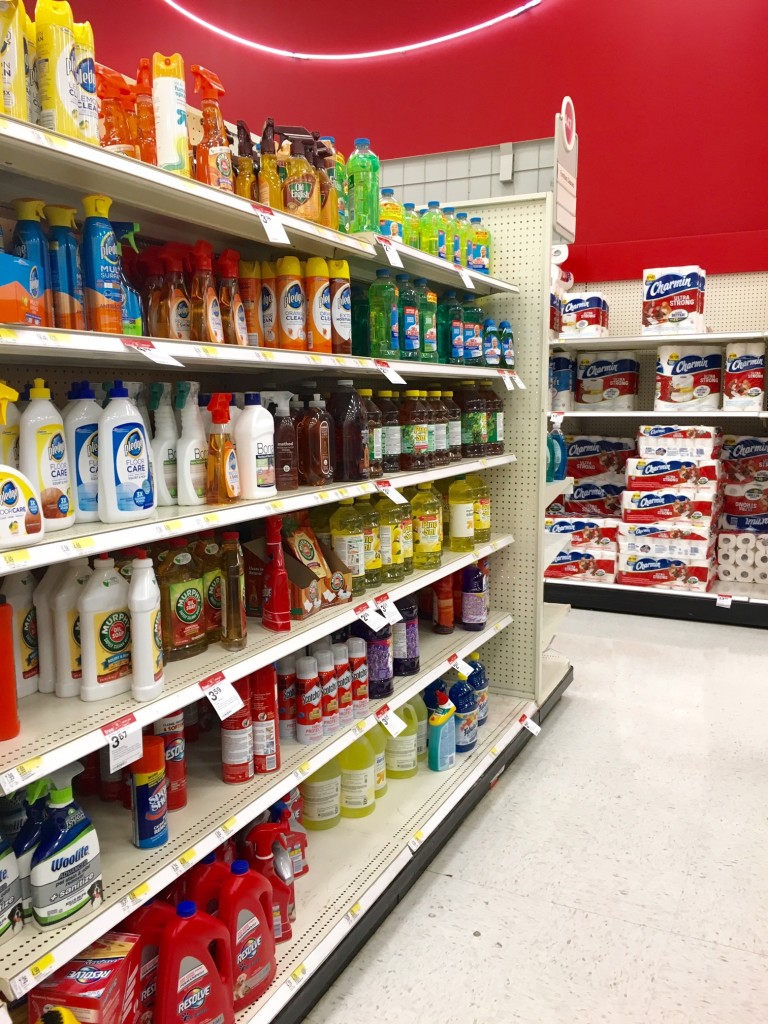 I started in the purse and scarves section because the new fall line is out and I just wanted needed to see what I am adding to my wish-list. When I was finally back on track to get to the laundry section, I had to make another stop to look at the new stationery that arrived, and again was getting too far from my list. I got a phone call from Dave that reminded me to keep walking, even passed the coffee mugs, and into the laundry section where the Scotchgard™ Fabric & Upholstery Protector can be found. I picked up a bottle that I needed, and made my way to the checkout line.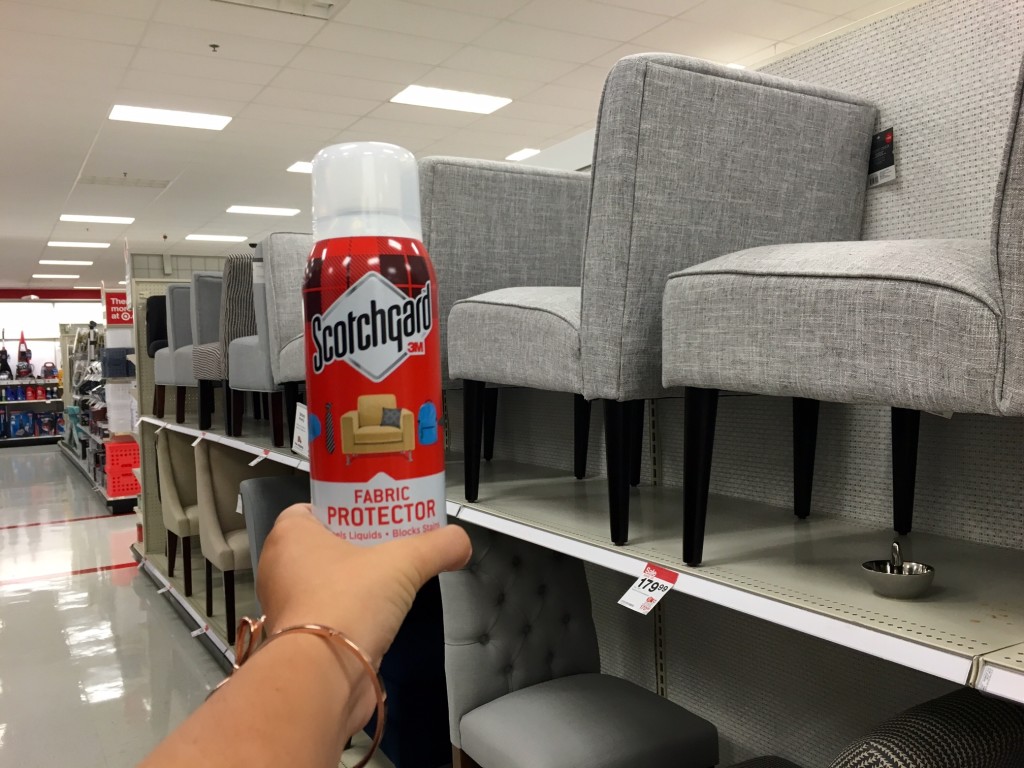 I made one more detour through the furniture section because what goes better with a new bottle of Scotchgard™ Fabric & Upholstery Protector than some new furniture for it to protect? How is it that Target makes me feel so refreshed?
Now back to how I pack for these quick trips. I found out about the squares packing method last year and I have been packing this way ever since. I make my bed, and start picking out clothes from my closet.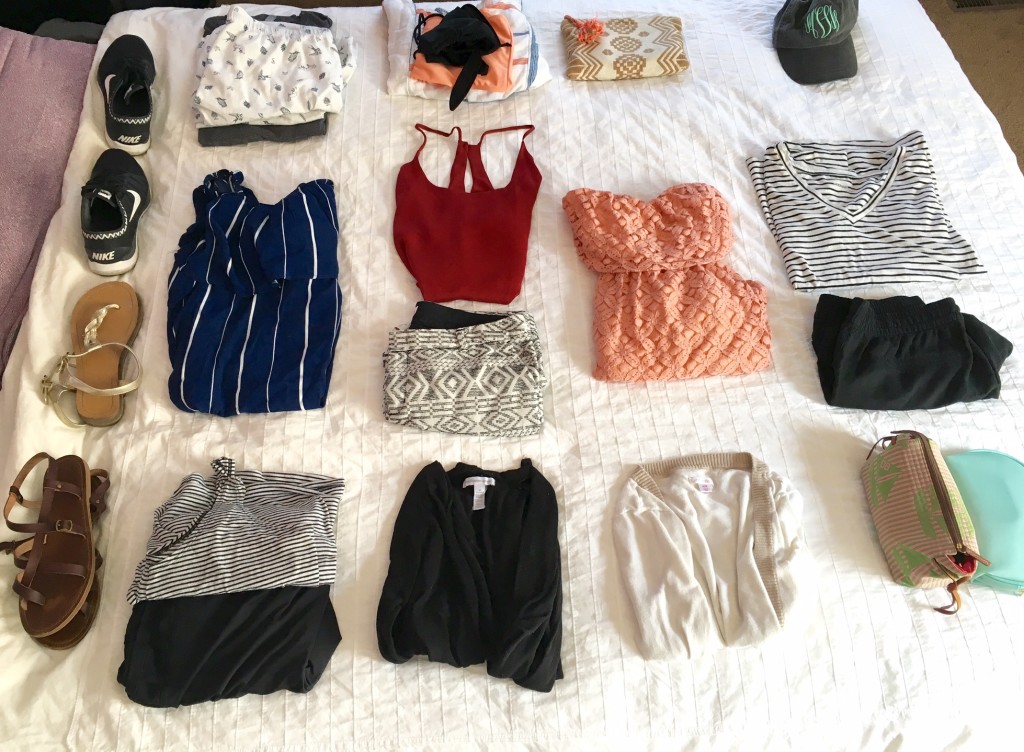 Preparing my outfits- I begin by choosing an outfit for each day. I put all of the tops at the middle of my bed in a line, then add bottoms below, and a jacket or sweater below and accessories or hat above.
Looking for accessories- After all of my outfits have been chosen, I look for similarities between outfits and determine what jewelry I have that will look best with most of them. I put all of these pieces in the corner square (in this photo they are in the mint case)
Undergarments- Again, looking at all of the options, I look for all undergarment options I may need. Do I need to go strapless, will there be anything racer back, what sort of bottoms do I have? Don't forget socks! These all go in another square
Shoes- What shoes match most of my options? Where will I be going? For this weekend, no wedges were necessary because we will be really casual, but I normally would bring one pair. I also try and limit myself to 2 pair of sandals, 1 pair of tennis shoes and a pair of flip flops. Into a square they go
Toiletries- I go through my daily routine and think about what I will need. Shower products, toothbrush, hair products and tools, and makeup products. These also have a square because it makes it easier for me to pack them into my travel bags.
Electronics- These are some of the only items that don't get a square because I put them all into my backpack, but for the purpose of this list, I put them on my bed anyways. I go through my list to see what I am bringing- phone, laptop, kindle, camera, etc. and grab chargers for each item.
Other Items- These are things you only need 1-2 of. I like to have tank tops, a cover up, gym shorts, PJs and an extra cardigan (if one isn't already packed)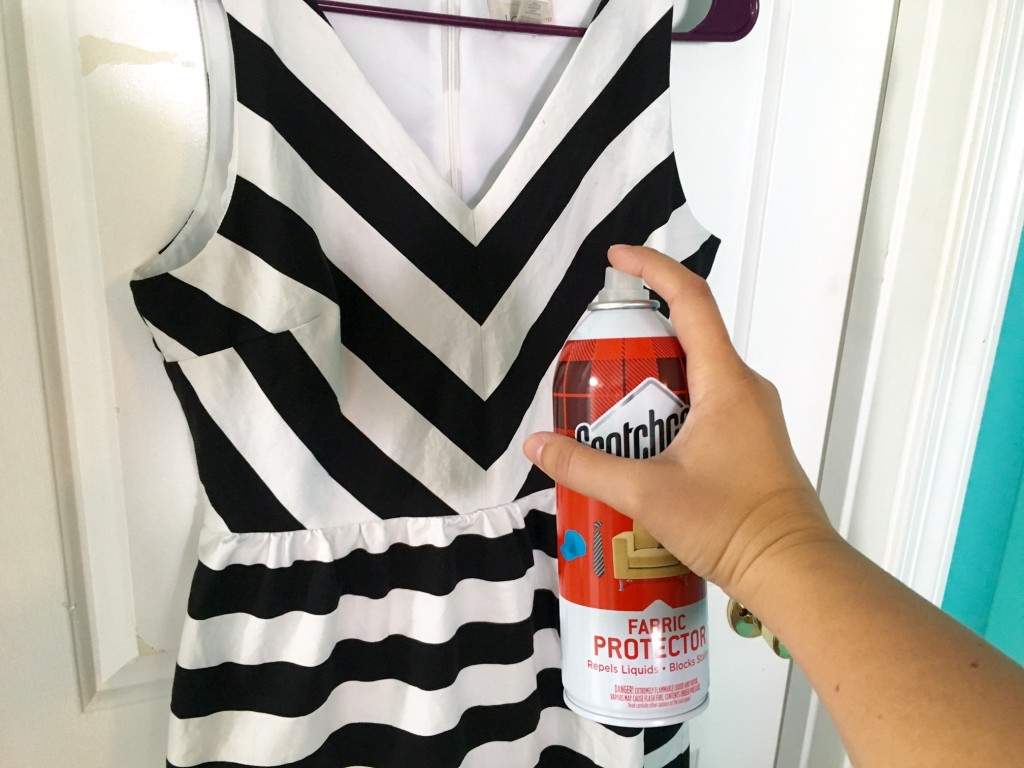 When I have everything ready to be packed, I start with my clothes. I treat them with Scotchgard™ Fabric Protector to keep them from fading, and block stains while traveling. Thankfully this product can be used on just about everything, from hats to pants and cover ups to dresses.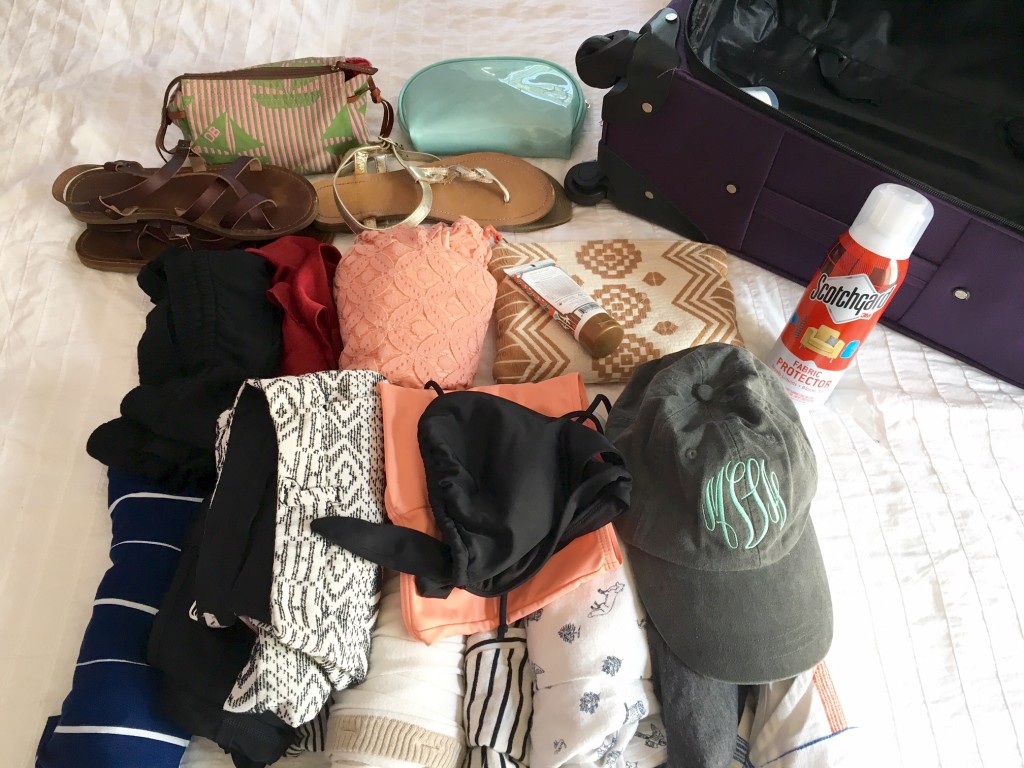 After all of my clothes are protected, I use the rolling method to save space in my suitcase. I roll each article of clothing and then put them into my suitcase inspections. Once my clothes are in, I gather my accessories and toiletries into small bags, and place them on top of all of my clothes. I put all of my undergarments in the zipper pocket on the top of my suitcase, and put my shoes wherever they will fit.
Being able to travel often, with a small amount of luggage, and still know that my clothes are safe means a lot. Thanks to the Scotchgard™ Fabric Protector, which also can be used to protect household items and more, I spend less on new clothes, and can pack lighter. Speaking of spending less, don't forget to use this coupon when you are shopping for Scotchgard™ Fabric Protector. If you want to jump on the fabric protection bandwagon, check out their other products.
Do you have a routine when you are packing for a weekend getaway?