This shop has been compensated by Collective Bias, Inc. and its advertiser. All opinions are mine alone. #StickItToLint  #CollectiveBias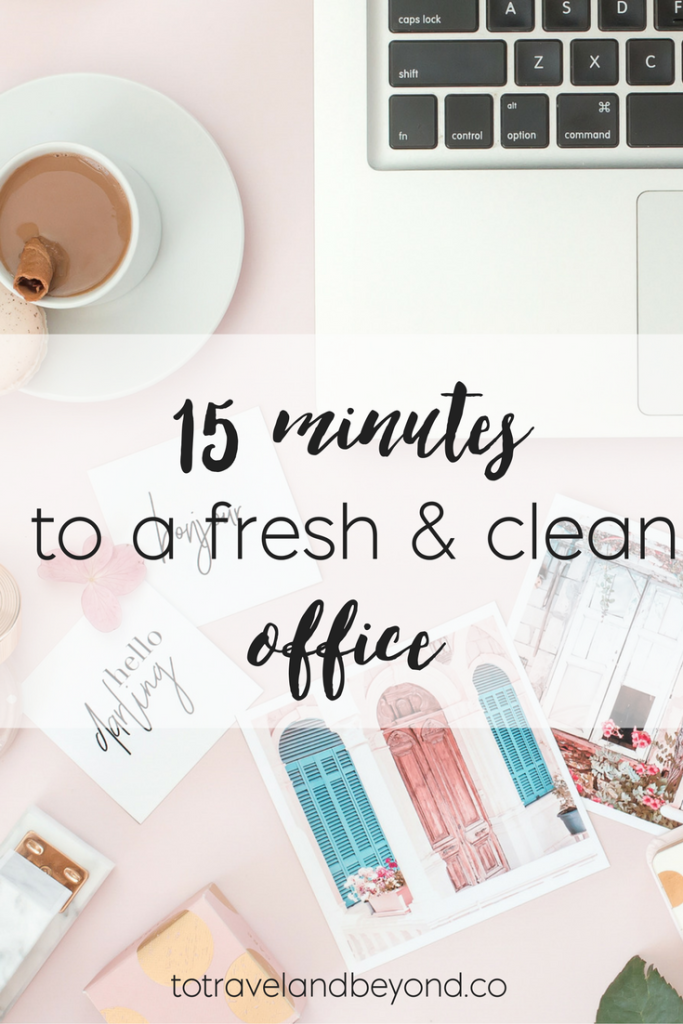 My workspace changes from time to time, but my favorite place in the house is definitely my office. It's a place where I can invest time into Enchanting Events, this blog, and life planning. Whether I am working my full time job from the comfort of my home, or I am ending my day with coffee in hand going through email after email, it's always best when I can do it in my favorite chair.
The office updates are not totally finished, but I am so happy with where they are going so far. I have photos on the wall, artwork ready to be hung and chevron chairs that make it feel like I'm an actual adult. I'm also always freezing, so a blanket and slippers are a must when I enter this room.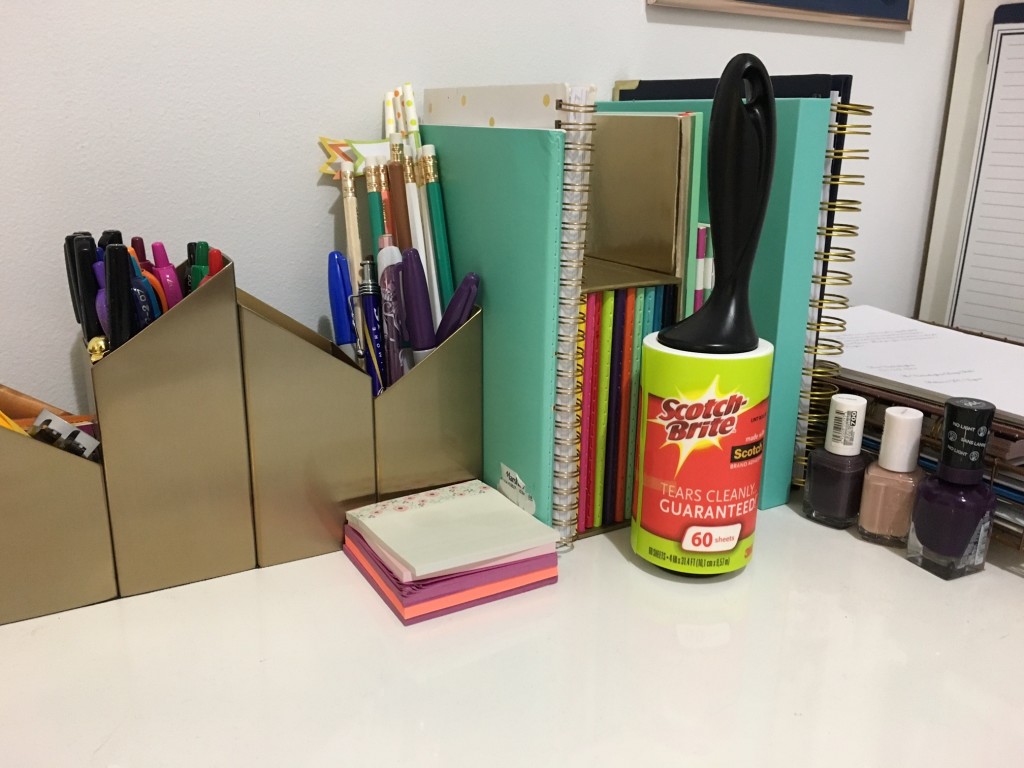 Having an office with no windows meant I needed lots of bright "natural light" bulbs, a perfect white paint color, and bright and shiny accessories. I'm so happy with all of these choices, but goodness can you see the dirt quickly. SharkBait and her constantly falling out fur don't help matters either. So every few days, I spend a quick fifteen minutes getting my office back to working order. These few minutes save me time everyday and help me get right to it when I am ready to work. Thanks to Scotch-Brite™ Lint Rollers for helping me with the majority of these tasks!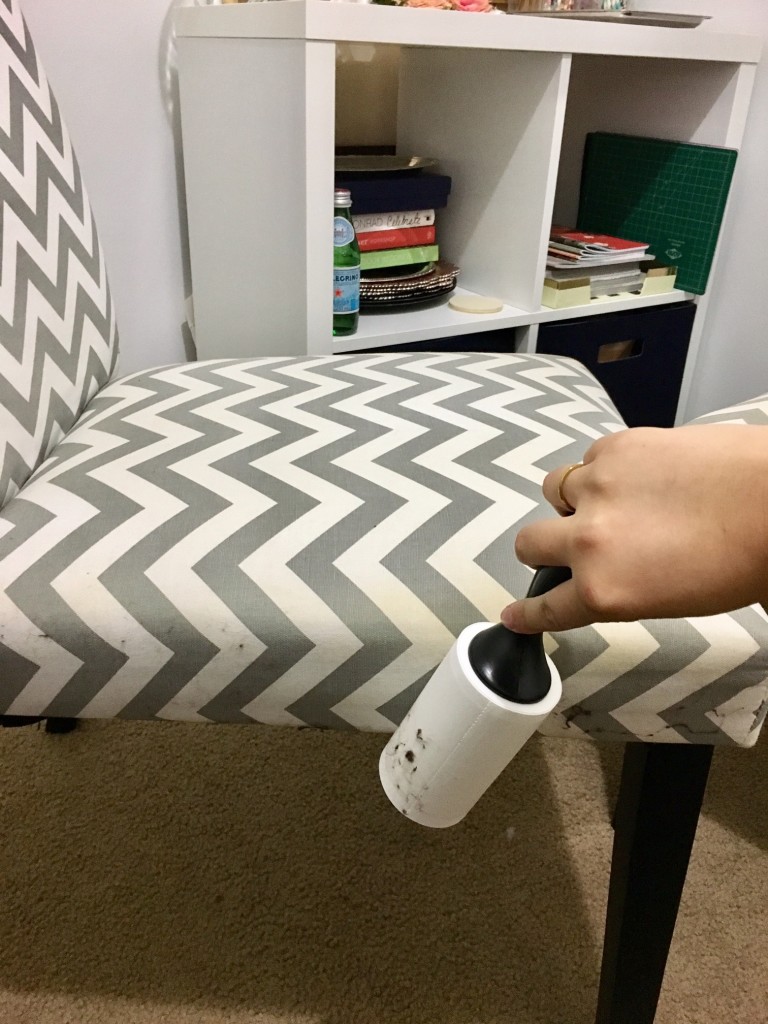 First, I clean off the chair cushions. SharkBait really does love these chairs for some reason. If I am downstairs for any length of time, you can find her in my office sitting on one of these chairs. With a quick swipe of the cushions with a Scotch-Brite™ 50% Stickier Lint Roller, the chair is back to good as new and I don't have to worry about being a furry mess when clients stop by. I love the Scotch-Brite 50% Stickier Lint Roller because it gets all of the fur rather than just most of it.
There is also a brown blanket that I constantly have on my chair because like I said, it gets chilly! The lint roller comes in handy again because somehow this blanket sheds like crazy. I always find brown pieces of fuzz on my clothes, socks, etc. With a quick once over with a Scotch-Brite™ 50% Stickier Lint Roller, I am able to remain fuzz free!
Next it's time to make the photos stand out. You wouldn't believe how much dust is collected on the tops of these picture frames. With the laundry room being directly across from my office, I often forget to shut the door which allows all the dust to make it's way it. i feel like it always settles right on the ledge of these frames. I dust the tops of the frames and straighten any photos that may have fallen slightly.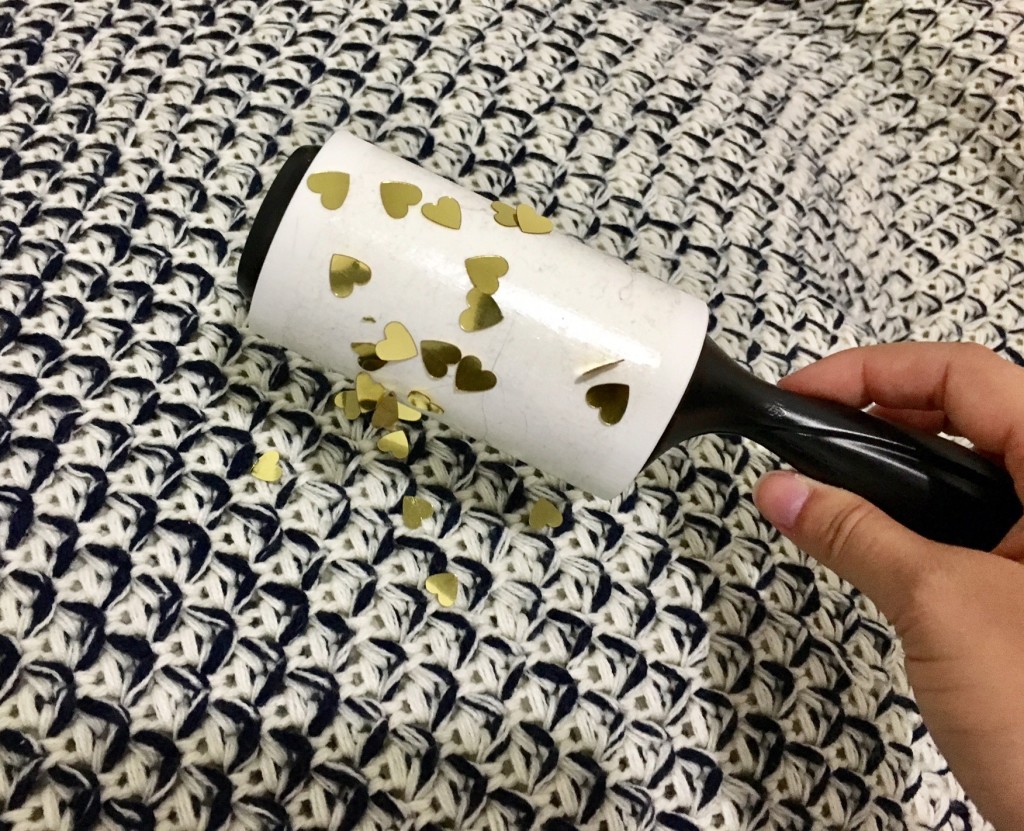 Finally, it's time to organize my desk. Throughout the week when I am not in my office I will often drop things off on my desk. Receipts, items for DIY projects, paperwork, etc. It all collects right on the top of my desk. I quickly strengthen things up, and then wipe it down. This means that the glitter from a previous project, greeting card or something else collected on my desk is now attracted to the fabric on one of the many blankets I have sitting under my desk. Thankfully it's an easy fix with a Scotch-Brite™ 50% Stickier Lint Roller. This lint roller is great for more than just your typical pet hair or lint, it's useful for larger items like debris and crumbs that have fallen but you don't want to get out the vacuum.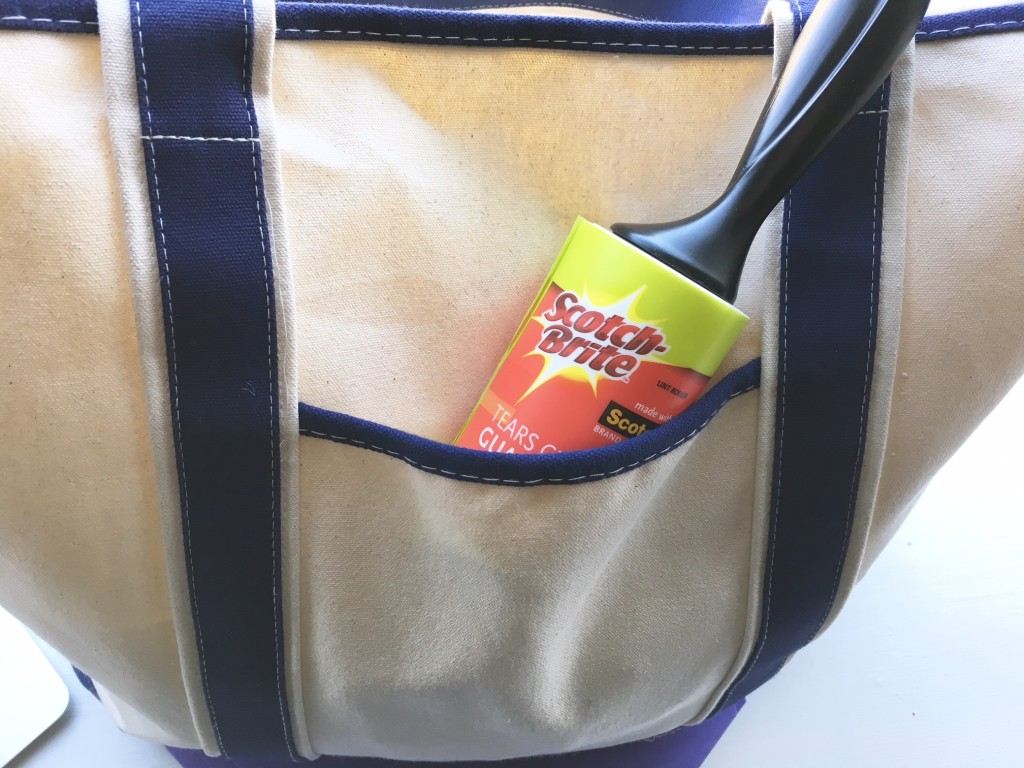 After everything is cleaned up and ready to go, I light myself a candle, grab a cup of coffee and settle in for a few hours of work. In a clean workspace, I can get anything done! Every now and then while I am cleaning my office I will give my wedding bag a quick once-over as well. The lint roller is a huge help to clean up the dirt off of the outside, but also to clean the mess that collects at the bottom of the bag. I love that you can use a lint roller in such a versatile way! The Scotch-Brite™ Lint Roller is always handy for keeping clothing0 pants, coats, dresses, sweaters and even formal wear lint, hair & fuzz free.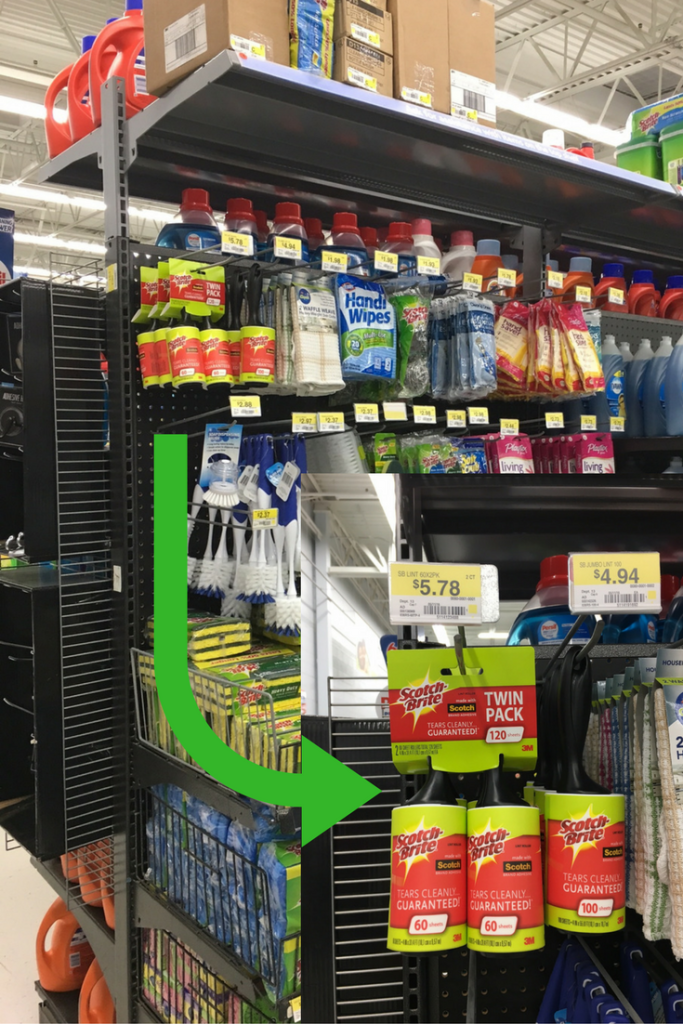 If you want to see how Scotch-Brite Brand can help you get the best workspace, head to the Scotch-Brite™ Lint Roller section in Walmart. If you would like additional creative ideas, tips and tricks for how to use your lint roller, the Scotch-Brite Brand website is dedicated to helping you learn how to best use the lint roller. Also, be sure to look for them in various areas of the store. When you need a lint, hair and fuzz free space, Scotch-Brite Brand is there to save the day! Keeping a Scotch-Brite™ Lint Roller on my desk at all times has been so helpful, head to Walmart and grab one for yourself!
How do you keep your workspace clean and tidy?