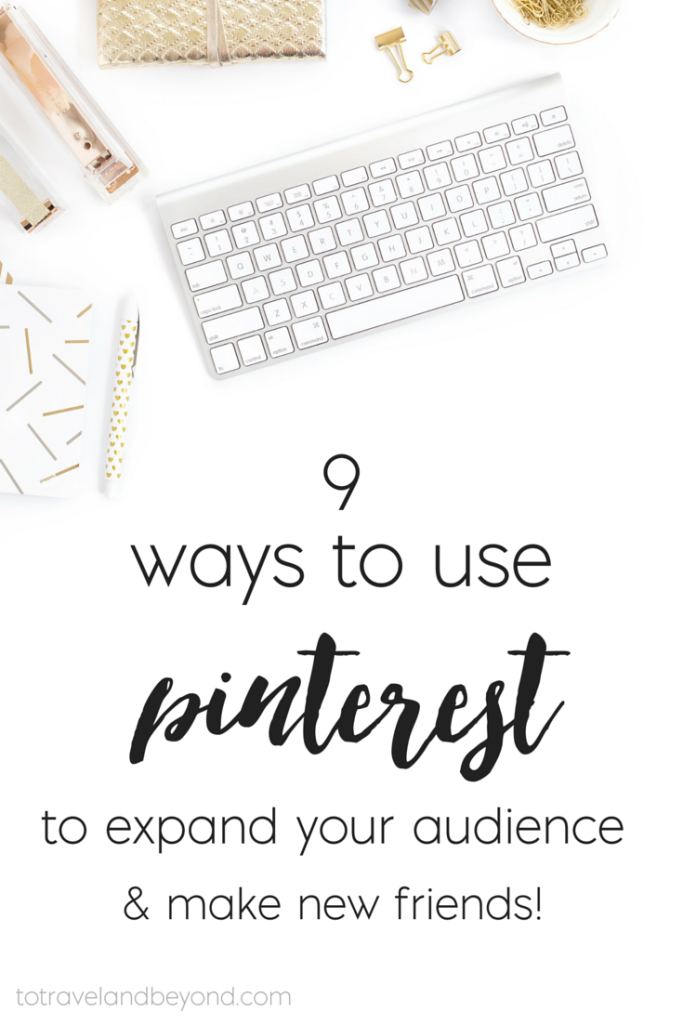 there are affiliate links present in this post
Pinterest is a huge social media outlet that many people seem to forget about when it comes to blogging. Sure, it is great for many other things, like wedding planning, dream house hunting and recipes, but there is so much more to this tool. I never put effort or time towards Pinterest until I slowly started to realize the benefits. Not only have I found amazing blogs from this tool, but I have discovered great resources as well. Using Pinterest to grow your blog is something I would have never thought about even a year ago, but now I am overjoyed when I get the emails that say my pins have been repinned 😉
There are several ways to make Pinterest work for you, and not all of them need to be done at once, but once you have your system down it will continually help you improve. I am constantly tweaking my blogging process and learning as much as I can about using every resource I can, but these tips have helped immensely.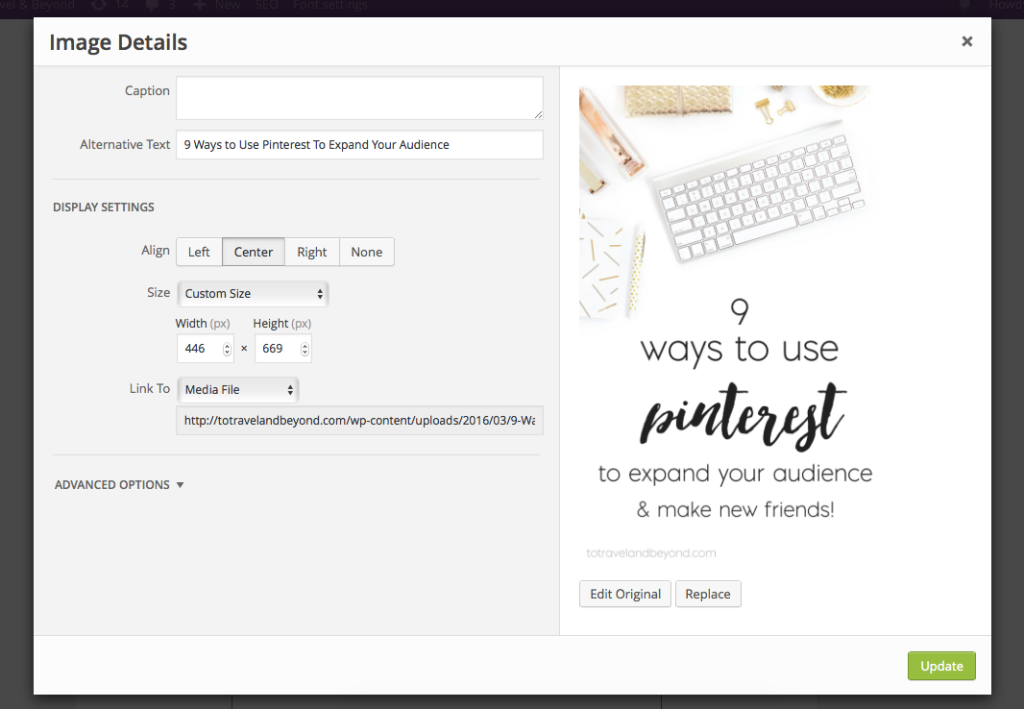 Focus on your images
This is a multi-step process, and it all begins with your brand. Do your best to keep your images consistent with your brand colors, fonts and themes. If you have rich pins, these steps are especially important.
– Use hi-res images to create a vertical "Pinterest" image. If you use Canva you can select the "Pinterest" template which will make it the perfect size for a pinable image. I always have this image at the top of my post, but others have a featured image at the top and the pinable image below their post
– Add easy to read and relevant text. I always add descriptive text to the images I want to be pinned. This not only helps you stay organized on your own boards, but will be used for other Pinners to see what your post is about as they are scrolling or searching
– Use alt text on every image with your blog posts, but especially on your pinable images. When you are adding a image into your post, change the title and the caption to be full of SEO rich keywords
– Don't be afraid to test out a few images, or change them up after time if you see they aren't working. You are also able to hide images within your WordPress posts by using this code- <div style="display:none;">IMAGE CODE</div>  then if you "pin from website" the image will come up for you to be able to pin. For more information on this check out this post by Pinch of Yum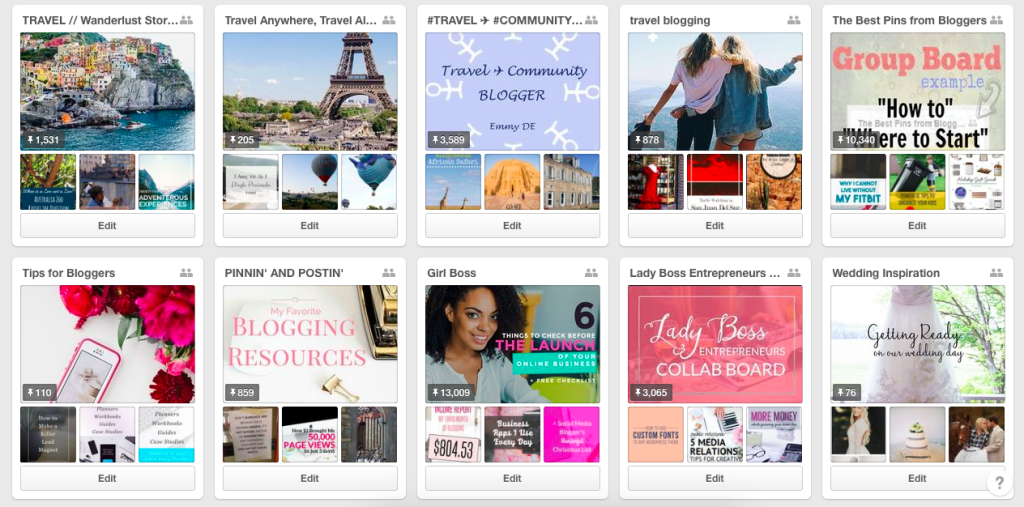 Interact with others
This is my favorite thing about Pinterest, I love being able to meet new bloggers and help others when they need it.
– Join group Pinterest boards. Group boards are a place for hundreds, sometimes thousands of Pinners to pin their content, and find relevant, similar pins. Make sure you are joining the right boards, paying attention to any rules that may apply, and most importantly pinning from this board, onto your own boards. Each board has it's own set of expectations, but I make it a fact to at least pin 3 things from each board for every 1 image I pin of my own. The above image has several of the boards that I am apart of
– Follow other pinners that are relevant to you. While I love a good social media follow chain, I try to limit this when it comes to Pinterest. I like to follow boards that are similar to my "niche" (not that I really have one) because this helps me curate my home page. I often will scroll through Pinterest to find things that stand out to me. If I only follow "mom" pinners, I won't see relevant content without having to search
my favorite group boards (notice all of them are relevant to things I blog about often) –
TRAVEL// Wanderlust Stories   |  Places to go   |   Travel Anywhere, Travel Always (the board I started!)
Girl Boss   |   PINNIN' AND POSTIN'
For your blog
These are things you can do on your own blog to make pinning easier and more accurate and use Pinterest to grow your blog.
– Make sure you have a pin-it button enabled on all of your blog posts, this will help others that love your content save them directly from your page. There have been a few times when I wanted to save something I was reading, but there wasn't a pin-it button and I didn't take the extra steps to save the link and pin it myself.
– Schedule your pins. If you use Coschedule you can now schedule pins directly from your post. There are other tools out there like Tailwind or Boardbooster that will schedule pins for you, but I love that Coschedule now has this option so I do not have to use yet another resource or schedular.
Take time to learn from the pros
There are plenty of resources out there…even on Pinterest itself but my favorite way to learn more about using Pinterest has been from courses. Before I decided to give Pinterest a chance to grow my audience, I heard about the Pinfinite Growth course from The Nectar Collective (one of my favorite bloggers!). I didn't want to  make the leap because I wasn't sure if I could dedicate the time or energy towards it, but then I did! Pinfinete Growth is a multi-module course designed to help you create the best Pinterest you can. From image tips, SEO assistance, finding out how to pin and where to pin it, and so much more. I would have been lost without this course, and Melissa's constant support. It was worth it just to be in her private Facebook group where she is always available for questions and other assistance. If you are looking to grow your Pinterest to be the best it can be, meet new bloggers, and expand your audience, I highly recommend making the investment. I have taken part in a few of her other courses and loved them just as much. Seriously, this gal is amazing!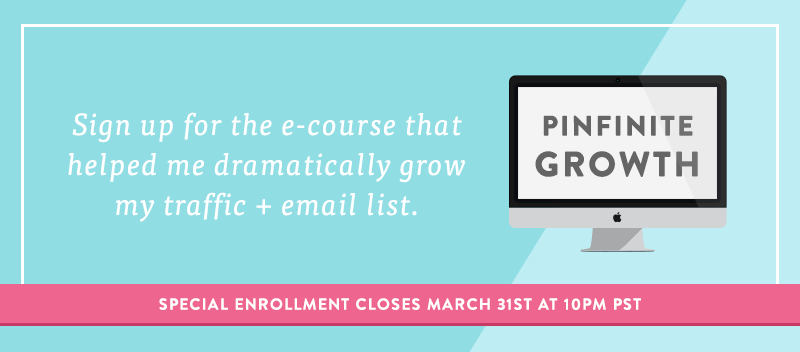 Melyssa is offering a FREE webinar on March 23rd & 24th, "How To Double our Traffic & Email List in 30 Days" I make it a priority to sign-up for every one of Melyssa's webinars and I always leave with knowledgable information. I promise she isn't like some others that hound you the entire time to buy their product, she is actually like a real person sharing real first-hand knowledge…for FREE! Head over to the webinar page to sign up for the free webinar and learn more about the Pinfinite Growth relaunch.
What is your favorite way to use Pinterest to grow your blog?