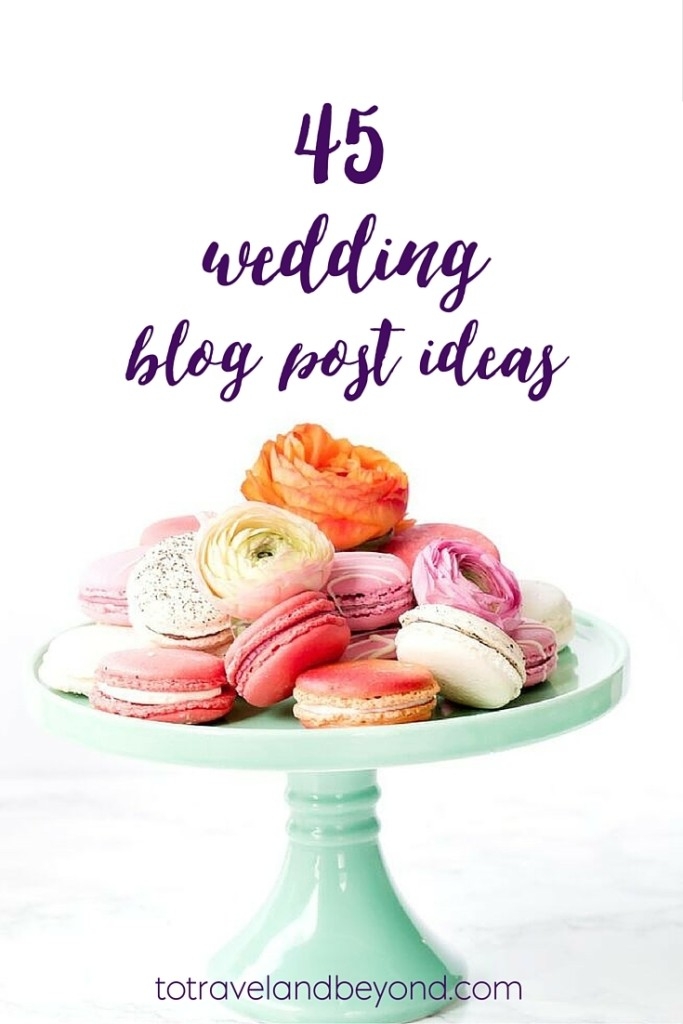 When it comes to blogging about your wedding, if you are anything like me, you want to remember all of the details for the future. Those days when you want to feel nostalgic and look back on one of the best days, it's nice to have the memories laid out somewhere. Blogging is very similar to scrapbooking in this way, it's a way to see the past in a visual sense, but to also like a journal to read about the memories and feelings you had.
I have loved sharing about my wedding, from the little details up until the last few minutes of June 20th, 2015. I wanted to keep track of it all, which is why I spent a year recapping my wedding. Those posts will be around for a long time and I wanted to keep those memories close, but also share them with my fellow Wedding Wednesday friends. Before my wedding, I shared a list of 25 pre-wedding post ideas, and now I want to follow that up with 45 post-wedding ideas. Not all of these will pertain to every wedding.
We're Married! Don't focus on a big post for this week, just share a photo of two and let the world know that you are married!
The wedding week. Share about everything that went into the big days preparing for the big day.
The rehearsal & dinner. How did your rehearsal go? Did anything special happen at the dinner?
The bridal party gifts. What did you give your gals? What did your groom give his guys?
Family gifts. Did you give your parents, in-laws, grandparents, anything special for the wedding day?
Hotel bags. Did you have bags waiting for your guests at the hotel? Share what you included in them! Was there something personal and related to the location, or the two of you?
Stationary. Did you have an invitation suite? Program, menu card, etc.
Getting ready photos of the gals. How did you spend your morning?
Getting ready photos of the guys. Were the guys having beers and hanging out?
The wedding dress. Show off that beautiful dress of yours!
The bridal details & the grooms details. Share photos of your veil, jewelry, shoes, etc. Did the groom have a nice watch, cufflinks, cool socks?
Something old, something new, something borrowed, something blue. What were your items?
Getting into the dress. Did you have someone special tying your corset? This is such a special moment before everything starts to happen.
Bridesmaid first look. The first time your gals saw you in your dress.
The ring bearer
Here comes the bride
The ceremony details
Cocktail hour. Did you have signature drinks?
Guest activities. Were your guests playing corn hole, or snapping photos in the photo booth?
Bouquet & garter toss
The reception details. Share your centerpieces, sweetheart table decor, other personal touches
Special dances. Did you have the apron/honeymoon dance? What about any other special dances?
The vendors that brought your big day to life
The bridal session. We did this after the wedding. it was so fun getting back into our outfits again.
Some other ideas:
Did you have a first look? Why or why not?
Is there anything you would have changed?
Wedding tips and tricks for anyone else planning their wedding
Tell us about your honeymoon!
---
Nikki and I love reading all about your big day, someone else's wedding adventures, or anything else wedding related. We just can't wait to read all about it, so link-up with us for Wedding Wednesday!