(First I want to mention that you should stick around until the end of this post because there is an announcement for future Wedding Wednesdays!)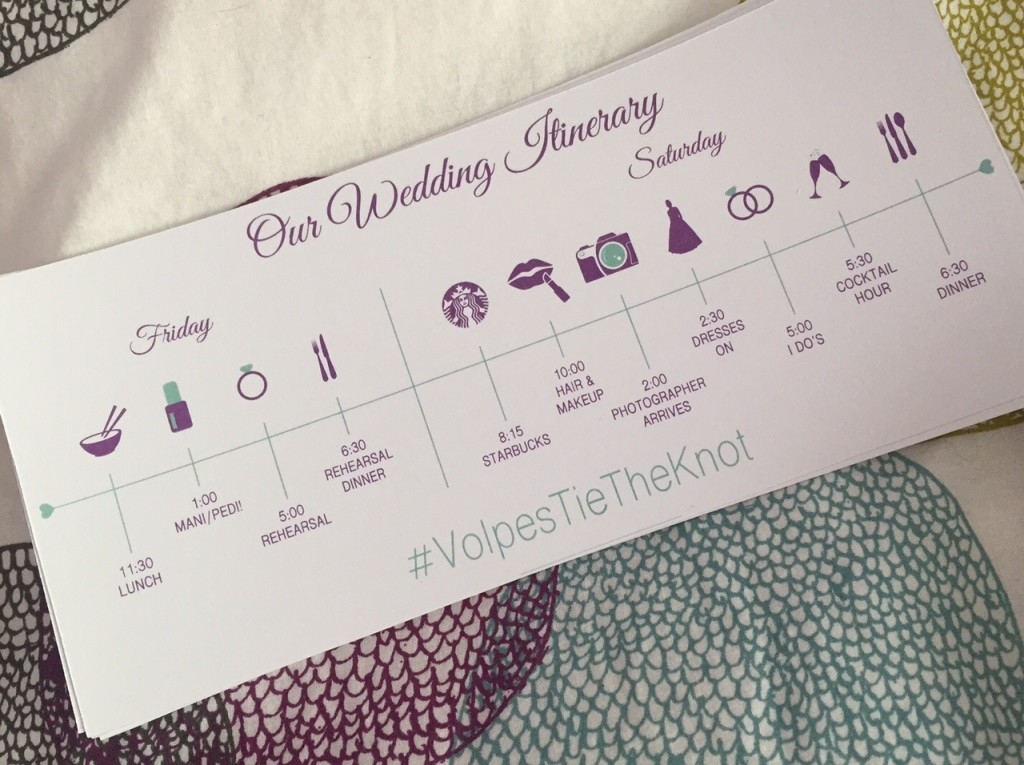 I can't believe our wedding and honeymoon are both over! Did I say that last week? Yes? Well it's still true. Everything just flies by so fast and you don't even have the time to realize that it is all ending. We had such a wonderful last 2 months, I can't even begin to list all of the people we need to thank. Last time I posted about our actual wedding, was when I shared some details of the week leading up to the wedding- Wedding Week. Even though that few days were stressful, and by the time the wedding day arrived, I really wished it had not been raining all week so everything would be finished, it showed us how loved we are to have the people in our lives that we do. We would not have been able to pull it all off without all hands on deck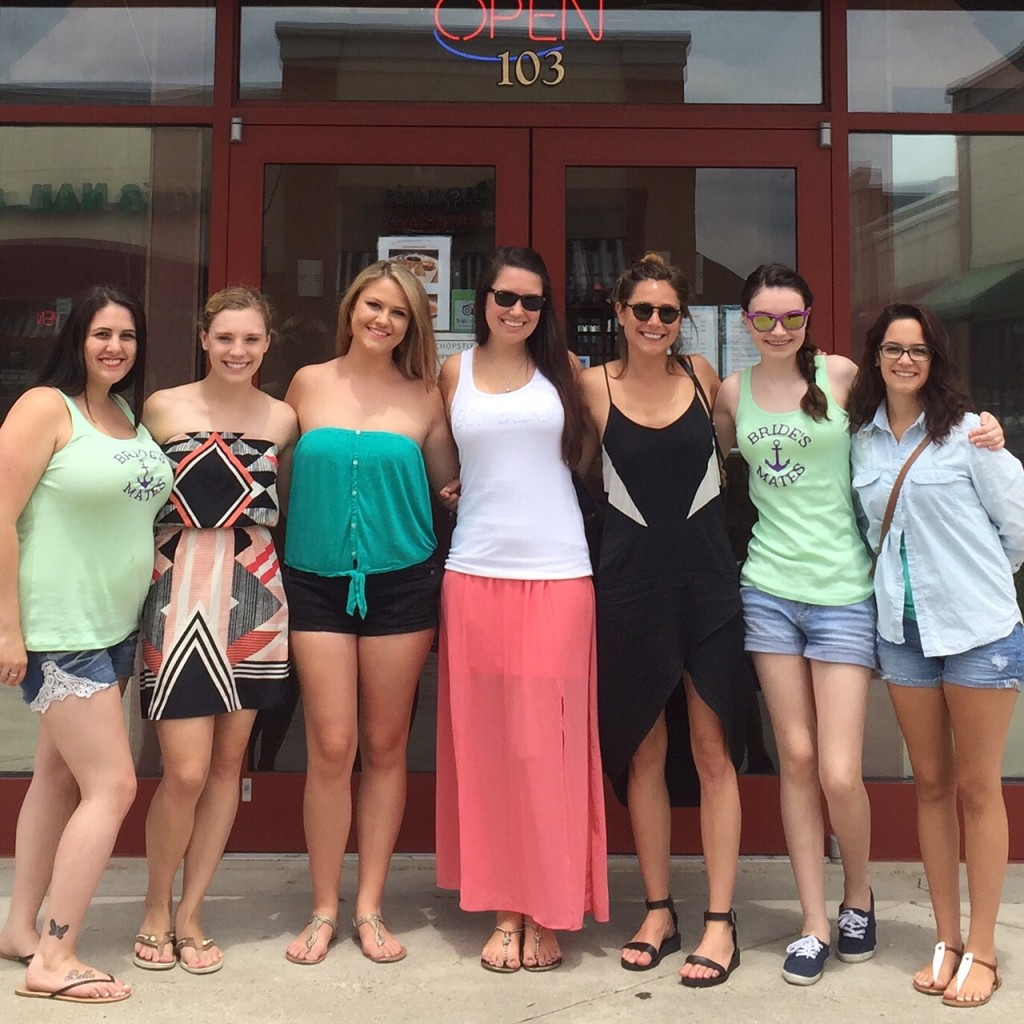 All of my bridesmaids! ^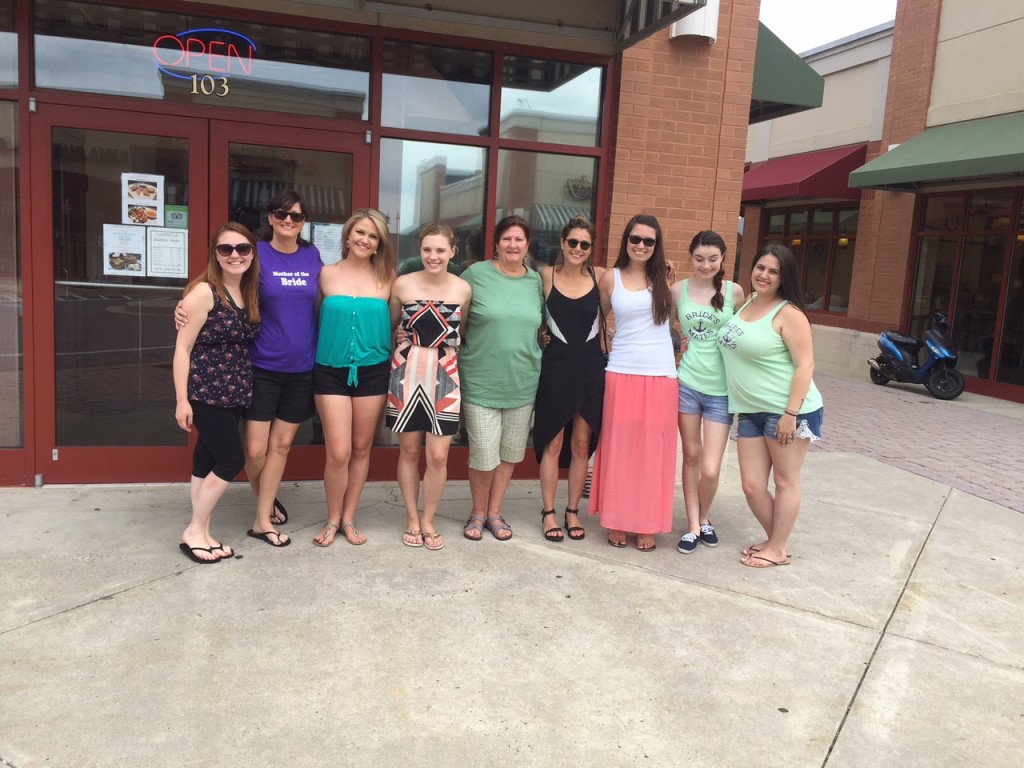 I feel like all of the details from the Rehearsal day are too much for one post, but I already have posts lined up until next Spring, so one post will have to do. Friday morning started off wonderfully with lunch at one of my favorite restaurants with all of my bridesmaids for the very first time in one place, and then we were off to our nail appointment. I was just so excited to have everyone together, that I hardly noticed that I was nervous. I could cry because I miss that afternoon so much.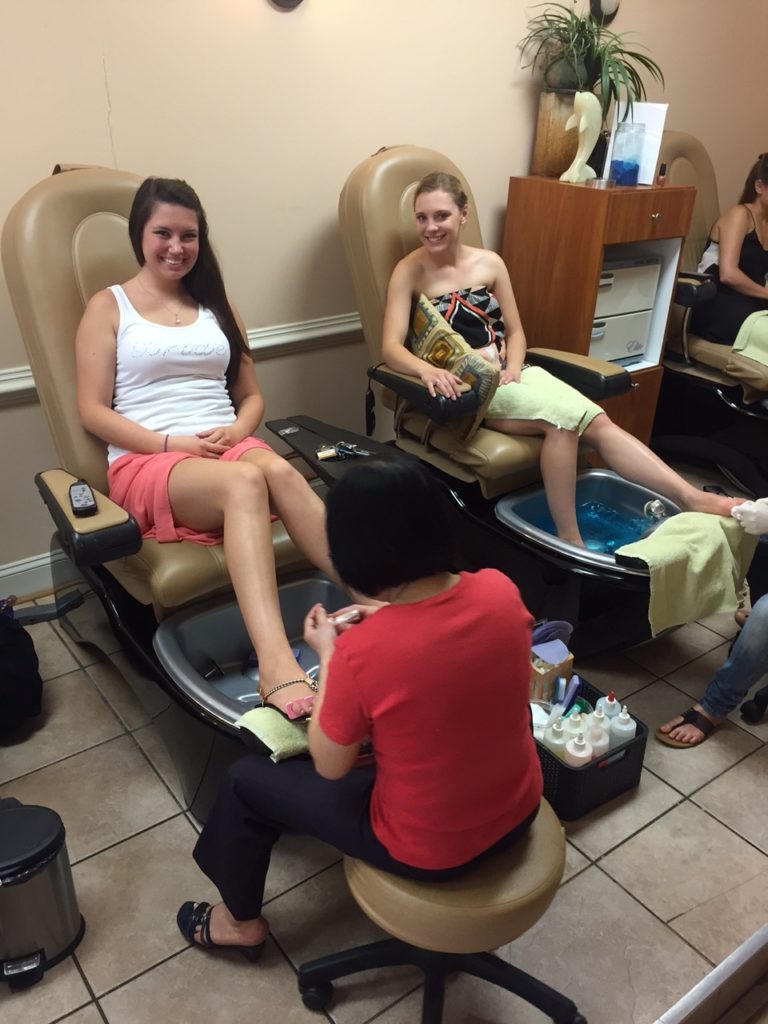 That gal up there better be my SIL soon!
After we all had our nails done, we made a quick stop at Target (of course) and then we went to check into our hotel that we would be staying at that evening. I called the hotel 2 months in advance to try and get 2 rooms next to each other, and they said they couldn't make any promises. I was thrilled to see that both rooms were next to each other and attached!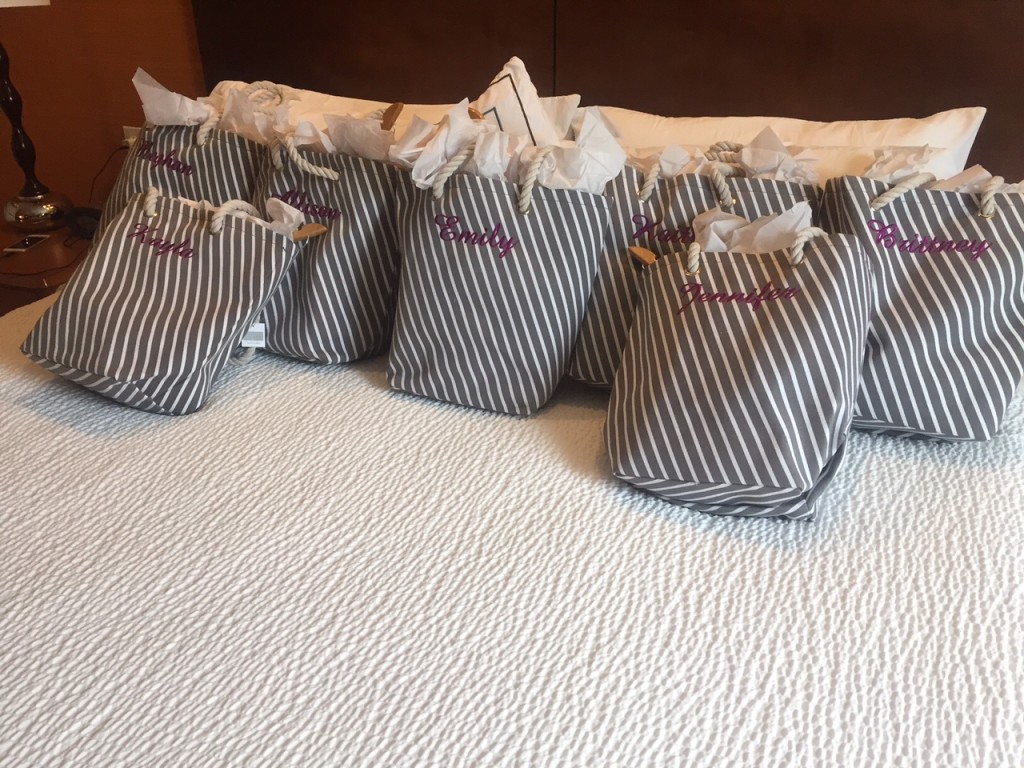 Once we got to the hotel, I made all of the girls stay in one room while I set-up their gifts (more in this in a later post!). I couldn't wait to give them out, I almost did it before we even had lunch! After gifts, everyone got ready for the rehearsal dinner and we were off…until we weren't. We noticed a weird sound in the van I was using and about halfway to the venue decided that the tire was either about to fall off, or something was dragging on the ground. I pulled over and we realized that something had broken off of the bottom of the van and was leaking. Needless to say, we couldn't go any further and were stuck at a Royal Farms until we could be rescued.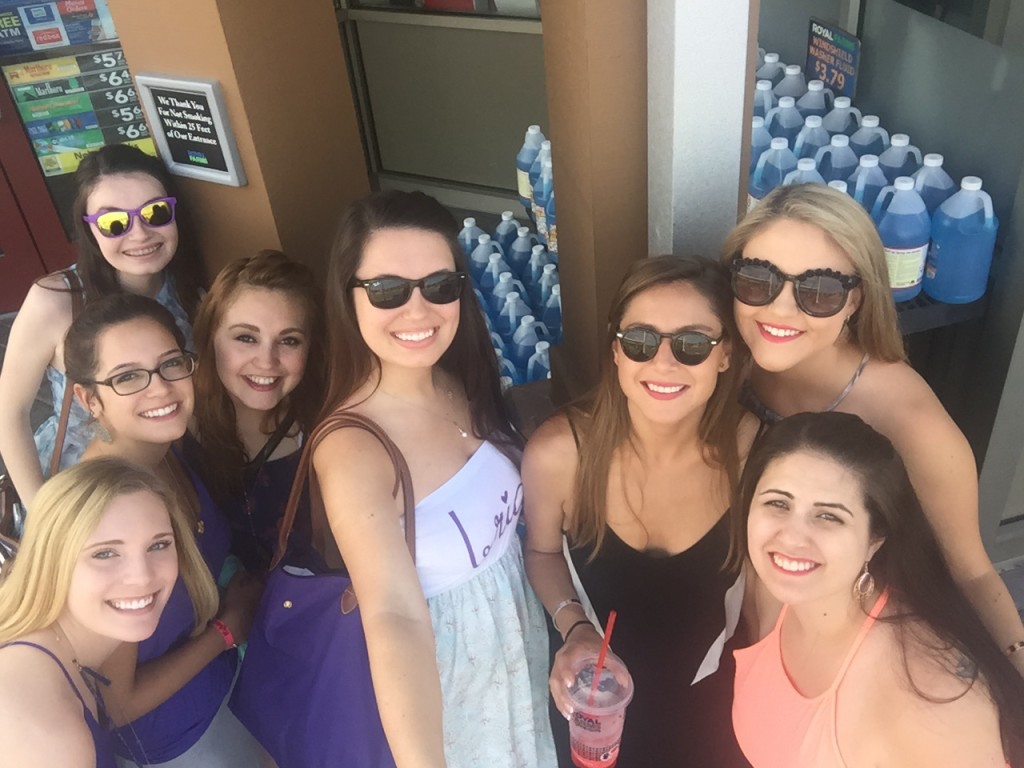 Thankfully my grandfather and one of our groomsmen saved the day and came to get us. We may have arrived to the Rehearsal 45 minutes late, but we made it none the less! After some practicing and pictures we were ready for some dinner and drinks!
Our rehearsal dinner was at Red Brick Station which is a brewery about 20 minutes from our venue. It was so nice to relax with friends and family before all of the festivities started. Dave's dad gave such a sweet speech, and also put together a slideshow with photos from the both of us growing up and then some of us together. It was the perfect night before our lives truly began together. One of our bridesmaids had everyone in the bridal party, our family and some other friends write letters to the both of us, and she put it together in a scrapbook. As soon as I started reading these letters I was in tears. The very first one I read was from my aunt saying how much my Uncle would have loved to be a part of all of this, from then on through every letter I didn't stop. This was one of the most touching things anyone could have done for us! Once the dinner and drinks ended, the gals were off to the hotel, and the guys were off to do whatever they guys did. We all squeezed into one car and had to stop for coning on the way back…if you don't know what coning is, ask me or look it up.It's a must do hahah.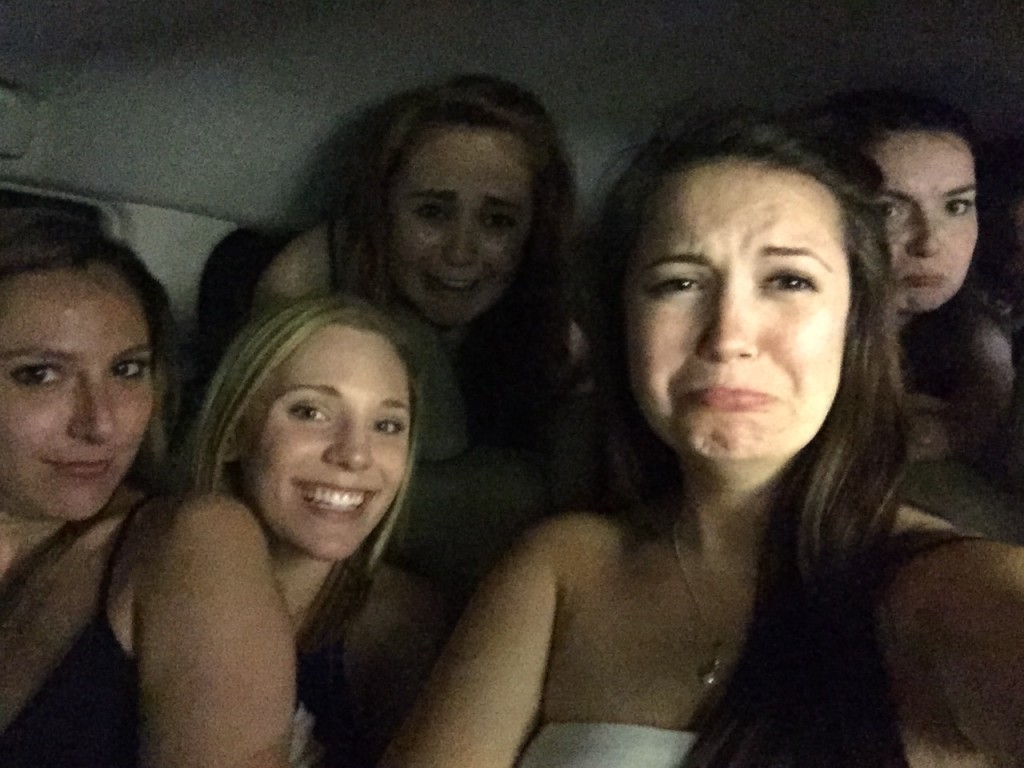 I loved having a last hurrah with my favorite ladies. My mom ended up joining us at the hotel, and it was so wonderful to have her there with us. I can't believe it's over!
Now for some of the photos of the actual rehearsal and dinner (the lighting inside of Red Brick was pretty terrible, so please excuse the orange tint)
Sorry this was a long one- the rest will be shorter…maybe 🙂
---
This week is my Wedding Wednesday BFF, Meg's, last week co-hosting with me. We have had so much fun with this link-up and I have loved getting to know her so well over the last several months. We agreed that we really enjoyed having one of us in the planning stages of our wedding, and the other in the post-wedding stages, so I am excited to introduce Nikki from Make.Up.Her will be taking over on the planning side of the link-up. This link up has been an amazing start to several new friendships, and I can't wait to see where else it goes!
We even have a new button!
As always, we would love to have you linking up with us and sharing your wedding inspiration, stories and photos of your own! Just please remember to link back to either of our blogs in order to keep the Wedding Wednesday fun going around.