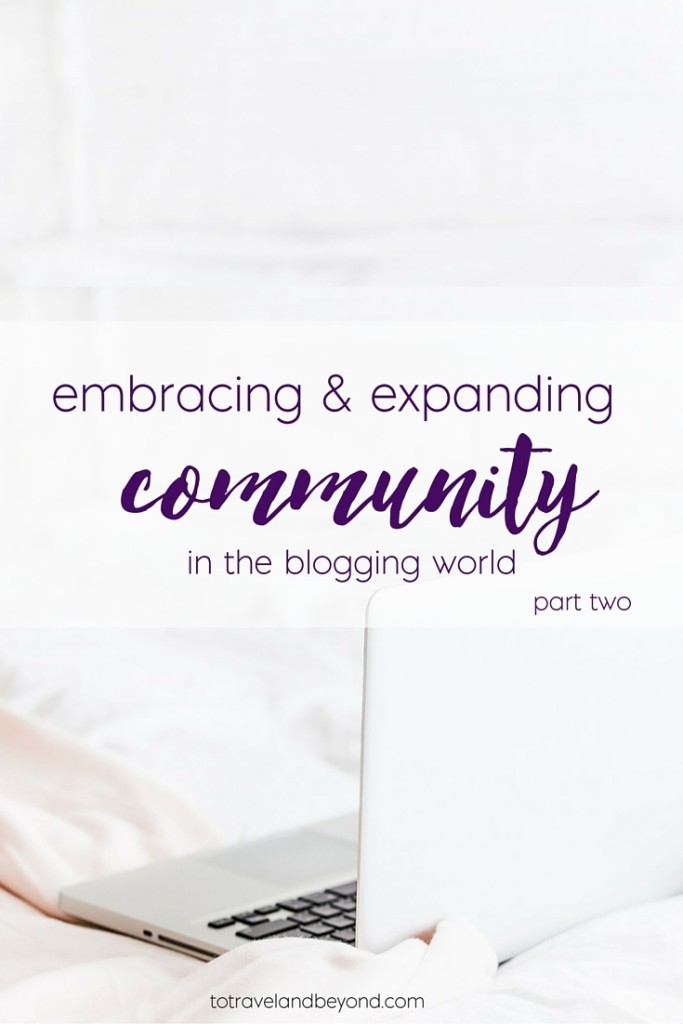 I'm back with more tips on spreading community within the blogging world! Like I said last week, community is an amazing thing and it is growing by leaps and bounds year after year. I have 6 more ways you can help to grow the blogging community, and I can't wait to see where this all goes in the next several months.
As I mentioned last week, a blogging community is very important for you and the friendships you can make from blogging, but it is also incredibly important for your blog itself. You will meet new people this way, and in turn, your content will get in the hands of someone new. If you focus on community as a duty to go along with your blog, I can almost guarantee that you will see a rise in your following and traffic.
Make sure you check out the first several tips after you catch up with these, and also read about how bloggers need to be respected and never taken advantage of by other bloggers and companies. We have to make a great name for ourselves, it is a full-time job for many people, and everyone deserves respect no matter their job title.
6 more ways to share love within the blogging community:
Writing to benefit a charity or similar organization. A few weeks ago, I posted about a baby crib that has been in our family for over 25 years. The idea for this post came after GBMC (Greater Baltimore Medical Center) reached out to me about their annual Nearly New Sale. This sale, and hospital, mean a lot to my family, which you can read about here, and I knew right away that I wanted to include them in a post. Writing for charity or non-profit organizations is another way to spread a sense of community, especially when they truly mean something to you.
COMMENT COMMENT COMMENT. This seems to be a popular topic lately, some people think that their social media channels are becoming their new "blog" and people are interacting more there than on their blog. While I would agree with this to an extent, I think it truly depends on the day and the post. Personally, I try to comment and interact on blogs AND social media platforms. I love getting to know people via their blog, but also the "behind the scenes" of their Twitter and Instagram. When someone comments on (or even just "likes") my blog and then do the same on my Instagram photo, I feel connected to them more than just through blogging. It's like we are becoming real friends, y'all. Responding to comments on your post is also incredibly important. If other are taking the time to give you feedback, at least thank them for reading.
Share your knowledge. This is a huge one for me. As soon as I experience something new that I feel would benefit others, I want to share it. This has been a big part of my Wedding Wednesday posts in the past. While brides planning their own wedding have first-hand knowledge because they are in the shoes of a bride, it has opened my eyes immensely while planning for others and working in the wedding industry for almost 5 years. All of those experiences and hard work have led to knowledge that I want others to know. I have worked with so many wedding venues, that I truly feel like I know (many of) the questions brides should be asking. I have also made friends with caterers through working with them often, and I have had the conversations about what goes on with them for a wedding day. Because of those experiences, I am able to share knowledge that I know will be helpful.
Be kind to other bloggers. Obviously being nice to people shouldn't only be when you are blogging, but I remember when I first started blogging, there were some people that took the time to respond to me, or give me advice and that really meant something. I felt like becoming a blogger was a good thing to do after having good first experiences. After 2 years I have had countless interactions with some many people that just want to help. They don't feel the need to take your money, or make you work for their advice, they just want to be helpful for the sake of being friendly. This also relates to one of my points from last week about joining Facebook communities for bloggers. When you notice someone new has joined the group, just comment with a quick hello and introduce yourself.
Empower each other. This especially is for the ladies. We need to build each other up. Tell someone when you loved their post, of feel inspired by their hard work. When someone tells me that they are saving my post because they found it helpful, or mention that they can relate, it feels really nice. Share that feeling with others.
Share content you love. When you come across a post of someones that you enjoyed, share it! It will only take a few minutes, especially if you are using a tool like CoSchedule, and it might make that bloggers day. Just type a few words, add the link, tag the blogger and boom. You have content for yourself, and you are also building the community!
All of the above points, and those from last week can help this wonderful community grow to be even better. Check back next week for part 3 of these series.
How do you work to expand the blogging community?