Our love story started at work, not literally in the office, but we first met at work. I have talked about this countless times here on the blog, but I don't know if I mentioned what exactly our company does. We work for a personality company, there are several various personality assessments that you can take to determine your personality in various aspects of life. What is the point of me explaining this? Well the amount of people that told me how much our personality shined through every detail of our wedding. That was our goal, and it makes me so happy to hear that we succeeded.
Before this company, personality just had a normal meaning, the word didn't have much significance. We didn't necessarily think about the meaning while we were planning our wedding, we just knew we wanted it to be a reflection of us, of our personalities.
One of my favorite ways to do this was through out stationary designs. My lovely husband designed everything, and tweaked somethings endless times before we were both happy with the outcome. I was a little disappointed that the mint didn't really come our mint one some of the prints, but the design of them went so well with us. Is Dave talented or what? I don't have the patience for things like this!
Our Program- we weren't really sure about getting programs, at first we didn't see the need, but the more I thought about it, the more I came to realize that it was another way to show off our personalities. We were able to share important information, show love for our family, have a reflection of our amazing friends and most of all send our love to the important people that watched our wedding from above.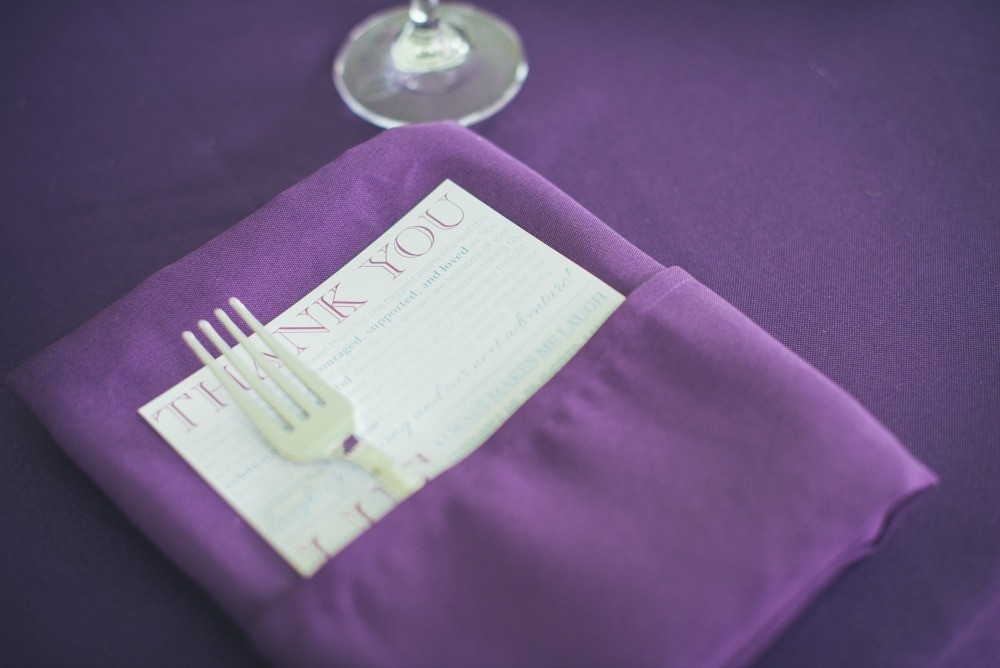 Thank You Note- besides the pretty factor, I have never quite understood the menu at each place setting. It looks beautiful in photos, but we didn't deem it necessary for our own wedding. Instead, we wanted to show our appreciation for each person present on our wedding day, which is why we opted to do a thank you note at each seat. This was fun to design with Dave, we chose the layout, wording and colors, and I was so excited for them to arrive. (don't get me started on not having a single photo without the fork in the image…)
Table Numbers- Dave designed awesome table numbers with our logo and watercolored numbers. This is actually a little funny, but we never used the table numbers. When we had them printed, Dave forgot where he put them, so they never made it to the venue. Thankfully, I am a over-buyer and had enough mini chalkboards to put into the flowers.
I talked about our invitations previously, if you would like to check them out, head to this post. 
---
Now it's your turn to link-up and share your wedding tales.
Nikki
and I love reading all about your big day, someone else's wedding adventures, or anything else wedding related. We just can't wait to read all about it!